Apulian Destination Wedding
One Recently Married Couple Details Their Experience
When Raffaella and Lanfranco decided to get married there was really only one location where their dream wedding dog could be held – Puglia, Italy.
The couple, from Abruzzo, which is in Central Italy, first witnessed the beauty of the area when they vacationed there together 15 years earlier.
They instantly fell in love with all that makes Puglia so beautiful. In particular:
They loved the towns that gradually rise up out of the beautiful countryside like Bari, which is the largest city in the area, and Lecce and Martina Franca
They loved the area's warm weather and bright sun which can be rejuvenating for someone coming from a colder climate
They loved the hills that overlook beautiful olive trees and vineyards
They loved the food and the delicious variety of it that exists in Puglia – from seafood to traditional Italian pasta the area has it all and it all tastes amazing
They loved the dream-like state that exists in Puglia where friendly people are surrounded by the beauty that you just don't see every day in other places. From Puglia's quaint roads to deserted towns and small villages to cliffs with scenic seaside views the area really has everything a bride and groom could want.
Of course, one of Puglia's most dramatic features is its coastline. The Puglia coastline stretches for 500 miles and provides countless locations for a memorable wedding.
And it's not just the coastline that is great for a wedding ceremony, there are also scenic castles and luxury homes. If a couple does want to get married on the beach, however, there are white-pebble beaches and breathtaking cliffs all along the coast.
Another part of Puglia that is attention-grabbing is the trulli. These are conical-shaped structures that are common throughout the Itria Valley, which is located in basically the center of Puglia.
When you see them you almost can't believe what you are looking at. Your brain thinks they must have been constructed for a movie set or something. They just look so charming and so beautiful. But real they are.
When it comes to seaside locations in Puglia one area that stands out from all the rest is Polignano a Mare which has a beautiful beach and cliffs.
After seeing all of that … after tasting the delicious food … after meeting the friendly people … Raffaella and Lanfranco knew 15 years ago that if it was at all possible they wanted to exchange their vows in beautiful Puglia, specifically the Gargano.
There was just so much about the area to love from the scenic villages to the sweeping seaside vistas to the charming architecture and the friendly people.
So when the couple, after a long 15-year engagement, finally decided to get married they immediately began making plans to get wed in a ceremony in Puglia.
But the couple quickly became very concerned about whether they would be able to organize what they had in mind.
Being from Italy themselves they didn't face the language barriers that many planning destination weddings face but there were many other issues to deal with such as arranging vendors, scheduling a wedding venue, and decorating – all while being a good distance from the area.
The entire planning process quickly became overwhelming for the couple and they decided they were going to need help – professional help.
They looked for a professional Puglia wedding planner. They needed someone who really knew the area and had connections with both vendors and venues that would allow the couple to turn their wedding dreams into reality.
They ended up finding the perfect wedding planner in Elena.
She quickly learned the couple's wishes and set about creating the perfect experience for them.
Apulian Destination Wedding. A Wedding Day Unlike Any Other
The couple wanted an intimate ceremony with just themselves, their two witnesses, and their two little dogs.
So Elena quickly went about making that ceremony possible. Many falsely think that a destination wedding must be a big wedding but the truth is a destination wedding can also make a terrific intimate affair.
In fact, celebrating with just a few people may make the event even more special for many people. There are not as many personalities so there is less chance of conflict. You also don't have to worry as much about keeping everyone happy – with a big wedding maybe one group wants to go to the beach and another wants to explore the lush countryside. With a small group, it is more likely for everyone to be on the same page.
That means less stress and a lot more smiles.
So what was their Destination Wedding like?
The couple started off their romantic journey by staying in a luxurious junior suite the day before the wedding. On that day they also enjoyed a delicious pre-wedding gourmet dinner that featured the amazing tastes of the Puglia region, which is widely known for its great-tasting cuisine.
The following day, at their wedding, they enjoyed professional help getting ready. She had her make-up professionally done and looked gorgeous in her wedding dress.
The couple had a civil marriage ceremony overlooking a beautiful view of the sea and that included a talented violinist playing in the background and setting the romantic mood.
Also contributing to the romance of the occasion were arrangements of roses and hydrangeas, presented just as the bride had wished.
The couple even got to include their dogs in the ceremony – the dogs, wearing harnesses and adorned with many flower bracelets, carried the wedding rings down the aisle.
Following the ceremony and the reading of personal promises, the couple posed for photos overlooking the sea and also got more photos on the beach with their dogs for a special wedding dog.
Later, they enjoyed a romantic and intimate dinner on the beach that included cake cutting.
The wedding ended up being a dream come true for the bride and groom – and the truth is Puglia is becoming well known for making wedding dreams come true.
Located in the heel of Italy's boot the Puglia region offers everything a couple could want in a wedding from scenic views to luxurious accommodations to friendly people to highly qualified professional wedding planners like Elena.
In fact, Raffaella and Lanfranco said one thing that was key to the success of their wedding was finding a highly qualified wedding planner like Elena.
The couple reported that they had one set of friends who had gotten married in another part of Italy and who had selected a wedding planner who did not excel at her job.
In fact, the planner's poor performance nearly ruined the ceremony and resulted in a lot of hard feelings and a bride who doesn't look back at her wedding with the fond memories that she should have.
Raffaella and Lanfranco did not, under any circumstances, want that to happen to them. So they carefully selected a planner based on the online reviews that they read and through word of mouth from Puglia residents who were friends of friends.
Here's what Raffaella had to say about Elena and getting married in Puglia:
"Our main problem was we were afraid of not being able to organize what we had in mind. We wanted to get married in a place that was very important for us, but our distance prevented us from being active and present, which made the organization very difficult.
"Elena saved us and provided us with many benefits. She knew the best places and the best suppliers and so we quickly came to rely on her.
It Seems the Key to Any Destination Wedding, No Matter Where it is Taking Place, is Being Able to Secure the Right Professional Assistance
With the right wedding planner, all the stress and uncertainty that can accompany a destination wedding falls away. The couple, instead of stressing about every little detail and wondering each day what new could go wrong, are able to relax and trust that a true professional is handling things and has everything under control.
Raffaella and Lanfranco said it was certainly that way with Elena. They explained their dreams to her and she made those dreams come true.
Raffaella said, "What I will remember most about our special day is the magic and the fantastic people that accompanied us in this wonderful moment. And we, who come from another region, feel that Puglia was the perfect place to give shape to magic, our magic. I am so thankful for Elena, without her support it would have been very difficult and it wouldn't have been so magical."
There is certainly a lot of magic in the Puglia region but when it comes to drawing that magic out it is better left to a professional wedding planner than someone who is not that familiar with the area.
When you are planning a destination wedding you can study the area you want to get married in extensively but you'll never know the area like someone who has lived there their entire life.
When you grow up in an area you know where the most beautiful venues are and you know where the best food is and where the most romantic locations are.
That's what a wedding planner like Elena brings to a couple planning a destination wedding. She brings magic.
She also brings a unique professional relationship with the vendors and venue operators that allows her to secure the best for a wedding without paying high prices.
She also has a flair for decorating and for enabling a bride to get her perfect wedding. Whether you are planning an intimate ceremony or a big one or you are eloping, Elena can help ensure your wedding goes according to your plans.
She will work closely with you and will help you determine exactly what will work best for the wedding you want. If you are concerned about having an event that both you and your guests will remember forever, Elena can make sure you do without you having to stress and worry.
In fact, Elena and Puglia are the perfect combinations. Couples get a highly qualified professional who excels at creating weddings the bride, the groom, and their guests absolutely love and Puglia provides the scenic beauty that everyone in attendance will remember forever.
That's why, if you are wanting to have a memorable wedding you would be wise to consider getting married in Puglia – just like Raffaella and Lanfranco did.
It doesn't matter if you want an intimate wedding or a big wedding, Puglia and Elena can make sure your event impresses all in attendance.
Raffaella and Lanfranco enjoyed the beautiful, intimate wedding dog of their dreams and you can have the wedding you desire as well!
And you … Are you ready for your Apulian Destination?>>> Contact us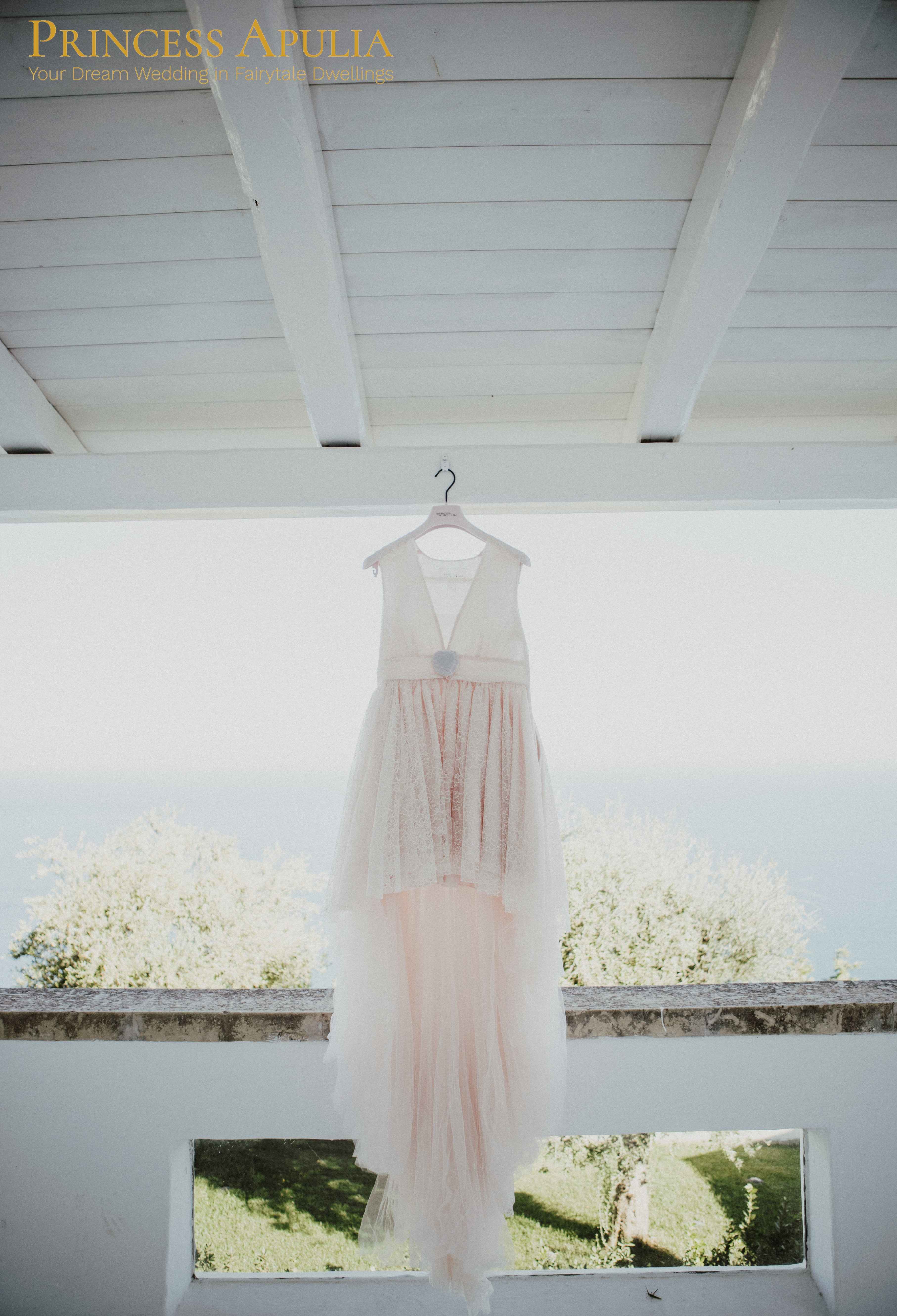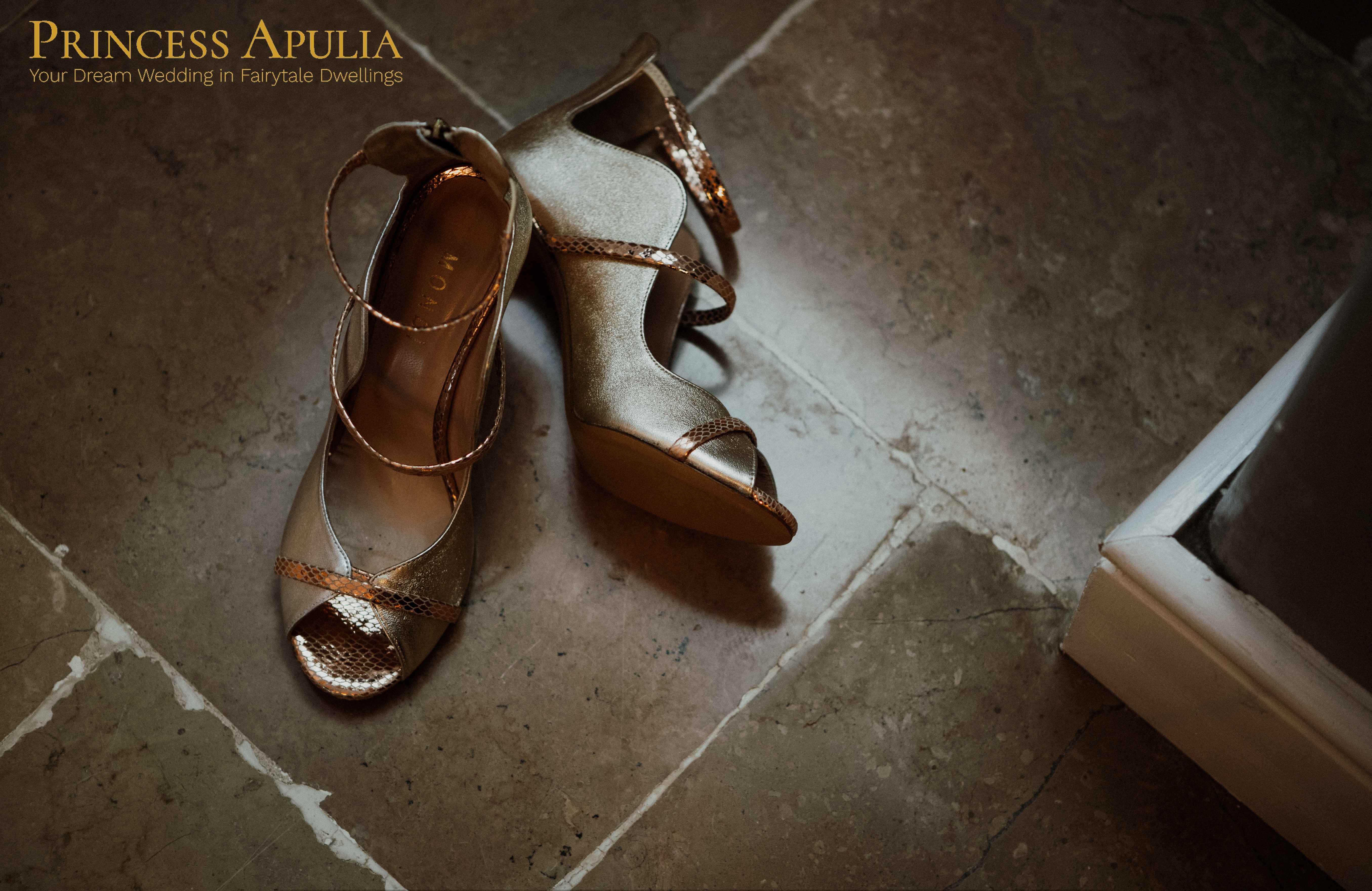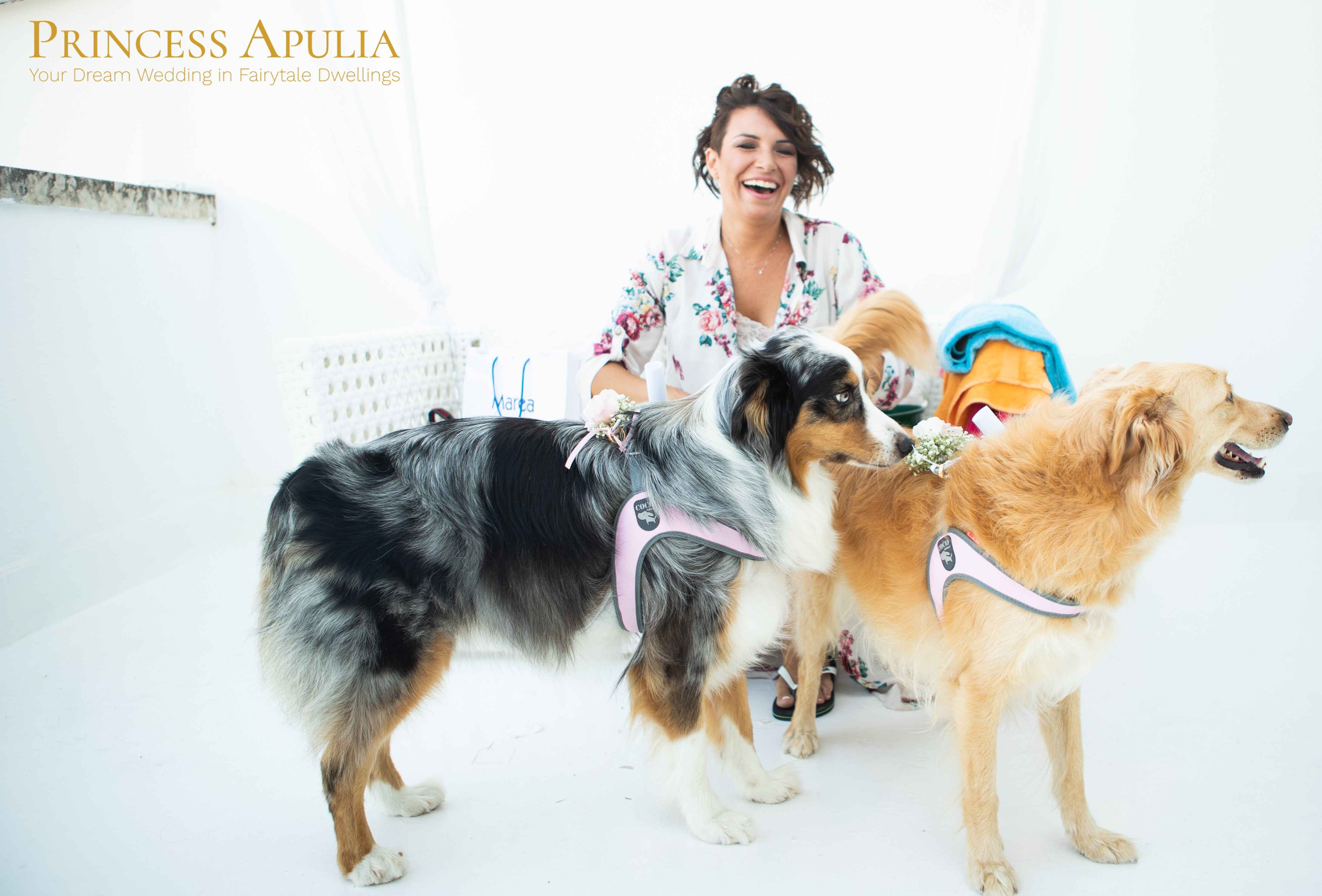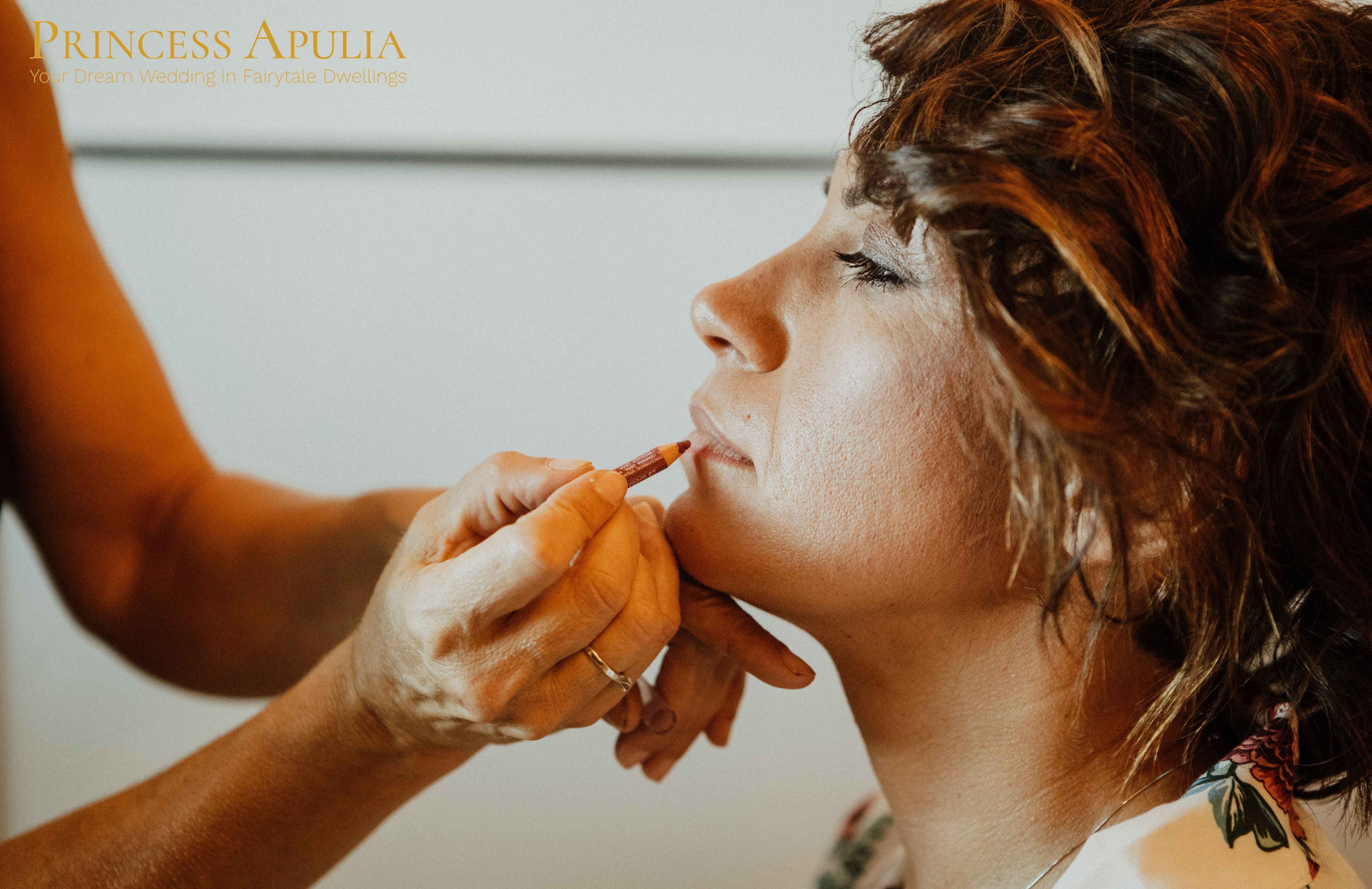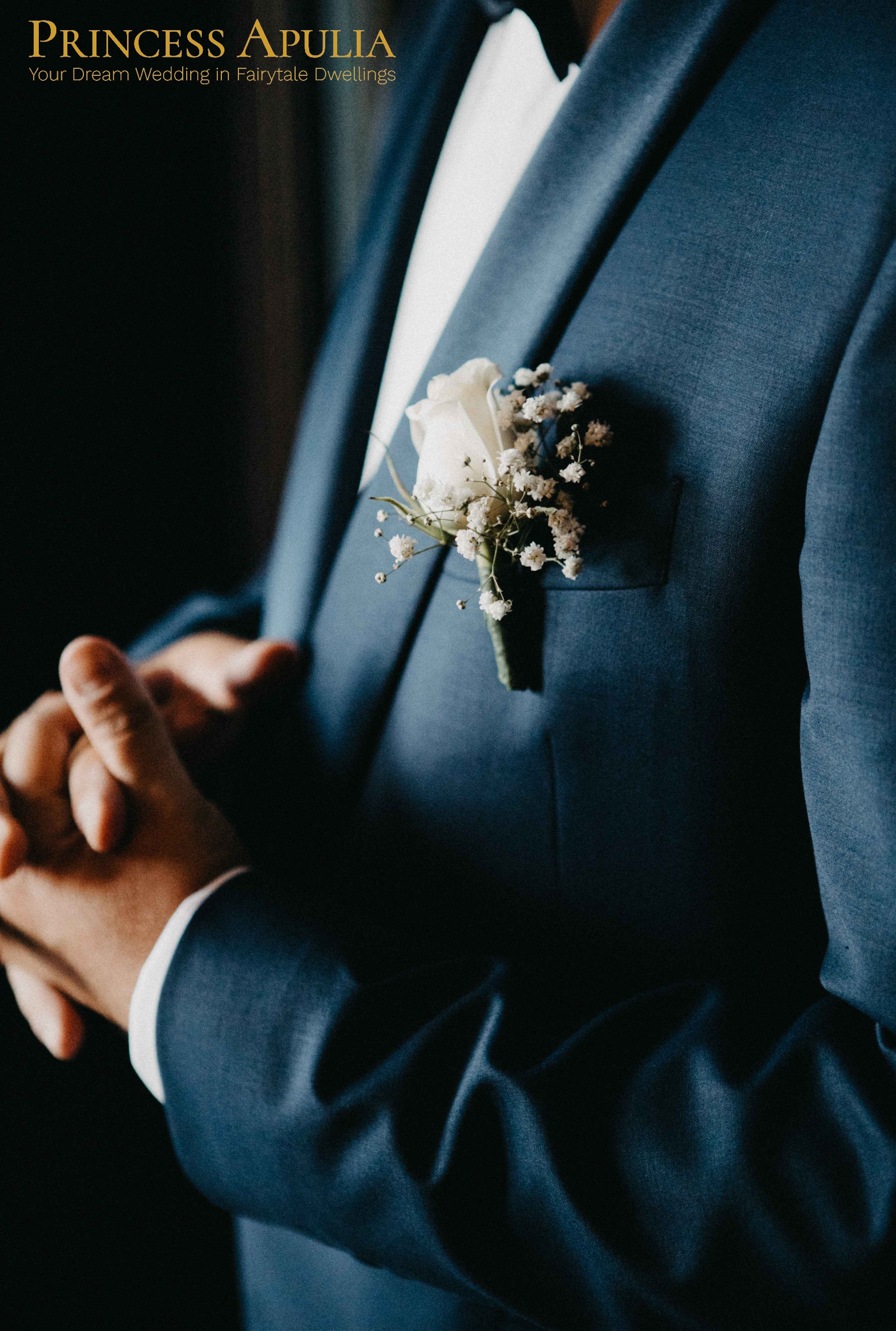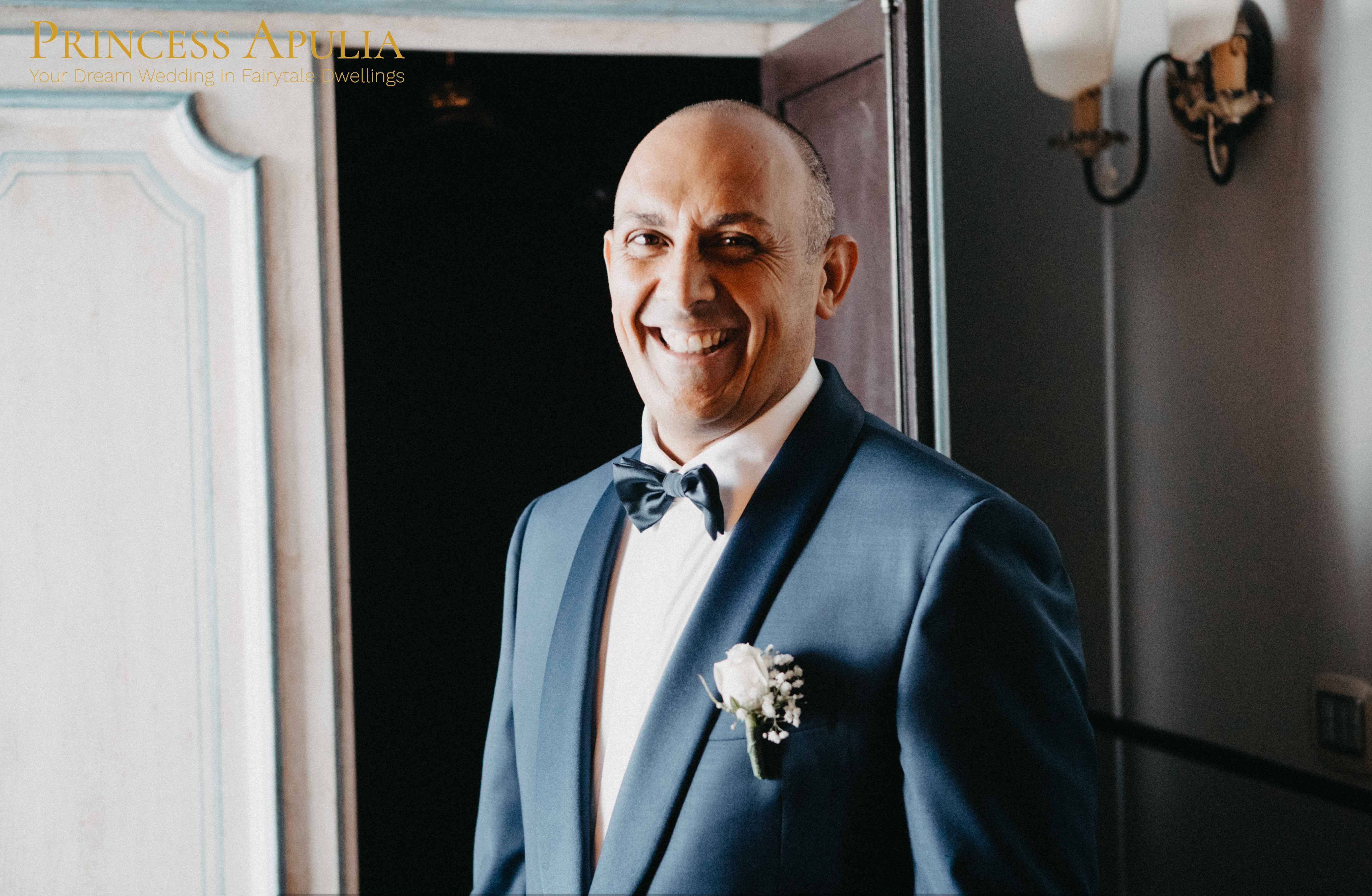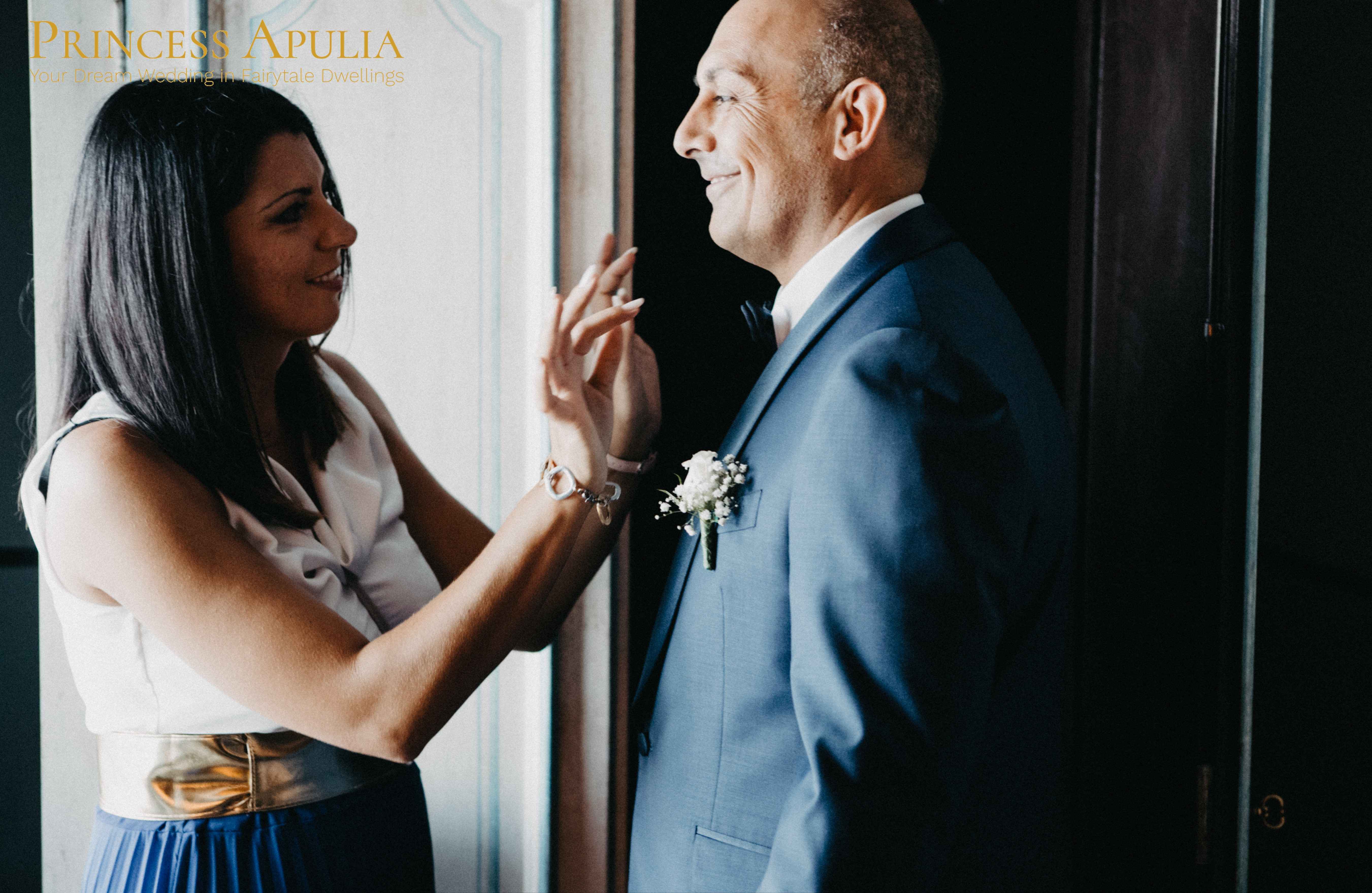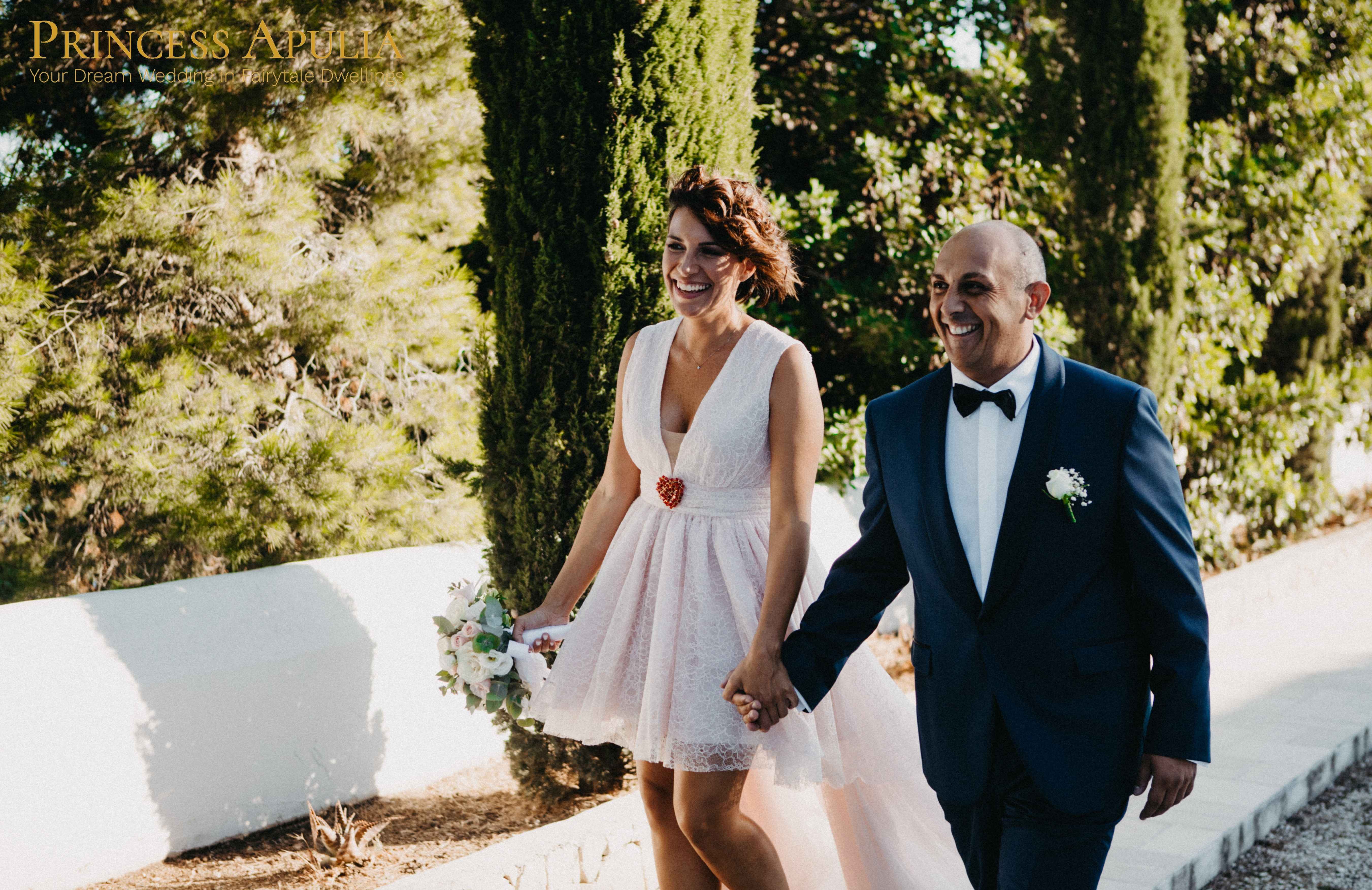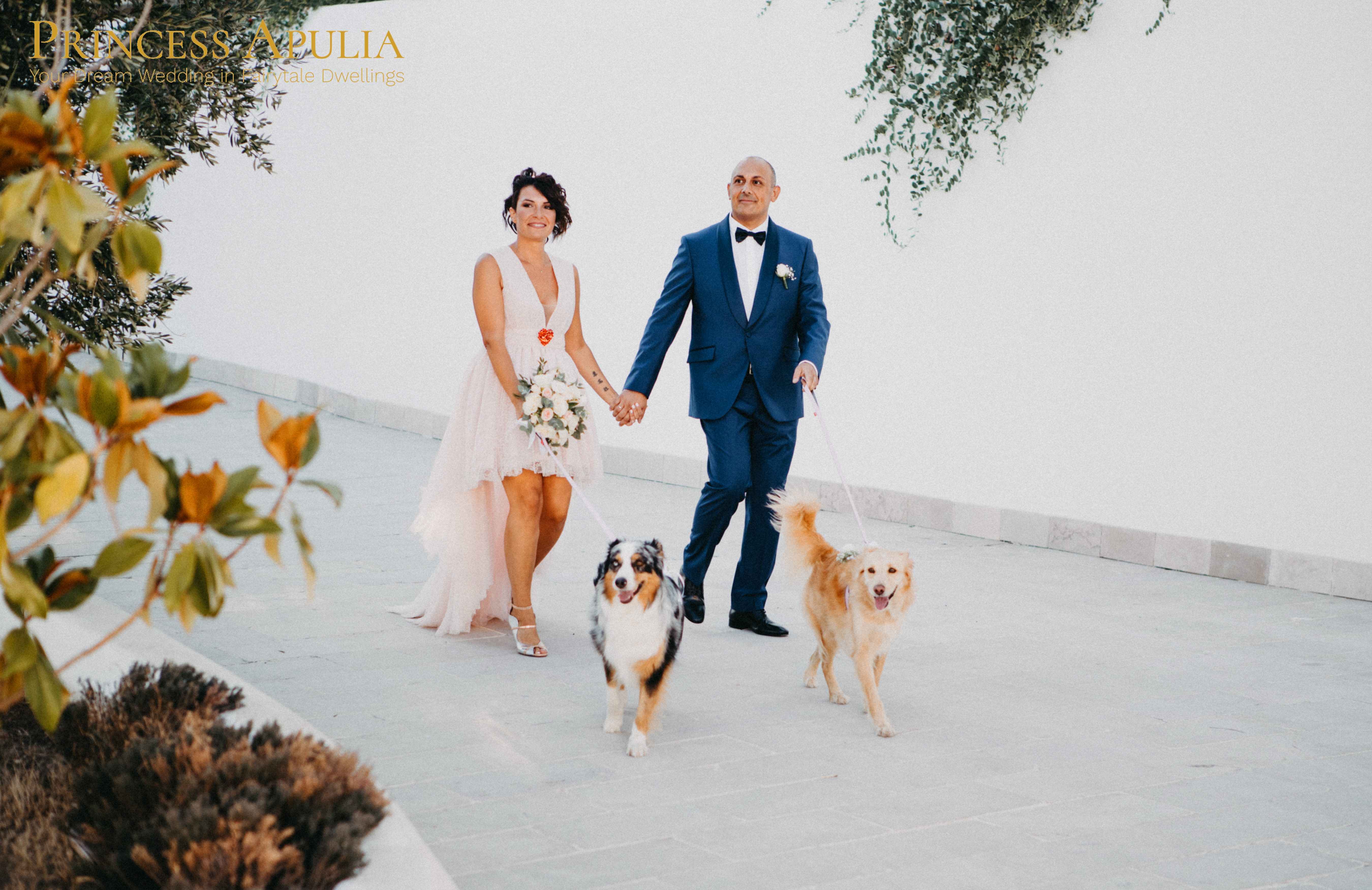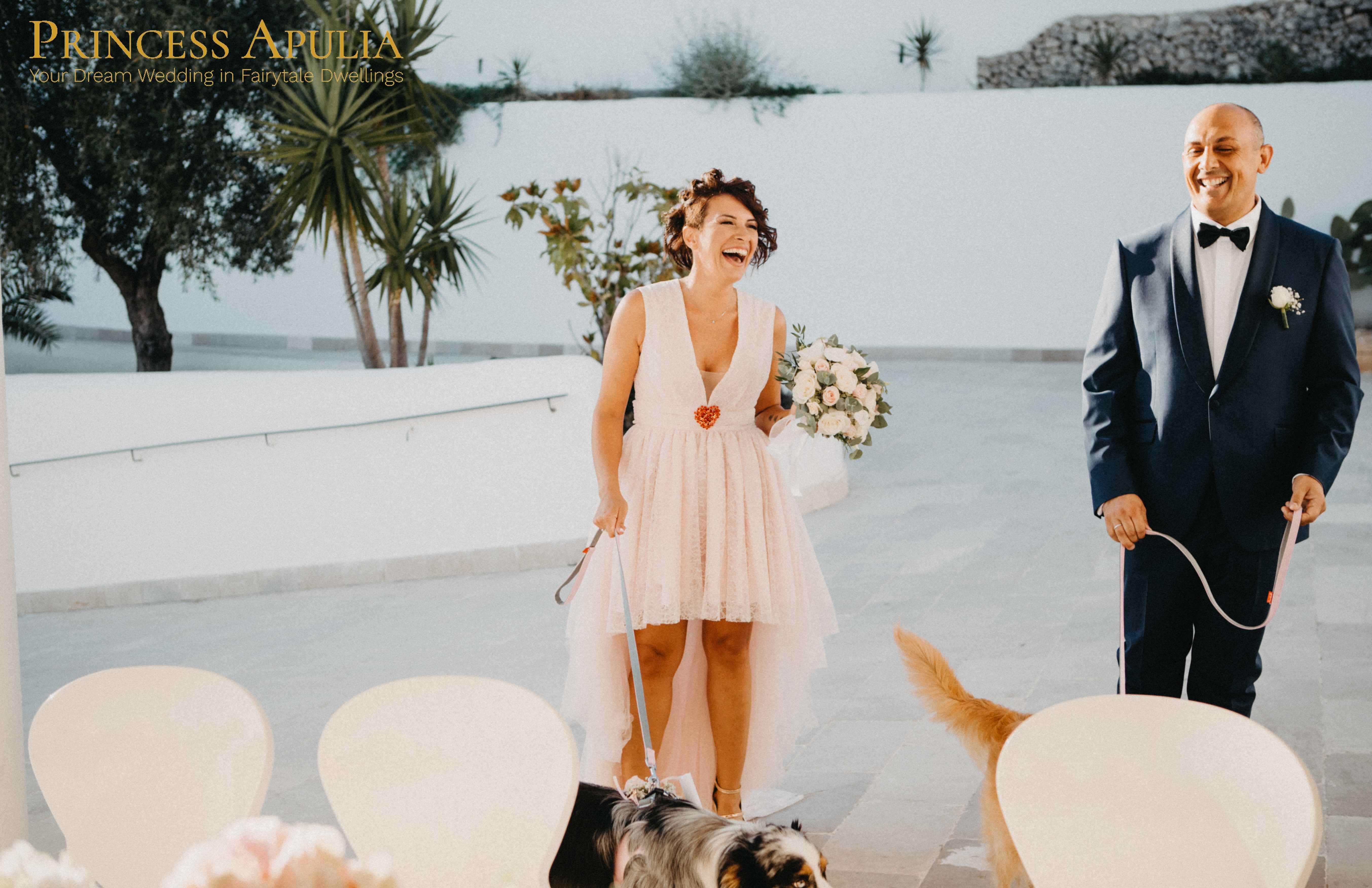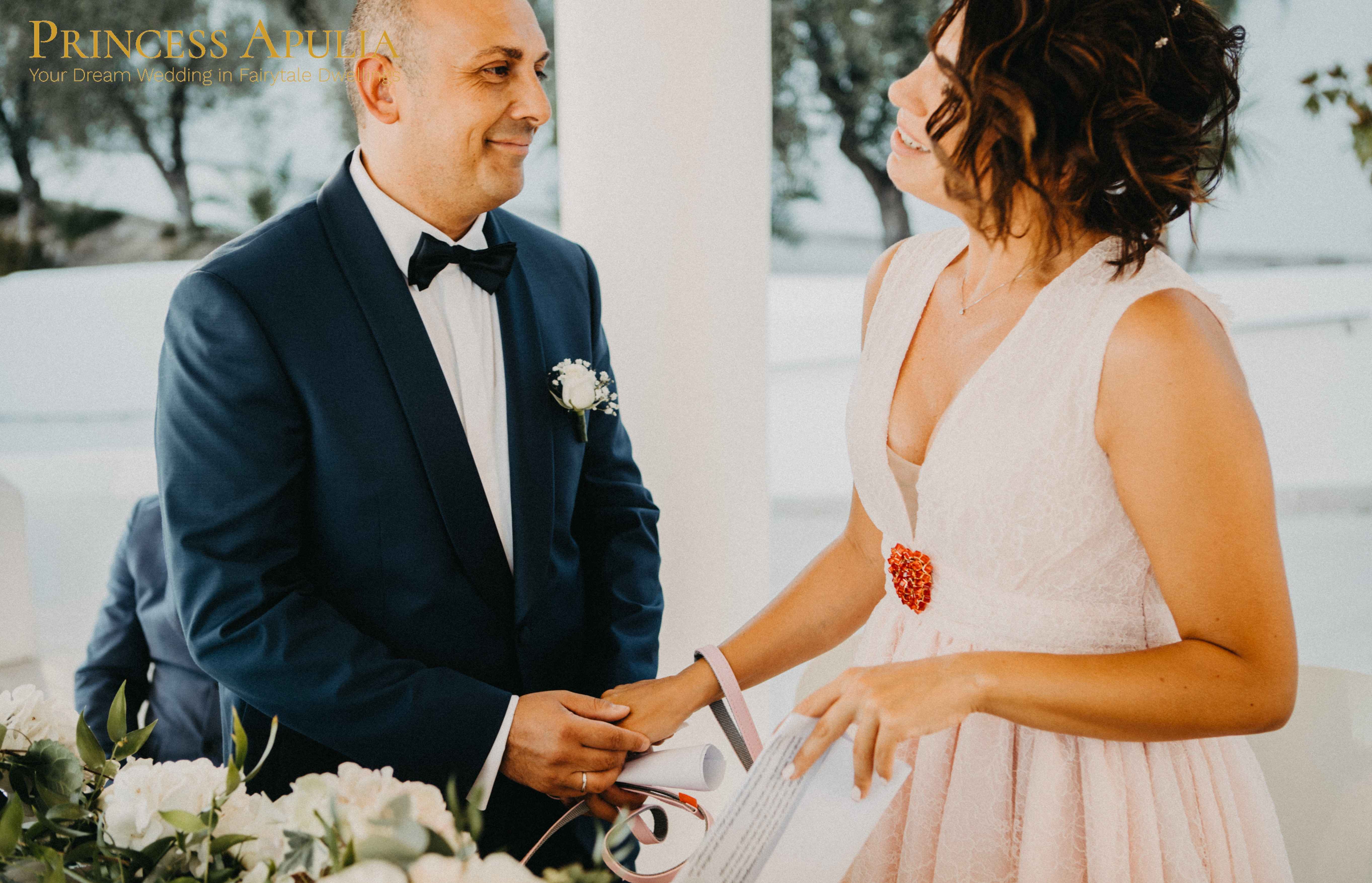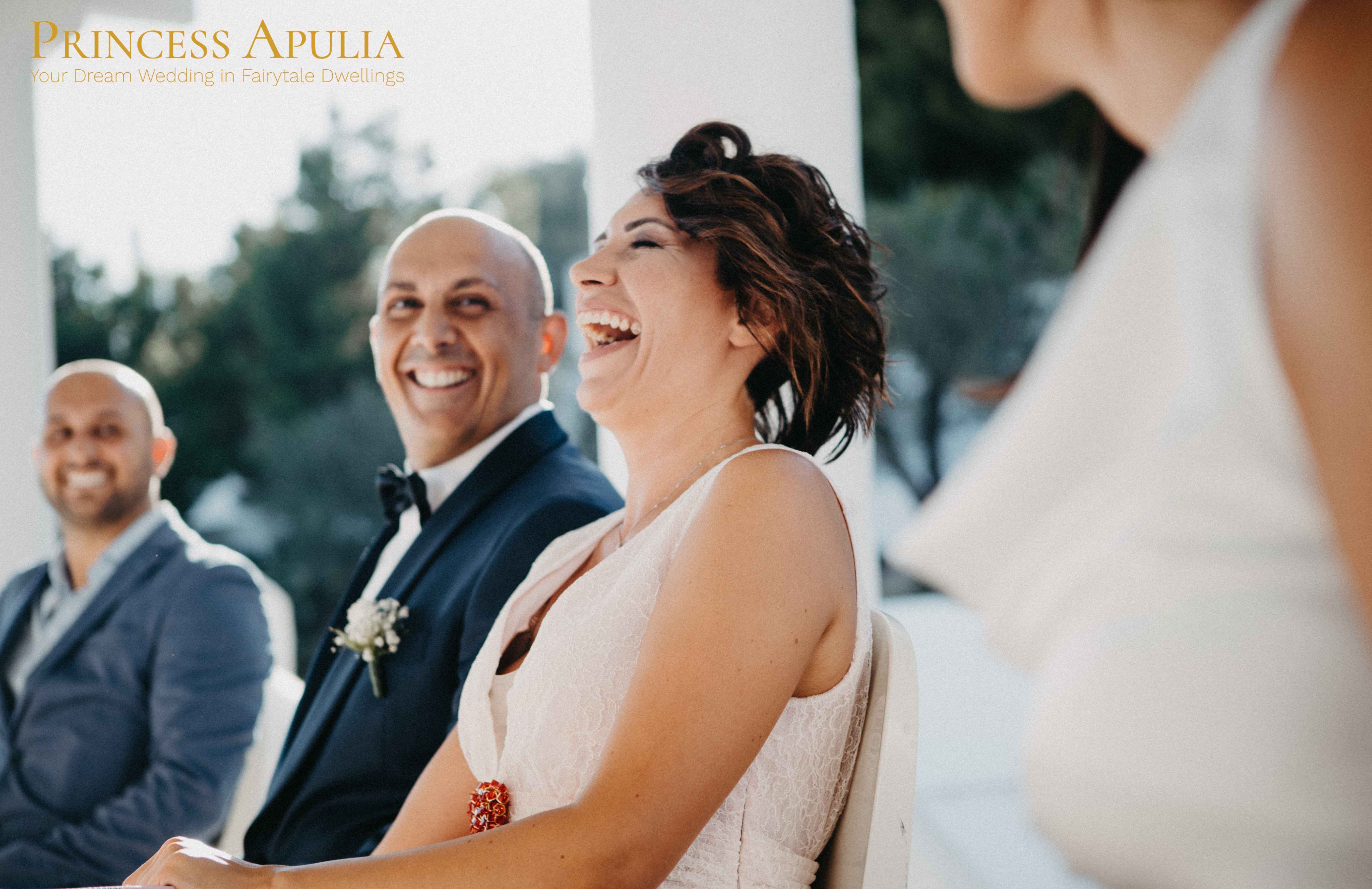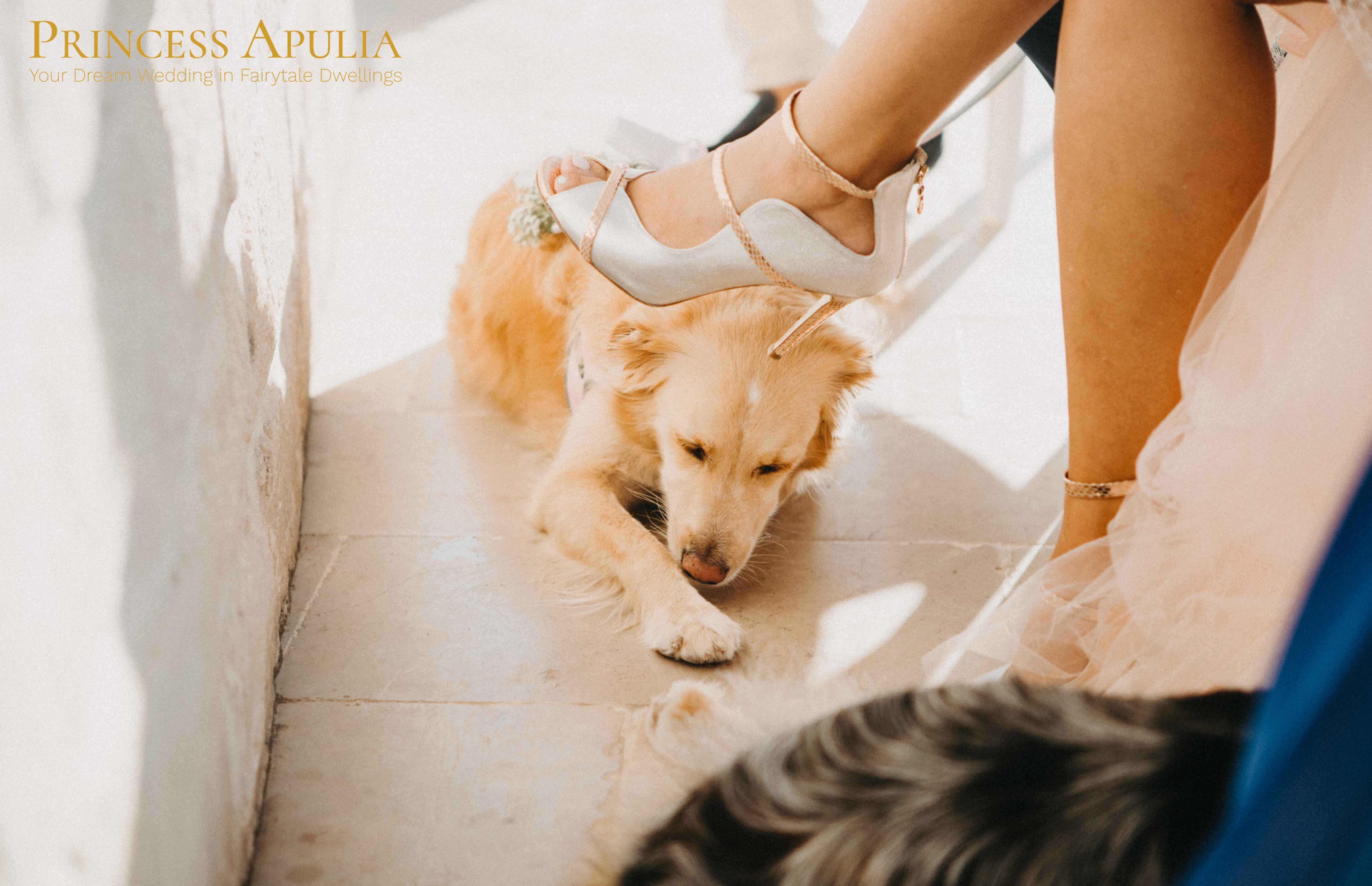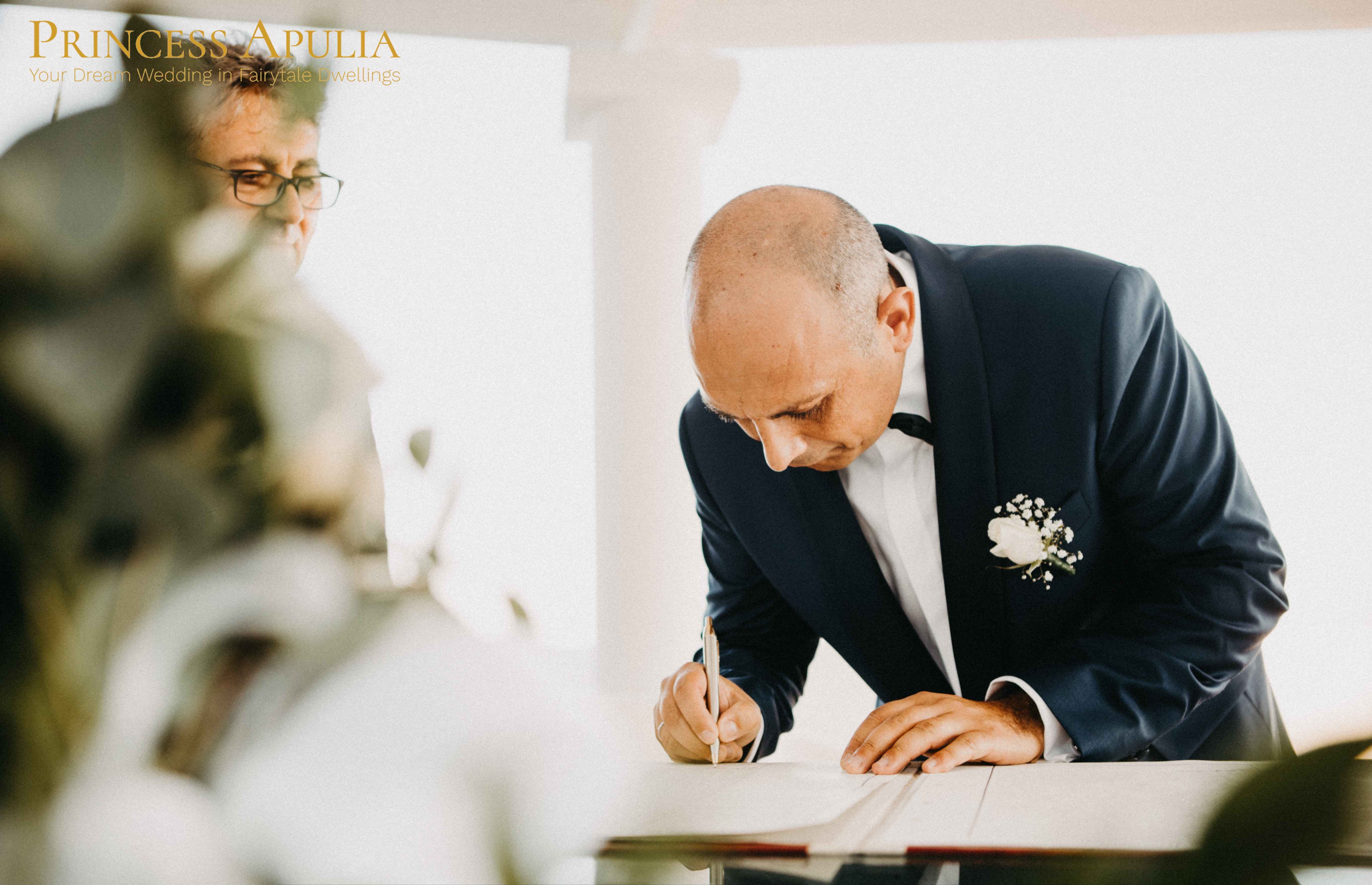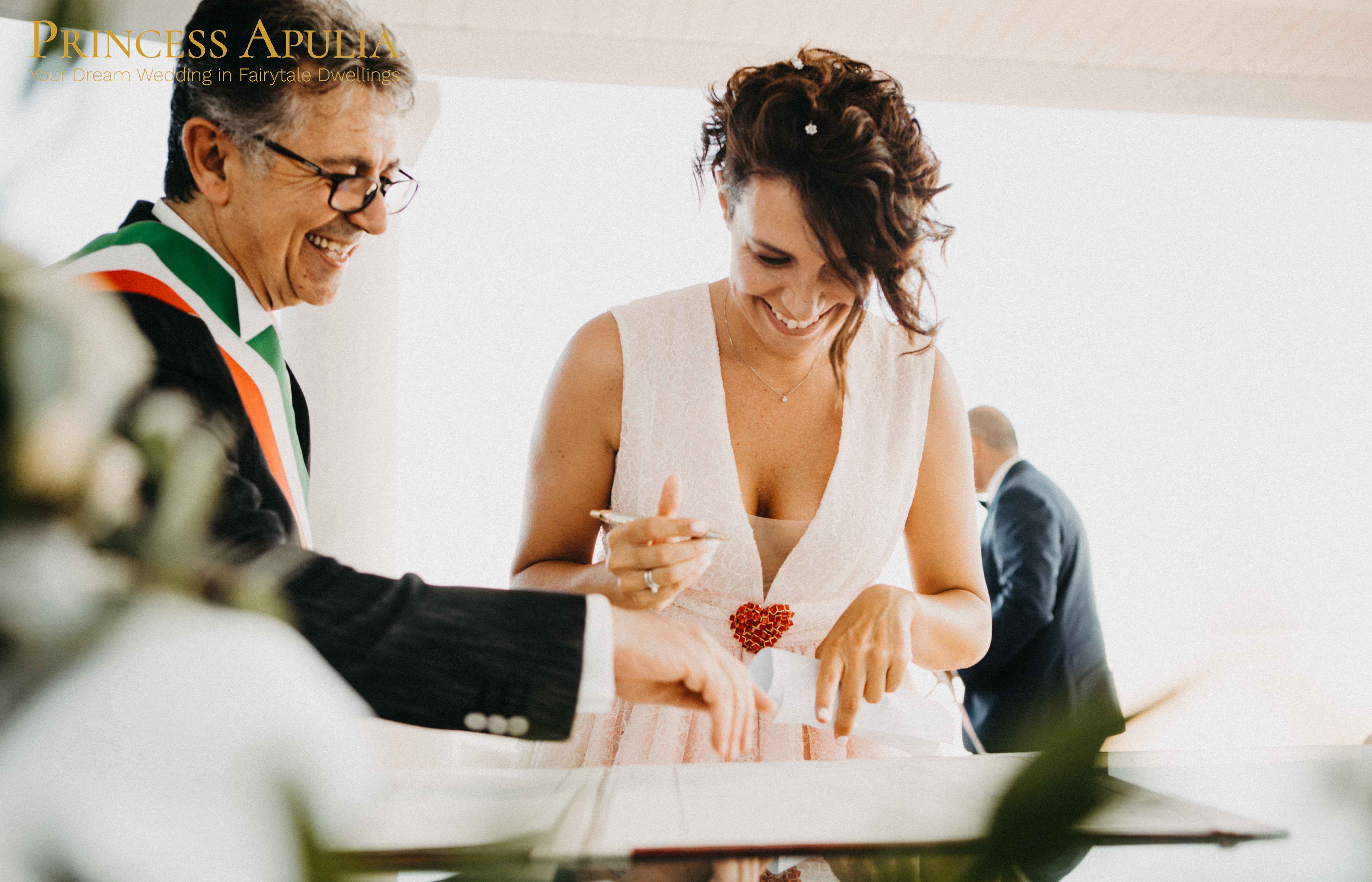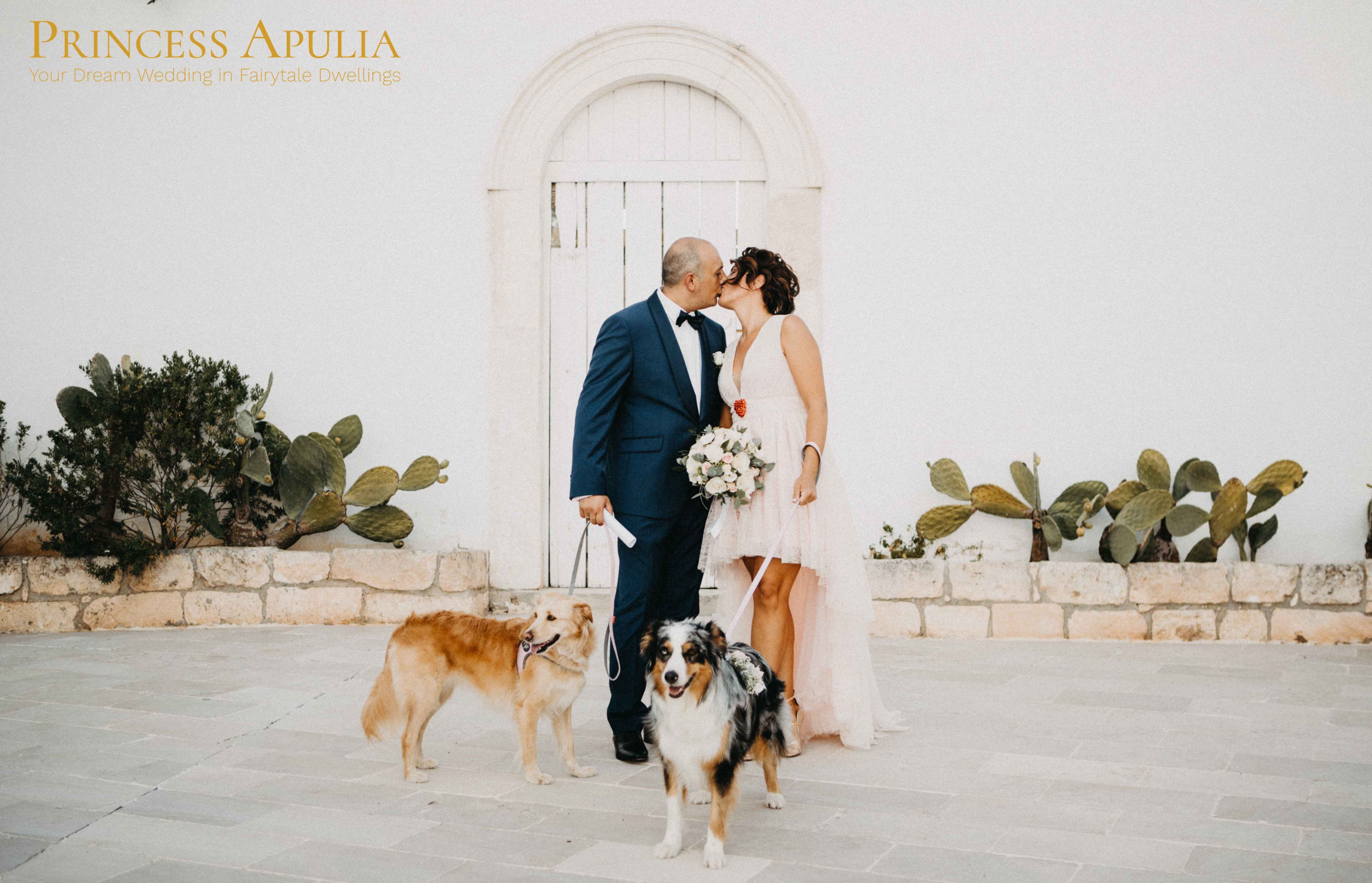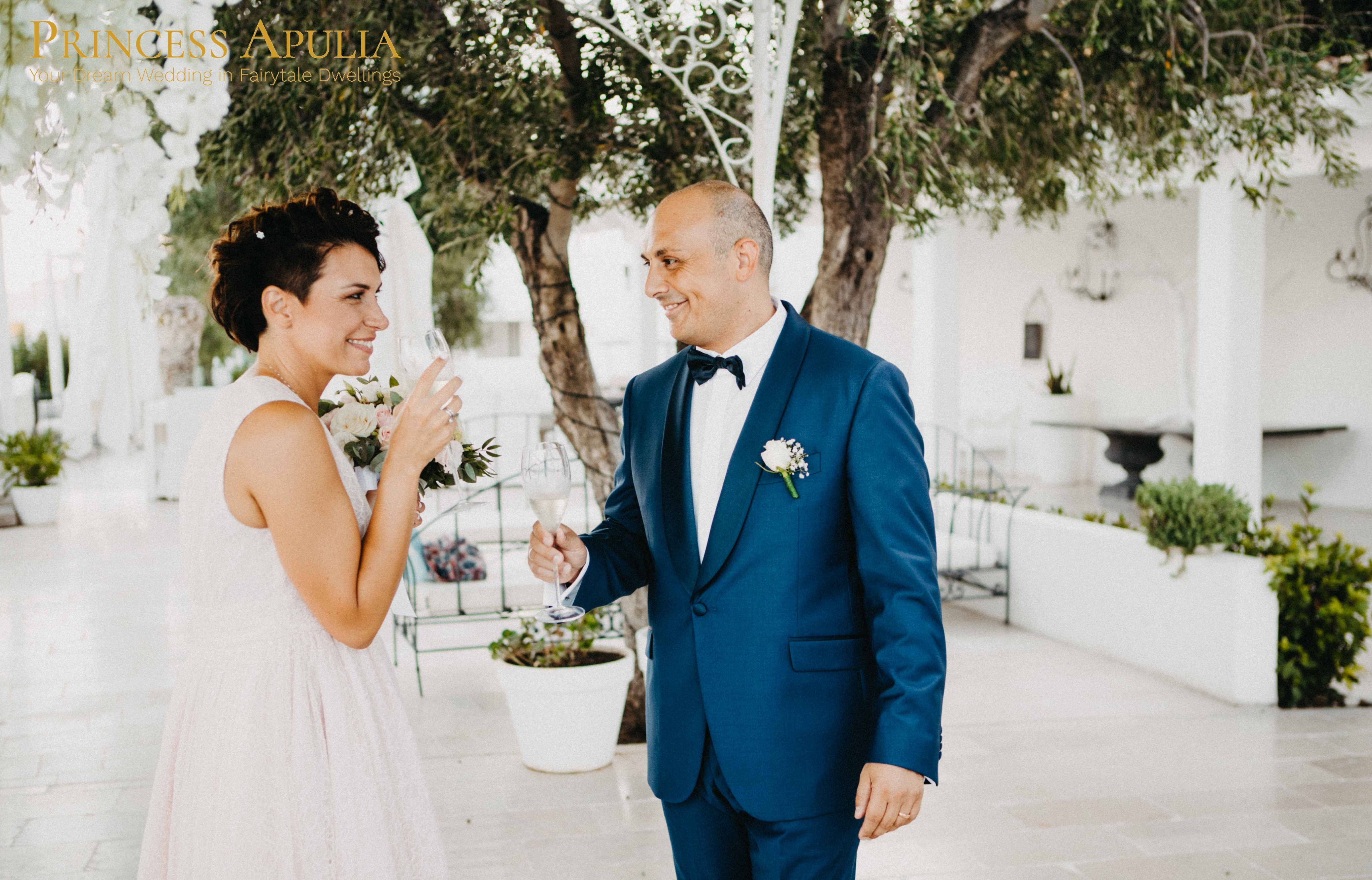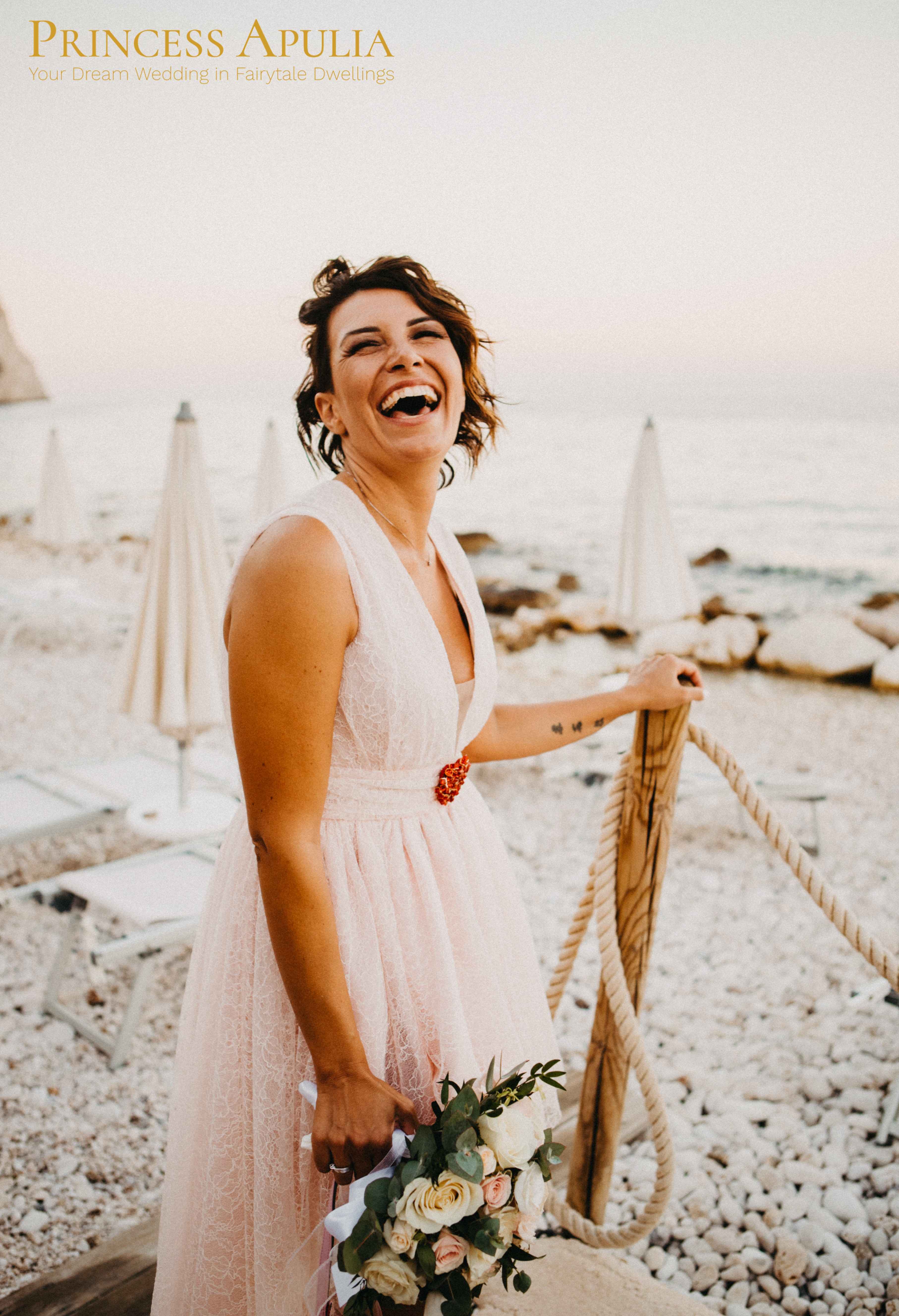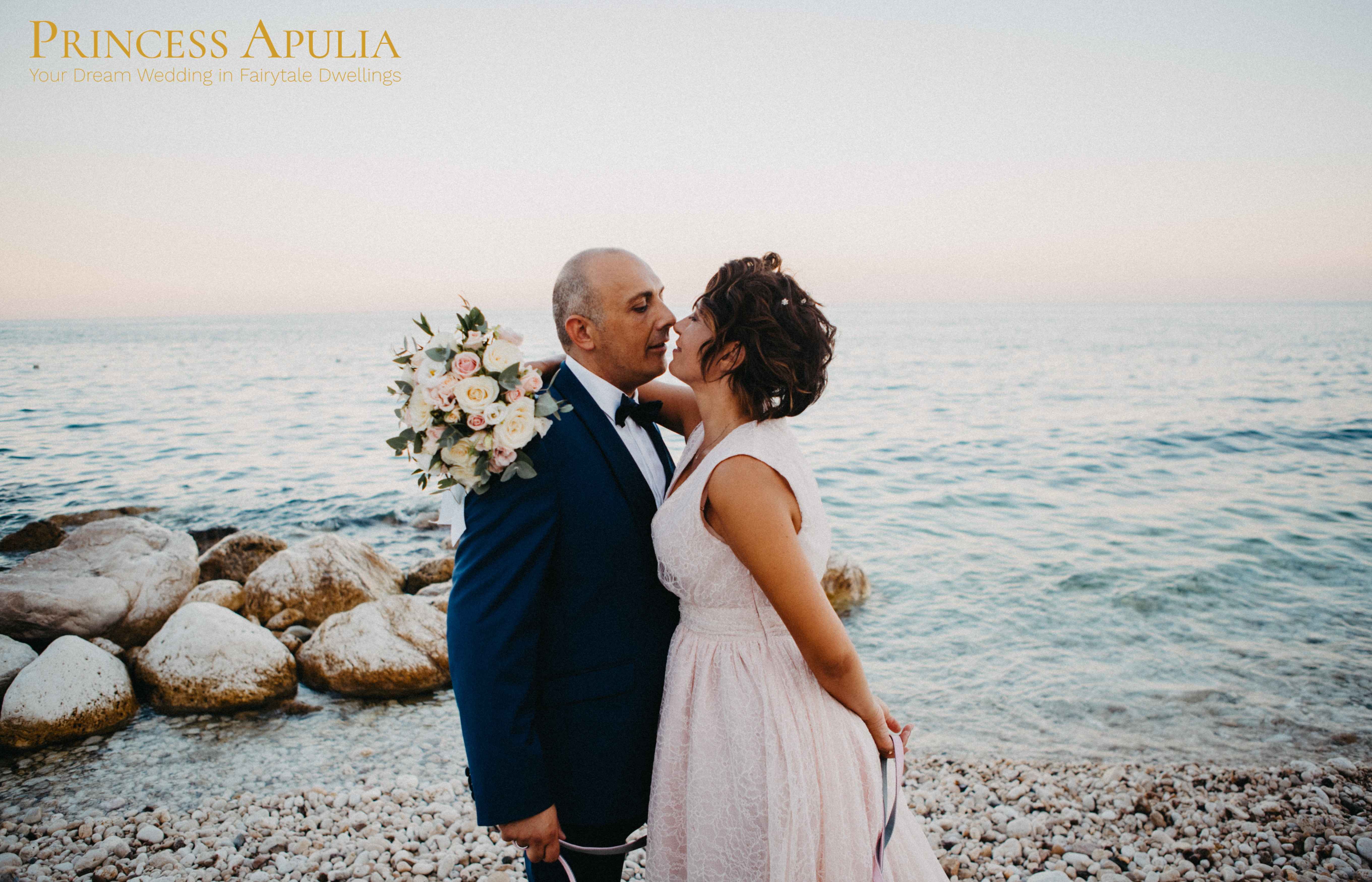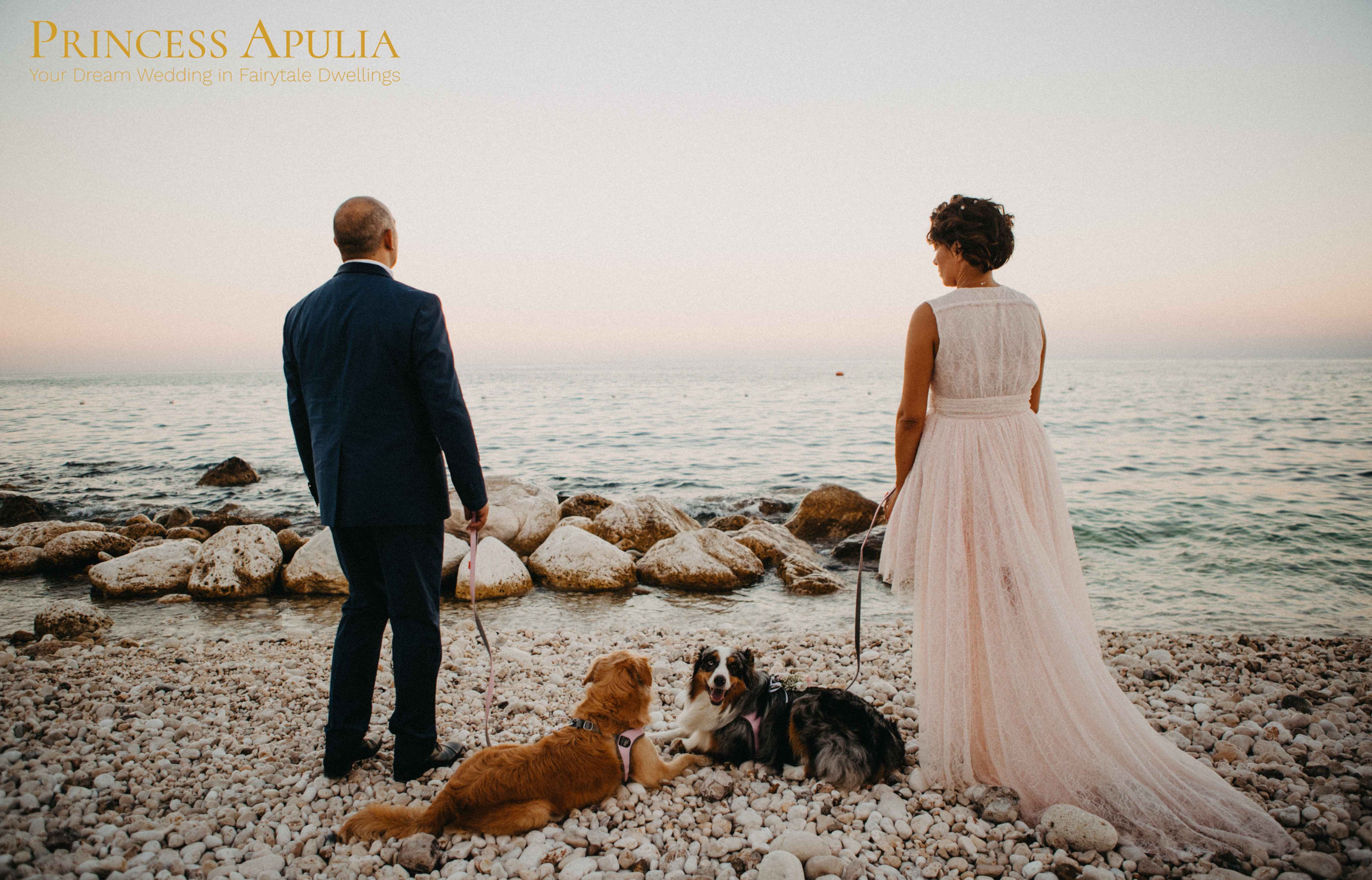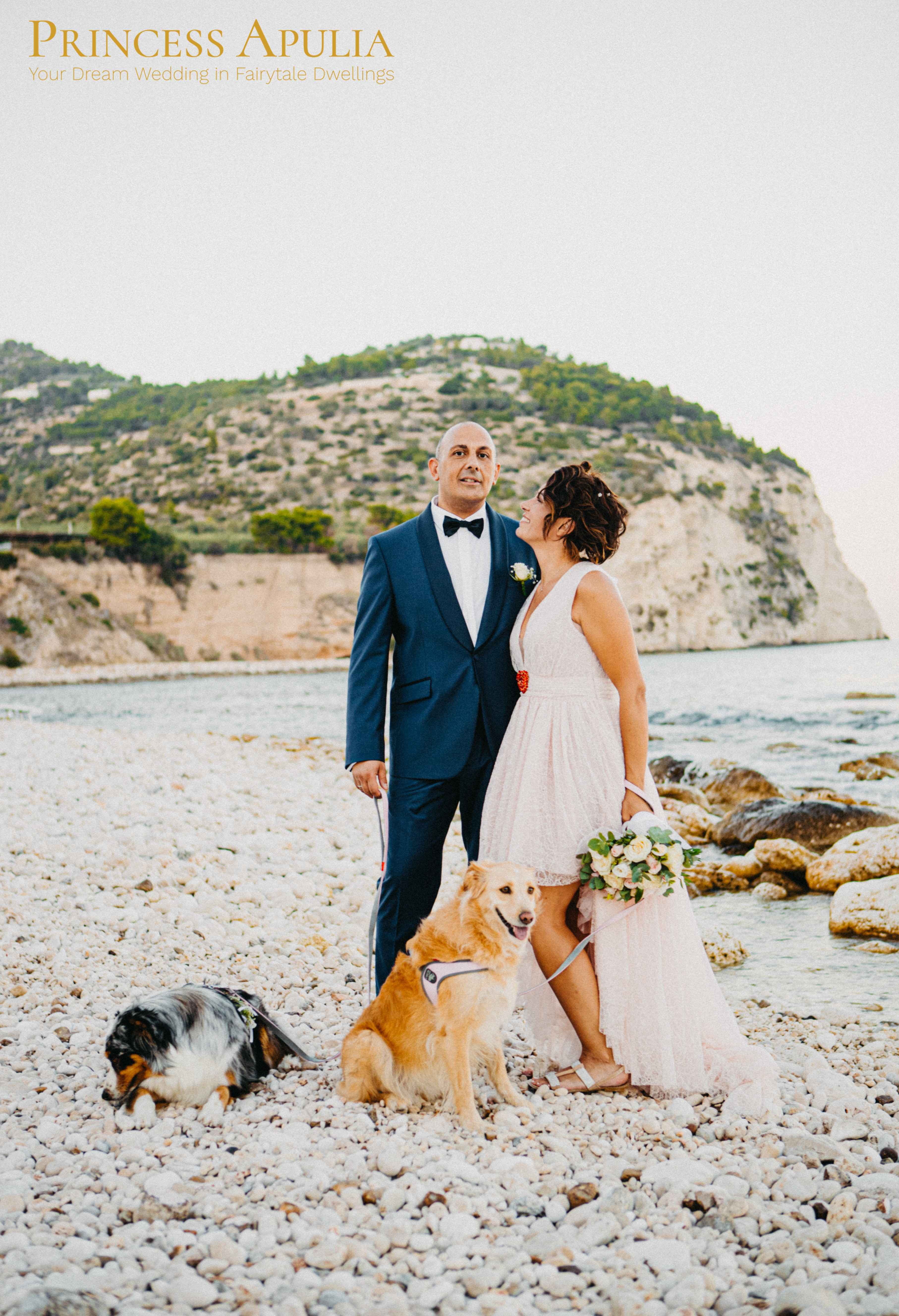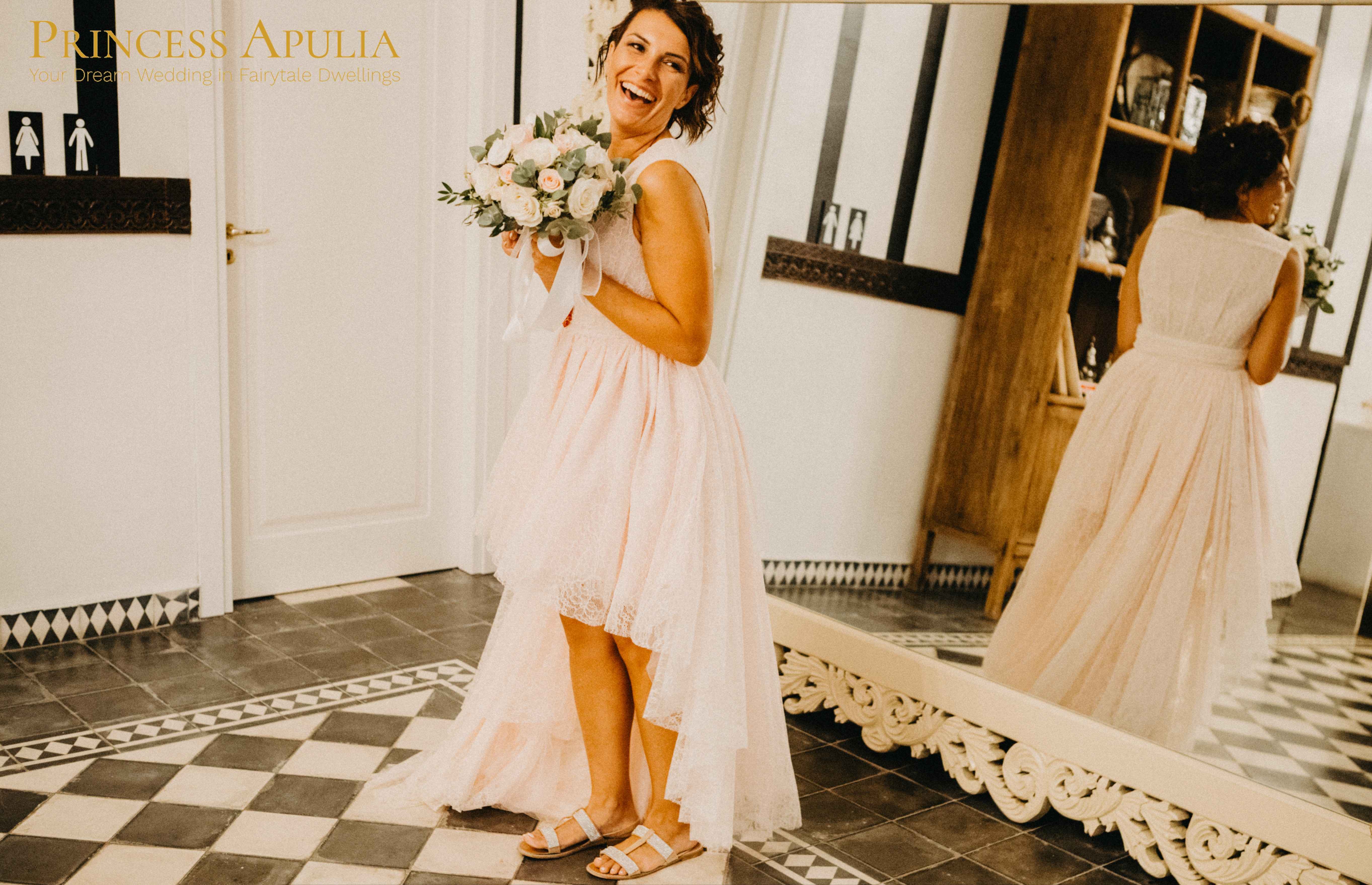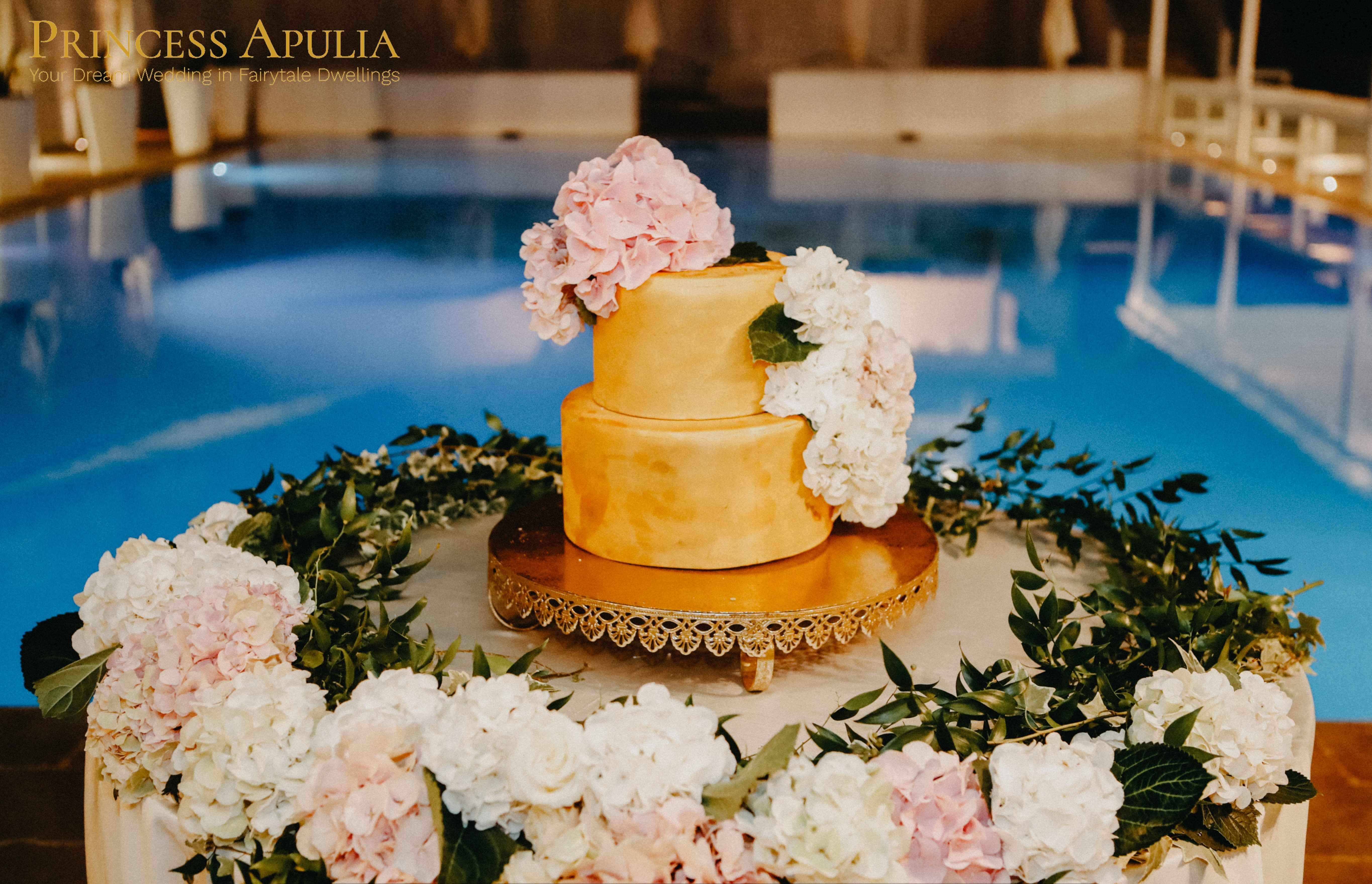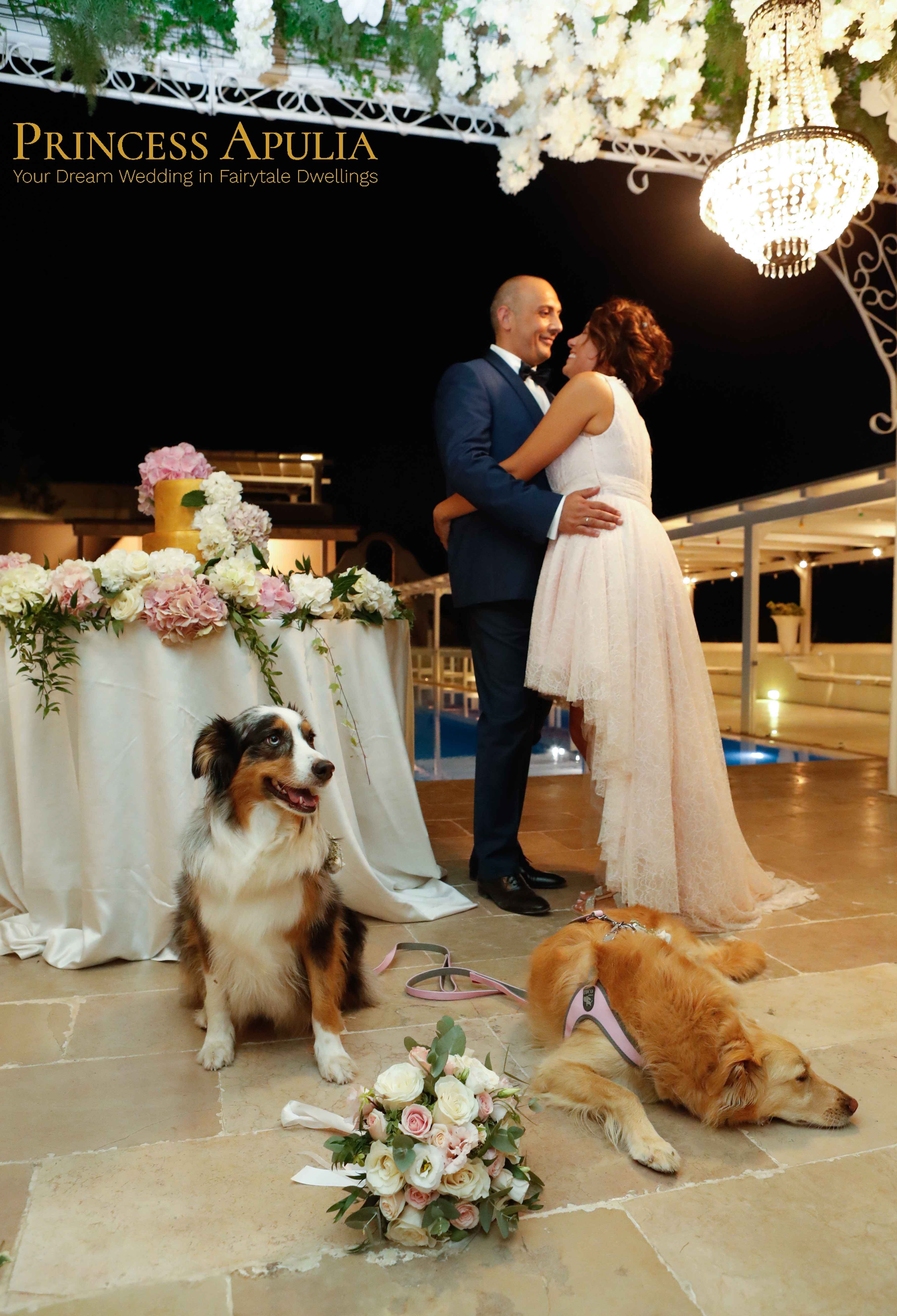 Photo credit: piernicolamele.com