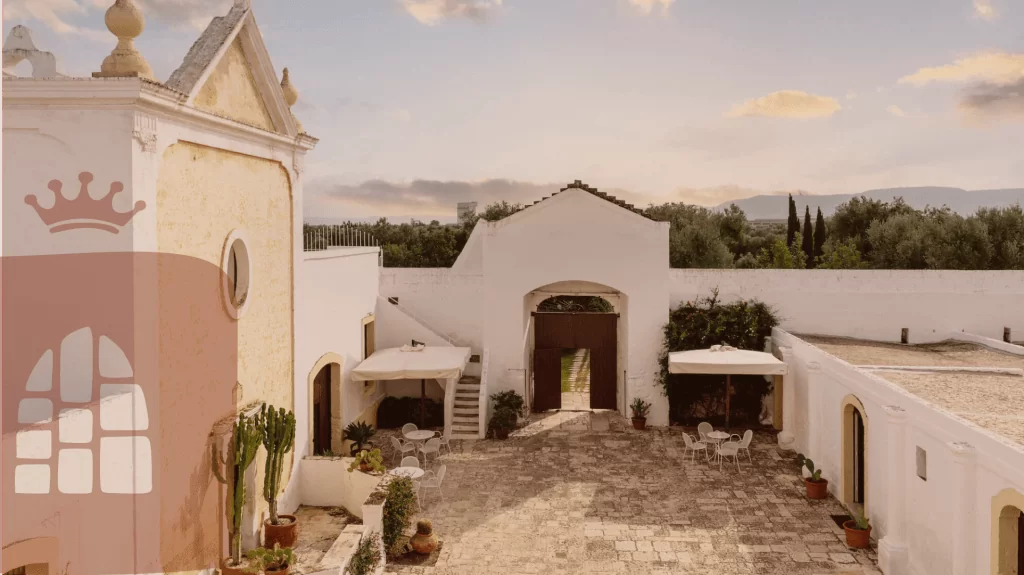 Borgo San Marco
Choose Wedding Venue Borgo San Marco For Character And Style
In Puglia, the massarias are maidens dressed in white and they sing love songs for the Sun. Getting married at the renovated 15th-century solid house nestled in an ancient olive grove housing a small spa, beach-style pool, and an array of cave dwellings within its backyard can create memories.
Borgo San Marco is not a hotel but a Masseria, and a fortress revealing character and style. Why choose it as a wedding venue?
Location
Couples can expect comfortable interiors, beautiful scenery, and calming retreat from the busy city life. The location is within 2 km of the sea, so is an ideal choice for seaside celebrations and beach weddings. After vow exchanges, the newlyweds can have photographs captured on the grounds enjoying a stroll across the olive grove. The idyllic backdrop including centuries-old architecture, terracotta paving, and flourishing trees will impress the guests. As soon as everyone soaks up the fabulous views, they will head towards the restaurant for relaxed socializing and fine dining.
Borgo San Marco: Services offered
Multiple services are offered including catering, overnight accommodation, and leisure facilities. Guests and couples can taste the appealing Italian cuisine at the La Despina restaurant. Chefs use locally produced olive oil and traditional recipes to cook yummy Mediterranean dishes. There is a bar open for the evening meal, where guests can order medieval frantoio olive press and enjoy it sitting in the courtyard by the 18th-century baroque chapel. Guests wanting to stay overnight can get accommodation at suites and guest rooms.
The host is passionate about his estate's history, so occasionally invites local mime artists and local troupes for a courtyard performance. Guests can enjoy the spa including hydro-massage pools, hammam, and massage rooms. For sports lovers, there is the beach volleyball court and the jogging train. For book lovers, there is a domed reading room.
Rooms & amenities
The estate boasts 19 bedrooms including 6 doubles and 13 family rooms. The rooms are inherently characterful, large, and comfortable with flagstone floors and vaulted ceilings. Furnishing is sparse almost monastic but they do have small TVs and an AC. Some rooms have kitchenettes and private balconies. Some beds are muslin draped 4-posters and remaining stone-based. A room in Citrus Grove has a recessed whirlpool bath. 
Value for money
In low season, doubles room charges – €128 and in peak season – €170. Breakfast included.

 

Lunch -€18 adult & children per head

 

Buffet dinner – €36 adult & €17 children per head

 
For more package information email Princess Apulia.
The hotel is nestled between the sea and Fasano, so the pretty beaches are visible and the hilltop towns look charming. The place has every element so a Masseria – olive groves, 500-year-old tower, domed rooms, and sea horizons without any sham of a modern 5-star hotel. It will be a memorable experience to add to your big day memories.  
Undoubtedly, it is the best destination for an Italian wedding and festivities. Couples can even plan to enjoy their honeymoon at this magical location.
VENUE INFORMATION
Borgo San Marco is a beautiful farm in Fasano, in the province of Brindisi, 53 km from the airport.
It is one of the chicest locations in the area, with a swimming pool and the possibility of renting exclusively for your wedding.
There are 19 rooms available (two/three and four beds) for a total of about 40-
45 beds.
The menu starts at 150€ per person.
Borgo San Marco
  19 rooms (two/three and four beds)
for a total of about 40-45 beds.
   Possibility to rent the whole structure
exclusively
  150 euro menu

   Swimming pool
Distance from Brindisi airport 53 km