A "bohemian wedding", you often hear about this term because the bohemian trend has been in vogue for some time now and, I'm honest, I really have a weakness for its magic. In Italy it is catching on as in other countries, in fact this trend is growing rapidly in the field of event organization and there are many brides who ask me to follow their weddings customizing them with this style.

Let's see now, however, what it means bohemian style:
The French term bohemian was first used in 19th century France to describe the unconventional lifestyle of marginalized and impoverished artists, writers, musicians and actors in major European cities; these artists and poets began to concentrate in the slums and lower classes of the gypsy neighborhood. In fact, it was a popular misconception (especially widespread in France) that gypsies came from Bohemia, a region in what is now the Czech Republic: hence the term bohemian (literally, "Bohemian").
Society constitutes a prison for the Bohemian: it demeans fantasy, will, imagination, swallows and oblivious every spark in superficiality and emptiness; the result is a rebellious attitude that is in systematic opposition to every value and custom of common sense, the only way to find a form of freedom.
The search for freedom and naturalness are definitely some of the keywords of the bohemian style, but let's see now, how you could incorporate this trend within your wedding.
Bohemian wedding, a mix of different styles
In a bohemian wedding, several aspects actually come together to create an incredibly charming atmosphere that can be customized in many ways, because this trend can be defined as a perfect mix of different styles but, for this reason, you will have to be very careful in harmonizing them at best, without any exaggeration.
Typical elements of the '60s and '70s are mixed with hippy touches, an ethnic tradition, a light-heartedness and country lightness, without neglecting retro decorations, a strong passion for vintage and accessories borrowed from gypsy and Native American cultures.
A bohemian wedding is essentially an event in close contact with nature, preferably held outdoors, non-conformist, very colorful and informal; an event particularly creative but, at the same time, romantic, relaxed and simple with a fresh and cheerful atmosphere.
Speaking of bohemian style, we speak in fact of a real philosophy of life that embraces nature and all that it can offer; you feel a strong eco-friendly bond, in fact, the materials used are purely natural and floral decorations are the focus of attention with a simple but lush, not too precise, indeed, as if they were freshly picked flowers.

To come to the aid of all the brides who, like you, would like to organize their wedding taking inspiration from the bohemian style, I decided to give you several tips, each specific to each element of your wedding, so here for you many ideas, images and details.
The ideal location for a bohemian wedding
Bohemian wedding venue
Surely one of the first things you will have to define will be the bohemian wedding venue as it should perfectly embody the bohemian style that you want to convey. The essence of this style is a particular attention to nature, so the contact with it will be essential; therefore, the ideal bohemian wedding venue is one immersed in the green, in the countryside, in a meadow or in a forest, or any other place that can offer a beautiful view as a sunny beach or any other outdoor location, provided that it is informal.

Bohemian Wedding Invitations
Speaking of bohemian style, you absolutely can not help but use decorative floral elements in your graphic coordination, so yes to colorful flowers, perhaps with a watercolor effect and all kinds of natural decoration because, as I explained earlier, this trend revolves very much around nature and all its beauty.
Then taking up the gypsy and especially native-American cultures, you could also add in the graphics the very famous dreamcatchers and other details such as feathers.
I suggest you to use a paper with delicate colors such as ivory white or cream and with a hand not too smooth, indeed, the rough effect, a bit 'rustic, would fit perfectly to a bohemian invitation.
In the packaging you could also use some twine and decorative tags, or even jute or linen ribbons instead of the classic double satin and organza; if you want to add a romantic touch, a lace ribbon could be perfect. For the envelopes, on the other hand, some in recycled or kraft paper could be perfect.
Always remember that the invitation, in particular, will be the first key that you will offer to your guests to discover the style of your wedding, so it should reflect it in full and start to make it taste. This line of style, should then be followed for all the coordinated paper as mass booklets, tableau mariage, table markers place cards, menus, etc. …

Bohemian wedding dress
Freedom, romance, naturalness and a vintage touch, these are the keywords that will help you choose a perfect bohemian style wedding dress.
If you want to follow this style to the letter, you'll have to opt for a particularly light, ethereal silk chiffon dress, a bit dreamy, long to the ground with soft and slippery lines, with a fluttering skirt, not formal.
The neckline is absolutely "in" both the décolleté and the back, leaving the back delicately uncovered with a drop opening edged in lace or deeper "V".
If it can be to your liking, prefer the lace in some details or for the whole dress, but with a vintage reference, so no particularly modern things and avoid perhaps too many incursions of sequins, would then be more suitable decorations with small pearls with floral motif.
Your bridal make-up and hairstyle, needless to say, should be as natural as possible:
– The delicate and even complexion with a touch of powder, the eyes slightly made up with warm shades and the lips colored maybe by matte lipsticks in shades of pink.
– Hair can also be left loose, delicately wavy, or held in a soft braid, all embellished with a floral detail such as a delicate crown or a lace band tied on the back or side, while the use of a veil should be avoided.
A similar look, elegant but always based on naturalness, can be used by your groomsmen or bridesmaids; the dresses should be light, floaty and feminine, possibly even with floral patterns.
The groom in a bohemian wedding
For the groom I recommend you to have a rather sober style adopted; simplicity will be the focus of his style as well. He should prefer for the suit, natural fabrics such as raw linen or cotton and nuances could refer to the colors of the earth as brown, ecru, khaki, tan, cocoa or coffee or even gray or light blue, while for the shirt is advisable to stay on a solid white color.
Given the naturalness of this bohemian wedding, the groom could also decide not to use the jacket, as long as every detail, every accessory, is treated with care, so yes to vest, suspenders and tie, for which he could also choose stronger colors or floral patterns.
It will obviously be inevitable flower in the buttonhole of a bright color or with the addition of elements such as feathers or other details of ethnic appeal.
Bohemian style floral arrangements and bouquets
The flowers will be the protagonists, I've already told you, right?! It is necessary to repeat it! Flowers chosen very carefully, different from each other in size, shape, type and color but perfectly in harmony. Their appearance will have to be a bit messy, as if they had just been picked; their naturalness and simplicity will be the master.
The bridal bouquet will have to have a soft construction with some decomposed decorative greenery; it will have to be very lush and luxuriant, full of colors full of vitality and light, without any aspect of rigidity; it will be him primarily to convey all the delicate naturalness and energy of this bohemian wedding.

For the ceremony, set up a wooden arch decorated with foliage and colorful flowers, or a small stage also embellished with very light draped fabrics; the final effect will surely be magical.

In a bohemian wedding open spaces are preferred, so use the branches of trees, perfect for hanging colored ribbons, lace and macramé fabrics, dreamcatchers of various sizes and garlands of flowers but also feathers and bells, their light movement, moved by the wind will create a perfect atmosphere with a delicate natural tinkling in the background.
Take advantage of these green areas by also recreating relaxing corners for your guests, perhaps using some vintage furniture items, such as retro sofas and armchairs or even large brightly colored rugs, low tables and colorful pillows scattered here and there.
Always following the extremely natural style, I recommend you to seat your guests in a long rectangular table rather than round tables and do not use the classic tablecloth but leave the wood of the table in sight, placing centrally on the length of the runners made of macramé or colorful linen or cotton on which they will lay bright floral arrangements in vases of different shapes and colors.
Photobooth corner for a bohemian wedding
The photobooth corner is an element that not all the bride and groom like, but I must admit that for the guests it is always a nice surprise and a way to occupy their time during those moments of waiting that can be in a wedding, so, if you like it, I suggest you to set it taking inspiration from the hippy period, an important reference to the bohemian style; what about using the famous Volkswagen T2 bus as a backdrop for the photos of your guests? You could decorate its interior with colorful pillows, draped fabrics and flowers and also make available to the guests wreaths and glasses to recreate a 70s look, without obviously overdoing it by falling into the "carnivalesque".
Or take inspiration from another important element of the bohemian style, the Native American cultures and then set up a "teepee", the classic Indian tent of conical shape and have the guests take pictures inside it.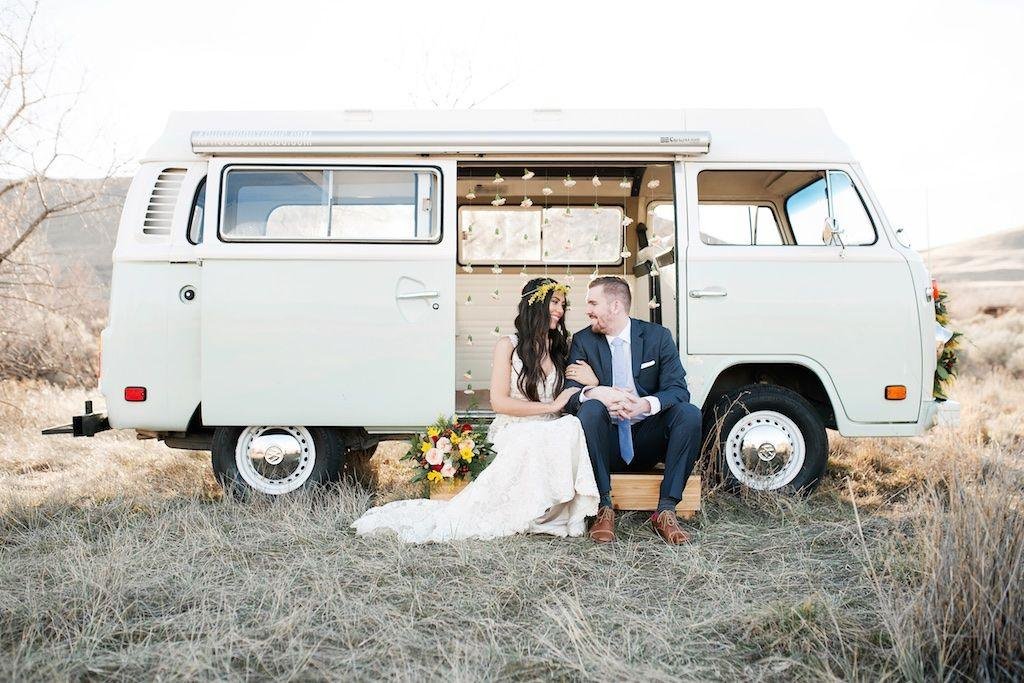 The cake for a bohemian wedding
A very natural look must be the protagonist also for your wedding cake and, for this bohemian wedding, I suggest you to choose a "naked cake" just for its rustic look but, at the same time, elegant thanks to the decorations with flowers and leaves.
The wedding favor for a bohemian wedding
Last, but obviously not least, I will now talk to you about the wedding favor for your bohemian wedding; it is a small souvenir to which guests pay attention and you know that they do not like those "ornament favors" that will end up in a drawer or on a shelf to collect dust, so, since the trend prefers bohemian this simple, eco-friendly lifestyle, the wedding favor could be something handmade (DIY, "do it yourself") of reference to nature and what it can offer us, such as:
– Small plants in colorful pots, perhaps hand-painted and different from each other
– Jars of jams and marmalades
– Jars of honey
– Small bottles of oil
– The same dreamcatchers, could be very welcome DIY gifts for your guests, do not underestimate this idea, their romance and magic, could win your guests.
You can then decide to decorate everything by adding a lace detail or packaging with some fabric floral patterned bright colors.
We have seen together many interesting ideas to make a bohemian wedding, I hope I managed to convey, step by step, all the main elements of this style of which we hear so much talk and hoping that you liked this article and can be a source of inspiration for you, let me know what you think, share it on your social networks and if you have any doubt on the subject, do not hesitate to contact me, it will be a pleasure for me to answer your questions and who knows, maybe start with you the wonderful journey to organize your bohemian wedding in Puglia.