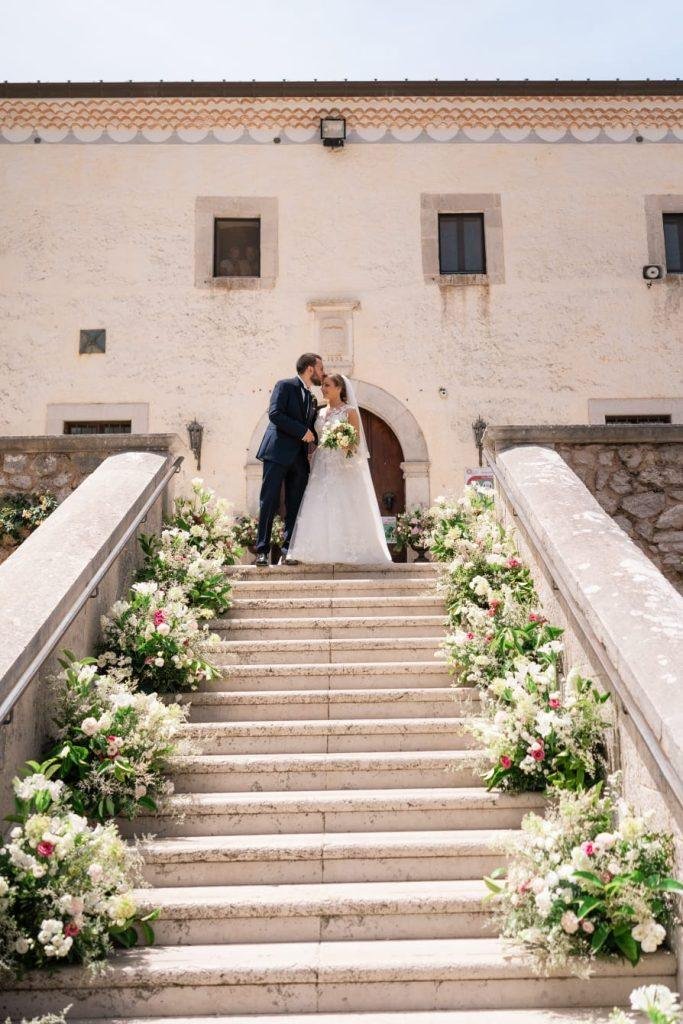 REAL WEDDING IN PUGLIA
From the words of our bride Assunta
YES I WANT IT!!!
08/11/2018, Paris in all its splendor, a proposal and one unquestionable answer: YES, I WANT IT! Thus begins our journey. It is decided. We are getting married In PUGLIA on 08/13/2020!

The first steps of such a long-awaited and desired journey were accompanied by so much enthusiasm. Surfing the web, we delved into the search for a wedding professional who could guide us to make our special day unique and unforgettable. That's how we met Elena, a wedding planner by profession, who immediately impressed us with her prompt style and affable availability.

Our fantastic adventure began and we set off with the selection of our first suppliers, which served to fuel the illusion of a day that seemed to be getting closer and closer but was actually receding in the light of an unpredictable near future. Unaware of anything, the days flowed by and the pieces of our puzzle slowly fit together:
Antonio, the light of his shots, the sunshine and spontaneity of his subjects: this is how we wanted to immortalize our fairy tale of love;
Federico, his compelling and romantic cinematic art capable of moving even in just a few minutes: this was to be the film of our day;
Francesca, the deep and sensual voice, the unmistakable sound of her band: these were the cheering notes for our reception.
September 2019, perhaps the most anticipated step: choosing the dress! Amidst tulle, embroidery and fine fabrics one is dazzled by so much splendor. You start with an idea, and as I was alerted in advance, you arrive at the completely opposite direction. The wedding dress fitting is a unique experience that culminates with the reflection of the mirror projected into the shiny, dreamy eyes of a woman who for the first time sees herself and feels she is truly a bride: MAGIC!

End of February 2020. Final definition of the menu… the most is done, just a little while away… AND NEVER.
Superfluous to dwell on what, as known to all, happened in the months immediately following. Fear, doubt, uncertainty dominated. It was not supposed to be this way, this was not how we imagined our special day. One painful decision ensued: wedding postponed until a later date.

August 13 arrived, a date that we will officially remember as that of our non-wedding; it passed like any other day, in fact even worse.
In this phase of total confusion, Elena's contribution was crucial. She helped us make it possible to choose a new date that could at the same time suit us and the suppliers: June 30, 2021!

The preparations, thus, continued, albeit in the most absolute uncertainty that did not dissolve until a few weeks before the day set for the event that became more and more awaited. One staggered in the dark trying, sometimes only with imagination, to imagine the ways in which we could get married: Only in church without reception? With reception and guest limit?

So the most exciting moments such as choosing wedding favors, floral arrangements, graphics were accompanied by the constant updates of DPCMs and decrees … and often the atmosphere of joy was replaced by the doubt that probably one of the most important days of life might not be as we dreamed of as children.

We got closer and closer to the whole extraordinary world of weddings, sharing doubts, fears and uncertainties and feeling more and more part of a big family that by trade and passion makes fairy tales!

The officialdom of the resumption of the wedding industry from June 15, 2021 could only make us very happy and now, months after our wedding, we can say that all the waiting, perseverance and determination of years has been amply repaid.

06/30/2021 was a wonderful day for us as newlyweds and for all our guests. We left behind a long and bad period and experienced and shared those strong emotions that only a love wedding can give. The 'alchemy created by all those who helped make our dream come true embellished every moment, making our wedding day magical and unforgettable.
Signed a happy bride who will forever and with immense joy remember her YES I WANT IT!