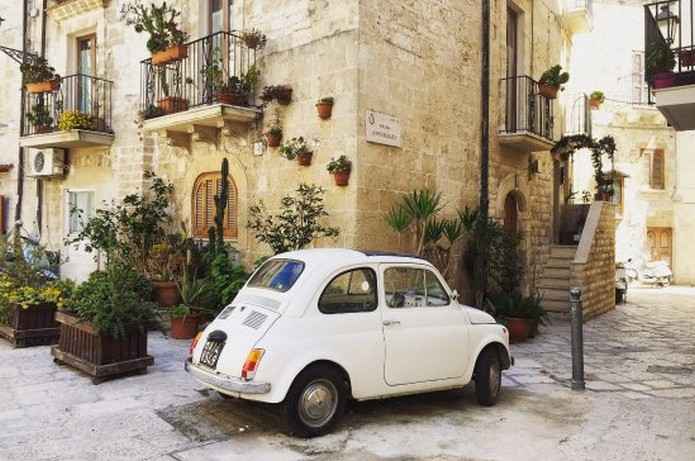 Puglia, with its golden, unspoiled beaches that appear to embrace the crystal-clear waters, and its glorious scents of the sea, and its traditions and culture is a region that offers everything you could ask for in a dream wedding.
The only thing holding some couples back from enjoying their dream wedding in this beautiful location is Italy's "charming" reputation for being disorganized. But don't worry, there is an easy away around this issue – hire a good wedding planner like us.
We can take care of all the details, work with vendors in their own language, schedule the perfect venue and ensure that your wedding goes perfectly while you stay stress-free.
Now back to Puglia … Puglia's breathtaking views and deeply rooted traditions create the perfect blend of romance and strong values.
Getting married in the beautiful region of Puglia means celebrating a wedding that is understated and elegant, accompanied by beautiful music and traditional dance, in a natural setting with soft lighting and a refined and elegant décor.
If you want a wedding that truly impresses your guests, a wedding that they will remember forever, Puglia is the perfect location and we are the perfect wedding planners for the event.
In this enchanting region, the lush colors of nature gloriously blend together to create a unique background resembling a masterpiece that has been painted using a multitude of shades.
Concerned about finding the perfect place? We can help. As natives to the area we are extremely familiar with the most beautiful locations and can help steer you to the ideal place.
A WEDDING MADE IN PUGLIA
The wedding date has been set, but you now realize that trying to get everything organized in time is not as easy as you thought.
By choosing to work with specialized professionals for your wedding in Puglia, you can be sure that the organization and preparations will not be as daunting and will leave you free to enjoy every aspect of your wedding day, knowing that it will be absolutely perfect!
THE PERFECT FRAMEWORK FOR YOUR WEDDING IN PUGLIA
Every couple dreams of having a perfect wedding, with special attention given to even the smallest details. For this dream to come true, it is important to turn to a competent and serious professional who has dedicated years to the profession.
The experience acquired by a professional is a guarantee that the bride and groom can choose a location, amongst the vast selections available, that reflects their personal tastes and desires, whether by the sea, with a sea view, or among beautiful farmhouses immersed in nature.
Every couple is sure to find the perfect solution for the classic setting of their wedding, while respecting their budget.
We specialize in helping couples not just find ideal locations that will impress their guests but also decorate and arrange the vendors so that everything is perfect. You will have your dream day and everyone else will have a great time that they will remember forever.
PUGLIA THE PERFECT SETTING FOR A DREAM WEDDING
For a wedding to be perfect and to make your day even more special, accurate care and attention must be given to even the smallest detail.
In addition to the setting, which includes tables, gazebos, etc., other details such as elegant glass bowls for the "Confettata" help make the difference.
You may also want to choose beautifully designed containers with an incorporated candle holder for additional charm, to blend with the dramatic backdrop created by the Pugliese landscape dotted with century old olive trees, sumptuous wines, and
gastronomic delights.
You can select a location overlooking the sea or opt for one immersed in the bright splendor of the typical white houses characteristic to the Martina Franca area.
You can choose anything your heart desires.
It is easy for brides to feel overwhelmed by the many choices Puglia offers, but don't worry we can simplify the process for you and ensure you get the wedding of your dreams with no stress or anxiety.
For more information on weddings in Puglia and to know the other destinations please
I look forward to planning your special day!