Having told you in the previous article about a Mediterranean style wedding, today we will continue on a similar theme and we will show you our new Inspiration Board dedicated to a lemon and lavender wedding, both elements characteristic of the Mediterranean countries, especially in Puglia, and loved by many of you.
How to make a lemon and lavender wedding
In this new Inspiration Board we wanted to focus mainly on two colors, or rather, on two elements that immediately convey two colors to us: the first is lavender, which, thanks to its flowers, we immediately link it to delicate nuances of the range of purple and the second is the lemon, with its bright yellow skin.
These are two complementary colors, or rather, two colors that are located in front of each other in the famous color wheel and what you get when you put them together, is a contrasting effect that goes to strengthen the brightness of both, this combination we like very much and the two colors harmonize perfectly and are able to convey, albeit gently, a great vital energy, don't you think so?

As far as the color palette of this lemon and lavender wedding is concerned, it will definitely have to be centered on the two main colors, but if you're afraid that they might be too bright and garish (especially yellow), you could combine them with more delicate shades, such as pastel shades to make the palette more harmonious and ensure that there are no sudden "jumps" between one color and another.
In our Inspiration Board, we wanted to focus on the vital energy of lemon yellow, considering it as the main color of the event, and we combined it with a delicate shade of lavender and a darker shade of purple, saturated and warm; we also wanted to keep both an ivory white and an optical white, this allowed us to give a youthful look to the palette but without making it too essential and modern, because the Mediterranean and Provencal inspiration need colors with a hint of vintage.
These two elements and their scents really have an undeniable positive charge and can in no time at all make our imagination fly to the extraordinary landscapes of Provence, so the most suitable location for this lemon and lavender wedding can only be outdoors, with a reception in the garden or among fields planted with this aromatic plant, or under a wooden or wrought-iron veranda. Long rectangular tables for your guests, set up with simplicity and without too many frills, and as for the floral arrangements, it should not be anything too elaborate: use wooden boxes, glass jars, or pewter and inside create compositions with wildflowers for a "just picked" look to which you will obviously add lavender and lemons for an extra touch of color.

You newlyweds will have to match the style perfectly, so go for a simple look that also has a slightly vintage air; leave your hair wavy naturally, or gathered in a messy chignon or in a side braid and if you want, add a thin crown of flowers, in this case, lavender with the addition of some daisies or some chamomile flowers to recall the yellow color. Your wedding dress should be very light, nothing too "constricted" or with geometric lines; you should look ethereal, graceful, and wrapped in fluttering and impalpable fabrics. If you love lace, use it absolutely, it will give that retro touch that will perfectly match this Provencal style.
For the bouquet, on the other hand, there are many ideas: from the one created exclusively with lavender and decorated with a yellow ribbon to the one made with a mix of wildflowers such as chamomile, Erika, lavender, and other herbs, up to more original options such as this very special bouquet in which real lemons have been included.
Even your bridesmaids will have very light dresses, for example in silk georgette and as for the color they could use shades of purple or yellow.

The groom should not choose a too formal look, it would not match with the style of this wedding and we recommend you opt for light colors, such as a warm gray, or beige. In this case, he will also have the opportunity to play with accessories such as suspenders, very nice and perfectly themed, in addition, the shirt could also be more informal, for example, not in the classic white, and also present a sports pocket on the front. Obviously, you should not miss the flower buttonhole that will recall both the lavender and the yellow color of lemons.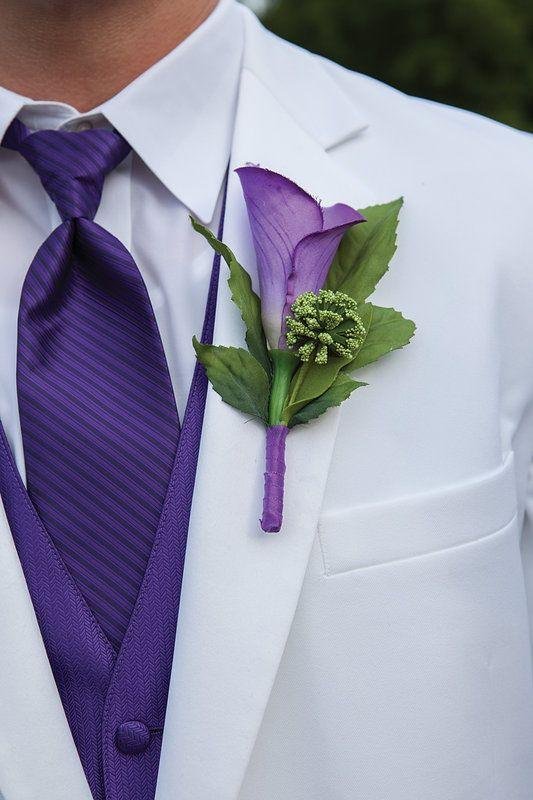 Last but not least, will be your wedding cake, in this case, we do not recommend elaborate American-style wedding cake but rather, a lot of sobriety, it will be perfect for a multi-level sponge cake covered with whipped cream and decorated with real lemons and lavender spikes, will be essential but with a wonderful cool effect that will perfectly match the season and, by the way, we recommend using this theme for a summer wedding or in early September even if it could be perfect for a hot day in late spring.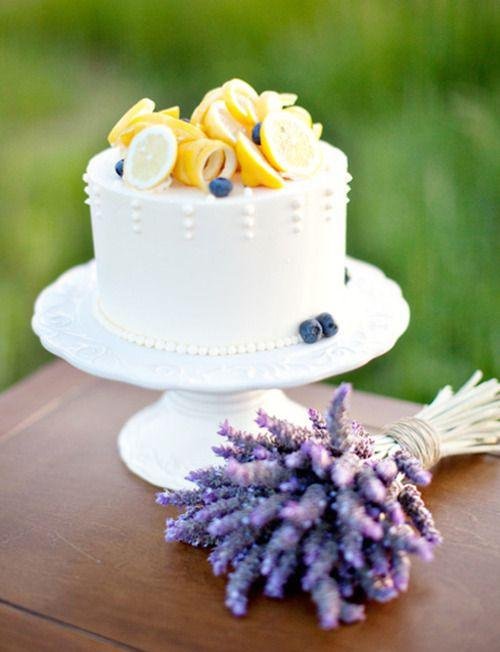 A fresh and bright inspiration, a very original lemon and lavender wedding cake that will fit perfectly with a Mediterranean style and more strictly with a Provencal wedding.