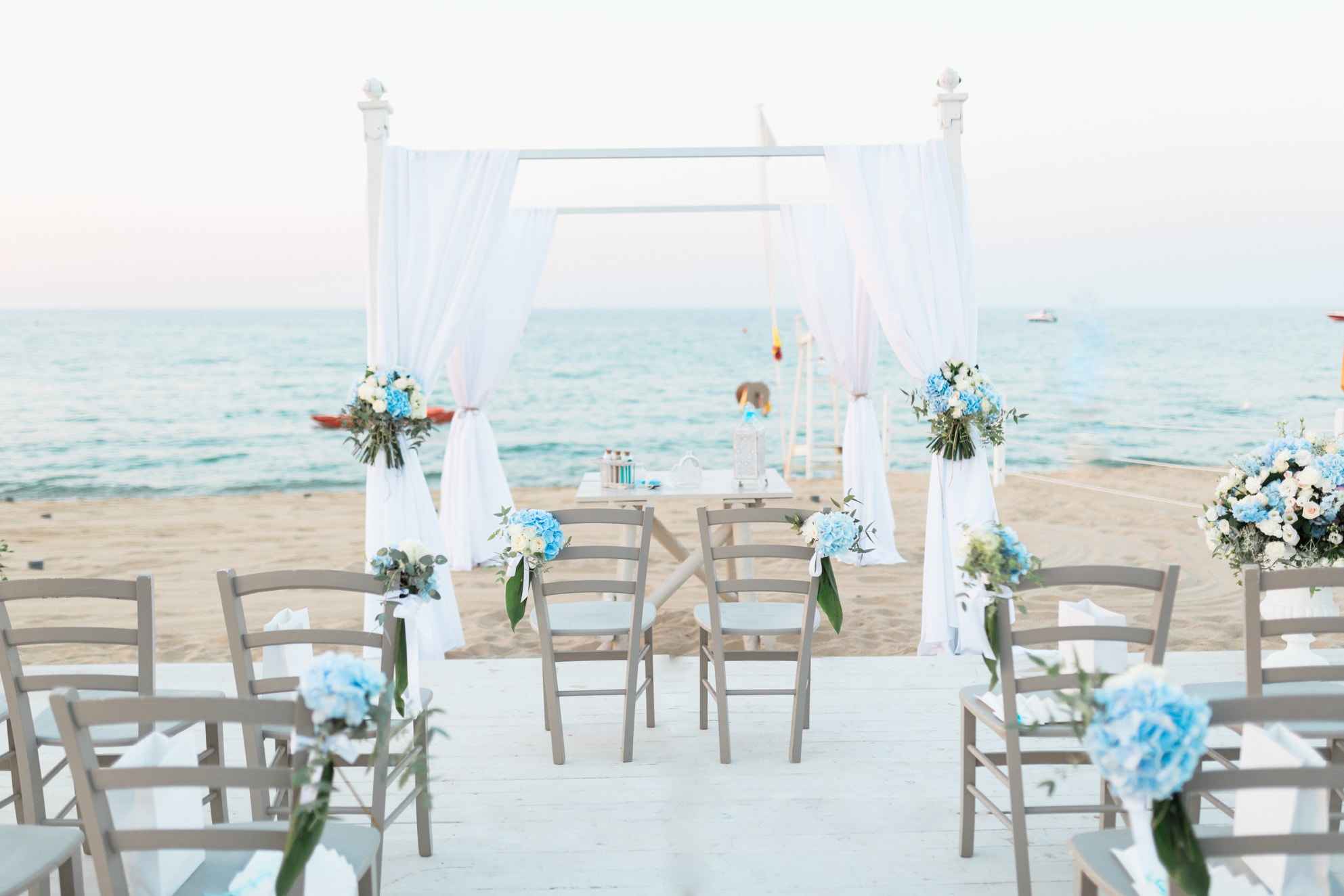 Puglia Beach
Situated at the southeastern tip of the Italian peninsula, Puglia is an elegant venue for those in search of a beach wedding in Italy.
Gorgeous sandy beaches, very old and historical towns, scenic fishing villages, delicious wine and meals, and the wonderful national park of the
Gargano make Puglia wedding venues truly charming places to get married.
The area is characterized by classic trullis, the National Park of Gargano, the city of Ostuni, the gorgeous region of Salento and the Pietra Leccese, which boasts extremely fertile soil and which is popular for its wine and olive oil.
Trulli is a conventional stone dwelling with a pointed roof and a lot of these have been rehabilitated into celebration homes, a few of which are also perfect for a Puglia beach wedding.
Other common buildings of the Puglia region include very old Masseria (farm houses), most of which have been rebuilt and turned into magnificent accommodations.
A few Masseria are also situated by the sea side and can be the perfect venue for those in search of an exclusive Puglia weddings site with lots of charm and character.
A Genuine Italian Puglia Beach Wedding
Who said that a wedding on the beach can only be held in the Caribbean?
Amazing Italian seas and beaches are waiting for you! So let us talk about the Puglian Sea and coastline and the extensive garden beaches of this charming Italian area.
With this article, we'd like to offer you a dreamy alternative in Italy which is known and appreciated not just for its seaside, but also for its food, art, wines and much more. It's definitely a location that your wedding guests will appreciate and be impressed by.
Sure, this area is a charming place for two to elope to, but it is even better for wedding parties that want to combine the wedding day and a relaxing vacation for friends and family.
If you consider the beach is the perfect spot for your wedding, the Puglian land and its seaside are waiting for you!
We should know, we are a professional wedding planner and experienced event coordinator in Puglia. Our local land has provided us with so much and continues to fill us with pride. That's why we work as wedding planners – to help couples make their dream Puglia beach wedding a reality.
When it comes to staging a wedding overseas, so much depends on the wedding planner you select. The right wedding planner with the right connections and the right dedication can make all your wishes come true. While the wrong planner can turn your dream day into a nightmare.
With that in mind, we'd love to tell you more about the most popular Puglian venues where you can hold your ideal exclusive Puglia beach wedding.
Imagine if your marriage started amid warm sun, elegant golden beaches and a super clear sea that you can see your reflection in.
All that is possible on the Puglian coast. This is the most excellent wedding venue with nearly 700 KM of beaches. Coves, white sand beaches, caves and overhanging cliffs of real beauty will take your breath away. Several brides and grooms have decided to stop their research right here as soon as they explored the Puglian sea, lidos, and beaches where you can organize both your party and your ceremony.
Danilo and Nastasia (one of our client couples) chose a late August sunset to say I DO on the Puglian beach. Friends and family arrived in Puglia or Apulia from different states.
The young couple wanted an informal marriage ceremony with a predominance of white and other gorgeous elements that created a stunning romantic environment.
Our duties as a wedding planner for this Puglia beach wedding were to guide the couple and ensure their wishes were granted. We allowed them to relax and enjoy the true elegance and charm of this brand new wedding venue.
For their exclusive Puglia wedding, they had an actual beach event right on the beach sand. All the guests were excited.
The bride and groom were actually moved by the scenic site but at the same time they were also relaxed since they had competent professional wedding planners from Puglia handing everything.
The Puglian environment helped them access a gorgeous site that was made even more beautiful by the sunset. It was truly a great day – a day filled with joy from the couple and their guests and elegance from the scenic backdrop.
Flowers, candles, and soft white curtains formed the structure of the event while a canopy, and sofas, Poufs, and branches of palm trees set an incredible scene for the reception, which also featured delicious and fresh cooked fish.
The reception meal included traditional Puglian meals as well as superfine Italian menu to suit entire palates that was accompanied by famous white wines from Puglia – Negroamaro Primitivo and Salice Salentino.
Puglia is a region that is filled with some truly amazing Italian traditional food.
Exclusive Weddings in Puglia
Want to hold your own exclusive wedding Puglia? We can help! We do marriages in Puglia and have a team of marriage experts to help you from start to end.
We are experts on the entire Puglia region, which is beautiful and highly recommended to for lovers who are seeking a place known for "off the beaten track marriages" and "exclusive venues."
In Puglia, there is a gorgeous selection of villas, masserias, trullis, beach venues, castles, luxury hotels, and restaurants, town halls for civil events, and gorgeous chapels, churches and cathedrals for Catholic marriages.
The choices are numerous and as local experts, we can help you make the right choices for your dream wedding. Don't risk choosing a poor wedding planner that won't be able to turn your dreams into reality and instead will create an event that lets you and your guests down. Let us give you the exclusive Puglia wedding of your dreams! >>> Contact us