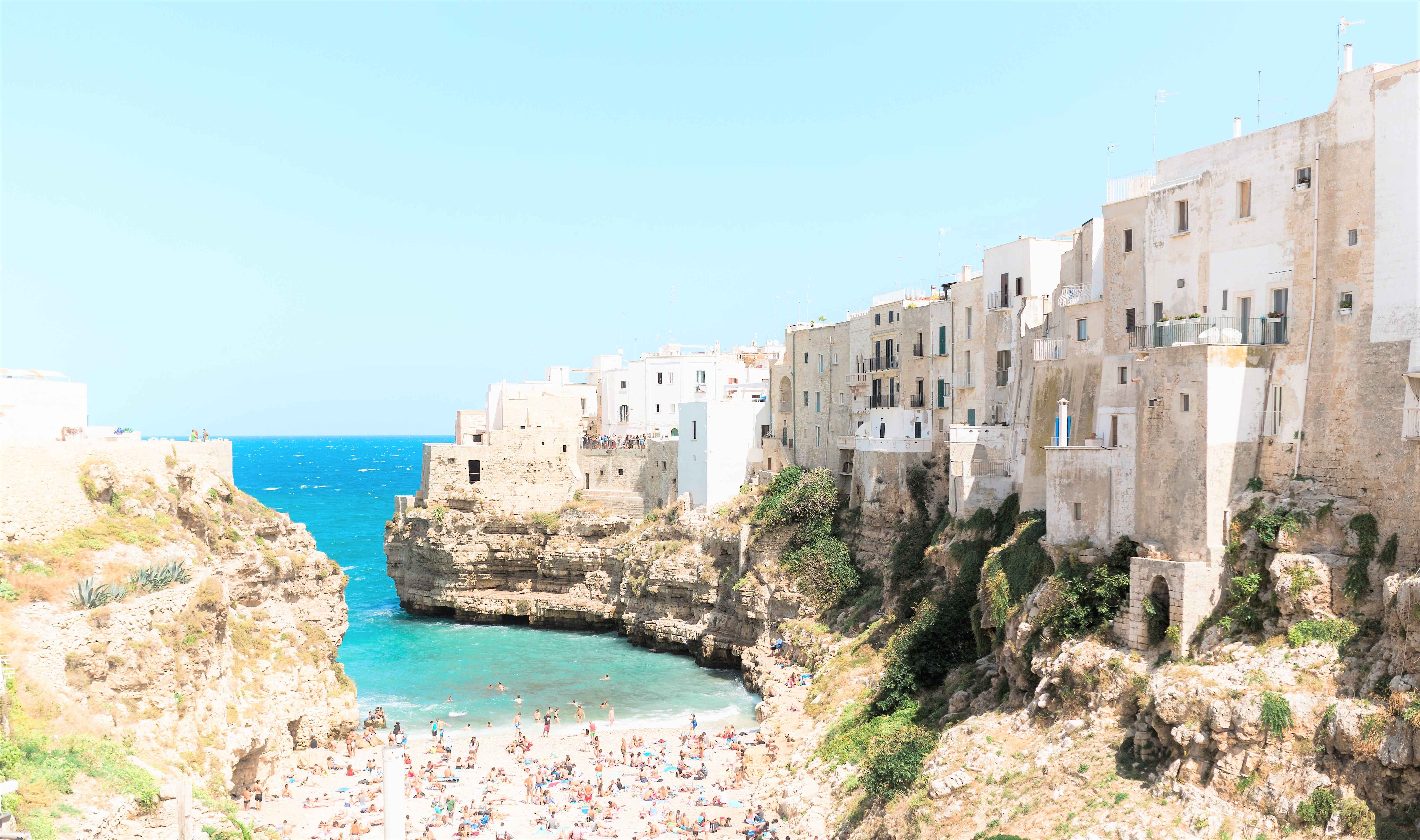 Italian destination wedding
Considering having a Italian destination wedding?
Don't do anything until you read this article first. Here's why: you are about to discover a truly amazing destination that could be just what you need to ensure your wedding is truly memorable.
So let's get started …
If you are seeking a super romantic destination for your wedding overseas you would do good to consider Polignano a Mare.
This is a dreamy location in Puglia, an area of Italy that is known for excellent food and relaxation brought about by sea, sun, love and romance.
Here's more about the destination: Polignano a Mare is a stunning and picturesque little town in Puglia in Southern Italy.
The village is located on a hilly spur looking out into the Adriatic Sea. Beside being beautiful it is also an exceptional historical location that features charming streets and architecture with superb flair.
It is a truly wonderful and eye-catching wedding Italian destination for brides and grooms coming from all over the world.
Plus, Polignano is quintessentially Italian destination! It is the hometown of the famous Italian singer Domenico Odugno, who sang "Volare." For many this song is the unofficial hymn of Italy.
So by holding your wedding in Polignano you will get to experience Italy at its best along with amazing views that are sure to take your breath away.
Few places offer more appealing sea views and then combine those views with the charm of a true Italian village.
A Romantic Wedding in Italy
A romantic wedding in Puglia in Polignano a Mare is something that you and your wedding guests will never forget.
Imagine a real traditional seaside town in Italy and all the beauty that comes with that.
Imagine a super friendly and extremely welcoming atmosphere.
You'll find all of this and more in Polignano a Mare. This is the perfect place to enjoy real summer Italian life. There is sun, sea, amazing food, breathtaking views and local residents who are extremely welcoming.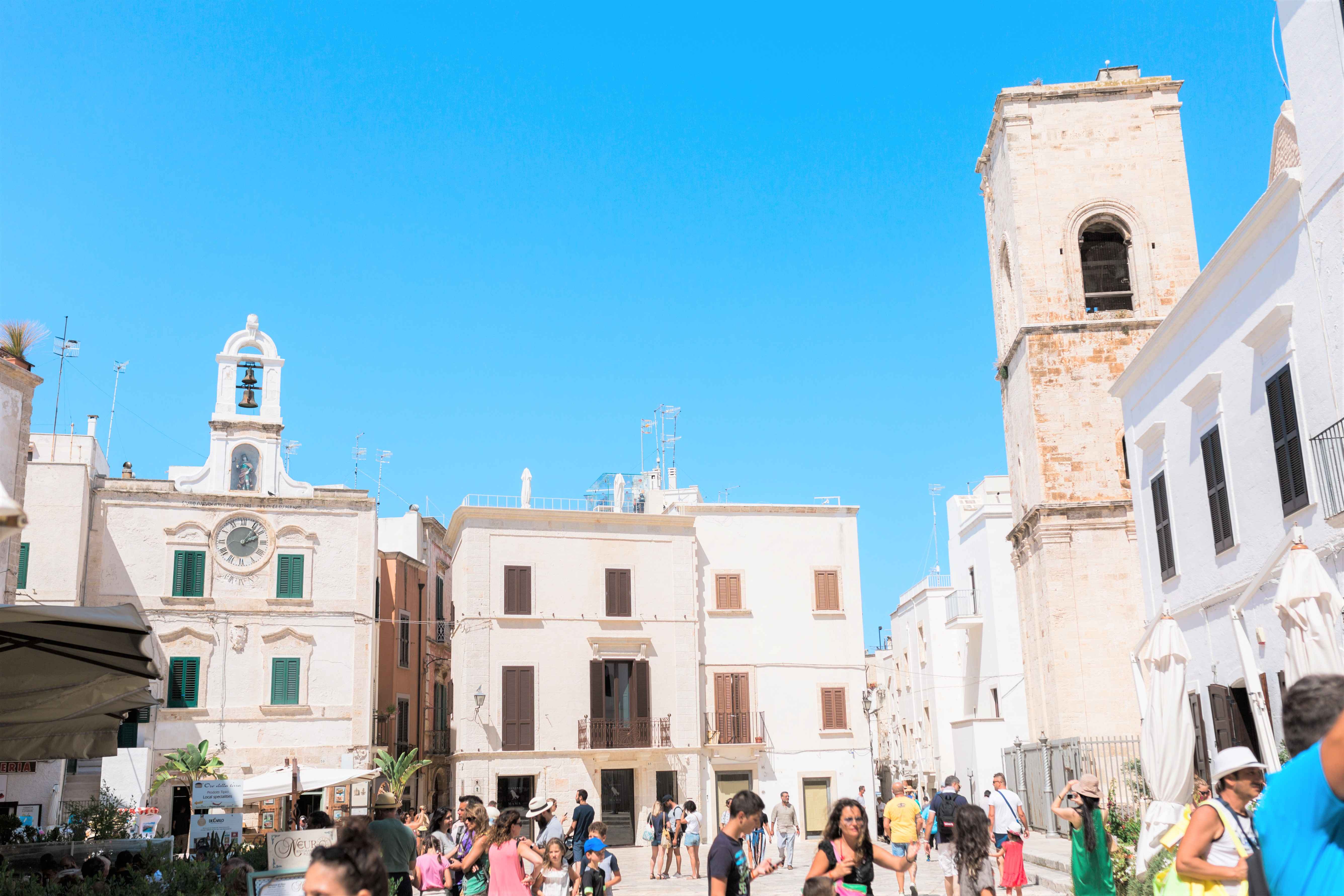 Italian Destination Wedding: Polignano a Mare is an Ideal Destination for a Wedding in Italy!
Walk around this stunning town and you will see gorgeous houses, eye-catching artistic masterpieces and charming boutiques. And that's not all, there are also Italy's most elegant beaches and romantic wedding venues waiting for you in Polignano (or Apulia).
You'll love discovering its charming grottos and stunning views. And let's not forget about Masseria, farmhouses, villas, and private venues that will make for an authentinc Apulian wedding.
Polignano a Mare is one of the most wanted wedding destination in Apulia. It is located just 33 km from Bari and its airport and transfers to get in the town can be easy planned.
Your wedding in Polignano a Mare deserves the best and we will be happy to support and help you make sure that you get the best venues and service providers.
We look forward to helping you plan a great wedding in Southern Italy – Apulia!
Still Searching for Your Wedding Destination?
If you haven't found the right place yet, I suggest you choose Puglia.
It is a land that has been considered for many years to be the favorite destination for stylish weddings.
Located in the heel of Italy's so-called boot, Puglia offers a perfect location for your big day.
Although the Valle d'Itria is now recognized as the Wedding Valley, in reality the locations in Puglia in which to marry are numerous, with many offering perfect views for a wedding.
One of the most popular destinations in Puglia, chosen by couples from all over the world, is Polignano a Mare.
For example, Ellisha and Timothy chose this location and made sure to arrive a few days before their big day to enjoy all the wonders that this region offers.
They stayed in a beautiful apartment "farm" very close to the city of Polignano. This carefully chosen location enabled them to enjoy a relaxing stay with their guests before the big day.
As for their wedding day – it was beautiful. The weather was perfect with a light breeze and a shining sun. It was a beautiful day for a beautiful wedding.
Of course, Puglia is a land that is kissed by the sun. You will breathe a clean, genuine air and don't be surprised if you have the desire to stay here forever.
Ellisha and Timothy had that very feeling and were extremely satisfied with their wedding location choice.
They had an intimate marriage to remember.
By the way, Ellisha and Timothy are English. They come from Penzace a city in the United Kingdom. They chose to have their wedding in Polignano a mare for a number of reasons.
It has crystal clear waters, caves and breathtaking scenery. The town is one of the most highly rated for tourism and it completely overlooks the sea. Those lucky enough to visit it are always fascinated.
Ellisha and Timothy decided to get married in the summer, so the choice of Polignano was very apt as this is a great summer wedding location.
It truly very pleasant to organize everything for them and turn Ellisha and Timothy's dream of marrying in a unique city where they could admire the beauty of nature and the sea into reality.
Preparations for the wedding started a couple of months before, after selecting the location for them and choosing the municipal building for the exchange of vows, it all came together perfectly.
The ceremony took place in a very private and intimate way with their two witnesses and everything was taken care of to the smallest detail. They got married in the Pini Pascali museum, a grand structure just 4 minutes from the center of the southern waterfront area and which overlooks the sea.
This structure allows you to observe the sea and the sky from inside, thanks to its large glass walls.
The bride's bouquet and the mini bouquet of the witness were inspired by the summer season, with white peonies and pink roses along with a touch of olive to recall Puglia.
The bride's long blond hair, fair complexion and her eyes shone with joy. His candor was particularly striking. He is a tall man with reddish hair who cut a distinguished figure full of grandeur and elegance.
This was a romantic elope so the groom didn't wear the classic wedding tuxedo but instead chose a traditional Scottish kilt to honor his origins.
The ceremony was intimate and romantic and the couple and their witnesses were very enthusiastic about the chosen location. They looked at everything around them with immense joy and amazement.
Once they left the municipal building, the two spouses chose to continue on foot through the streets of the town. This was made possible because the streets are not busy, Polignano has a fairly quiet pace of life making it a great escape from the usual hectic routine we are used to.
The wedding was an unforgettable moment, sparkling and very exciting, which the wedding photos attest to.
The couple did not use a car or any vehicle, preferring the simplicity that most of the time makes the difference in a marriage.
The whole town seemed to be celebrating as passers-by lingered to admire Ellisha and Tim, who looked beautiful and original. Passers-by even asked them for photos together as they were attracted by the peculiarity of the groom's kilt.
The wedding produced magical moments that were immortalized by spectacular romantic photographs.
The wedding dinner was held in the beautiful restaurant overlooking the sea.
One of the great things about Polignano a Mare is the fact that it is on the sea. This view made the wedding dinner even more special.
The atmosphere was magical with the landscape serving as a perfect accomplice. The photos taken at the wedding and dinner contain indescribable moments that remain etched in the mind.
The marriage ceremony went very well and the happiness of the spouses and their witnesses was very satisfying to all involved. It was a fabulous day.
Do you want a memorable memory of your wedding too? >>>Contact us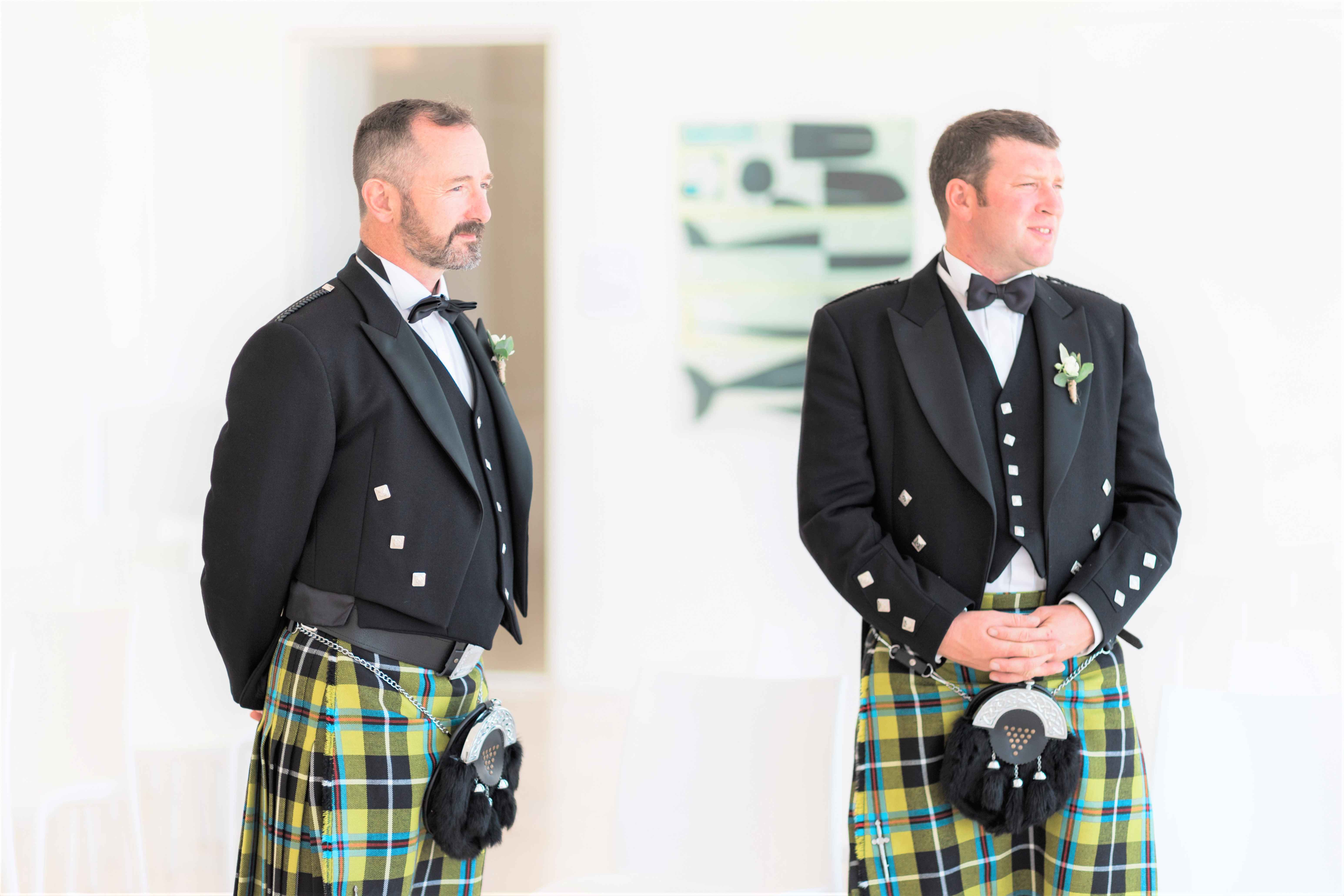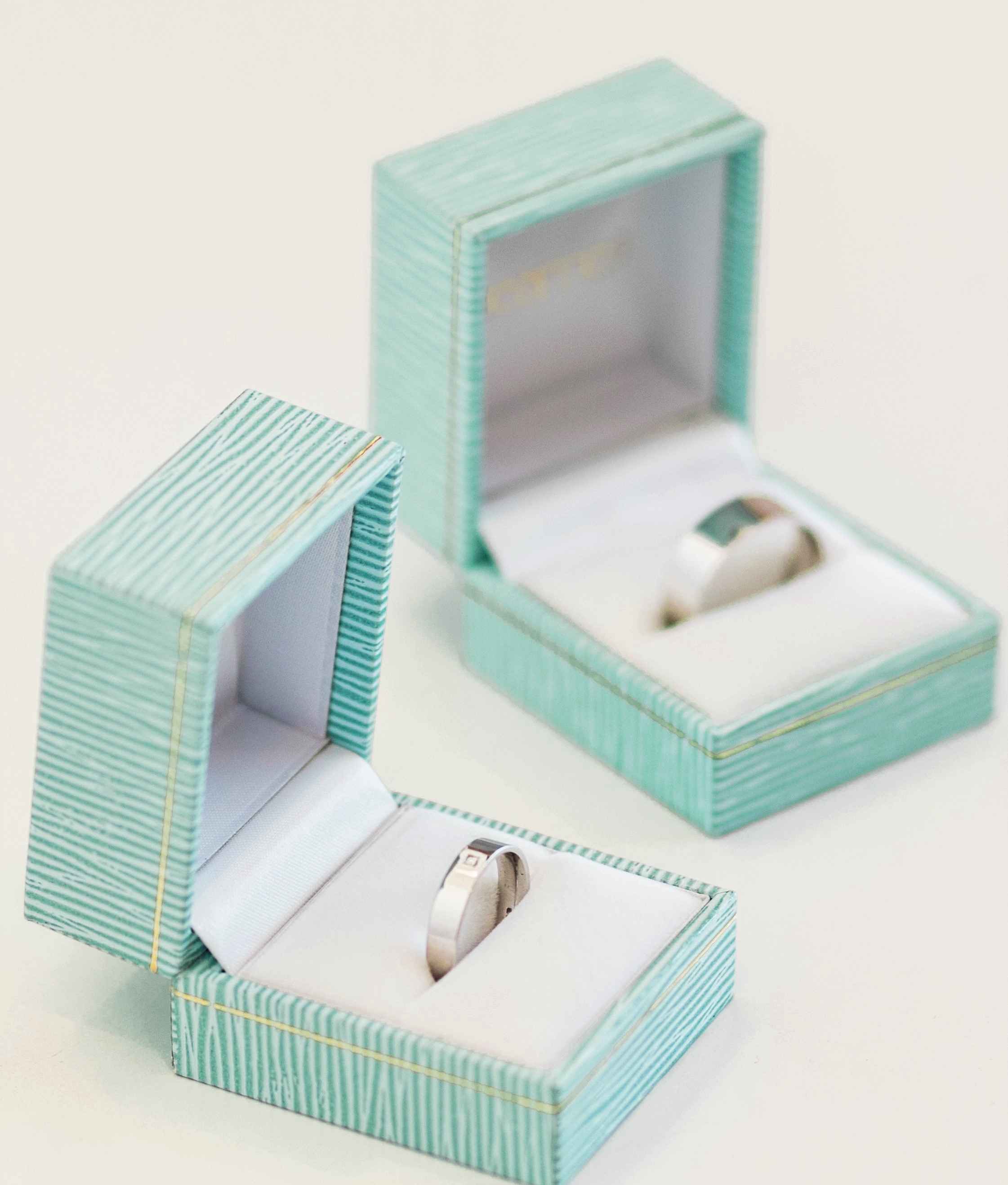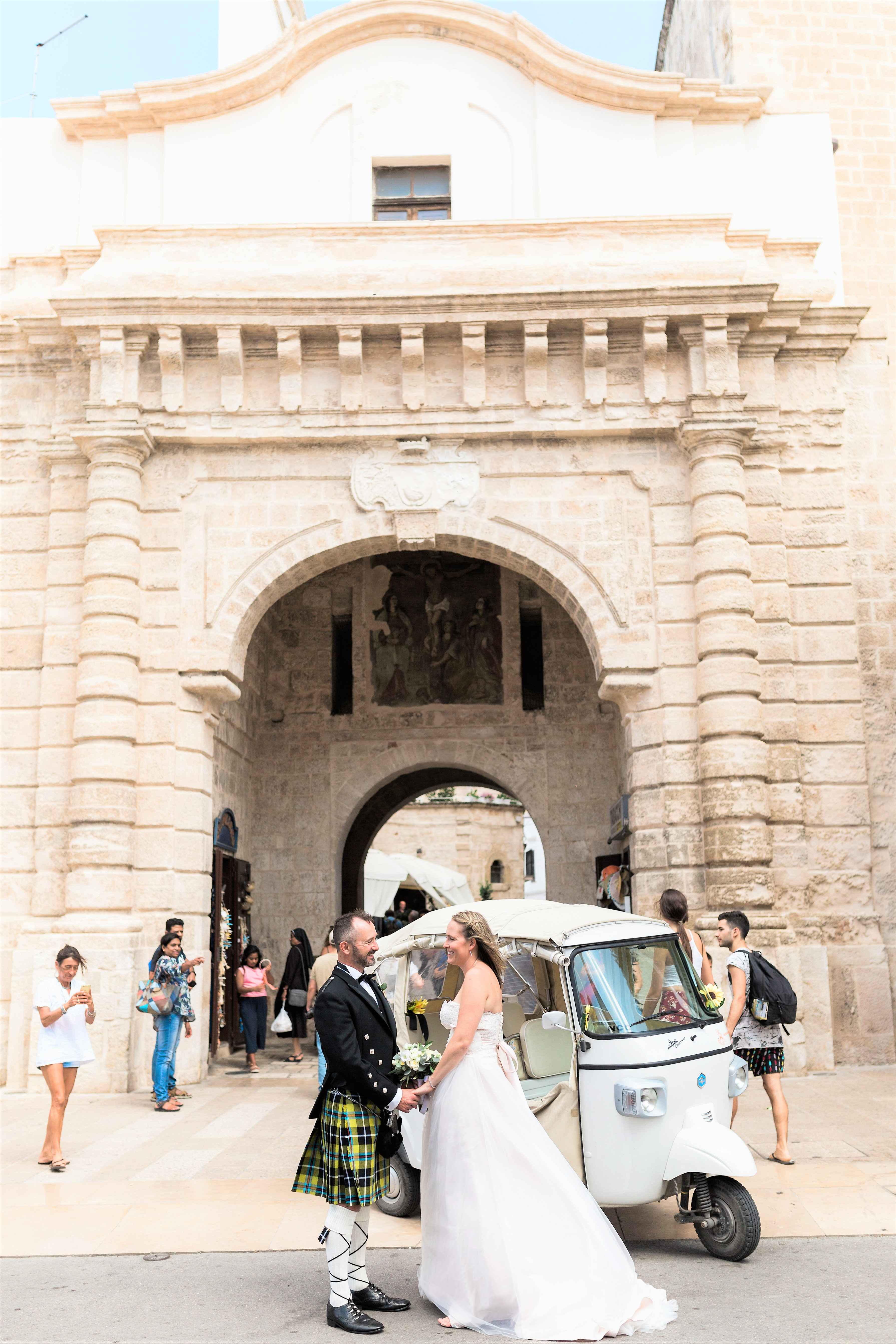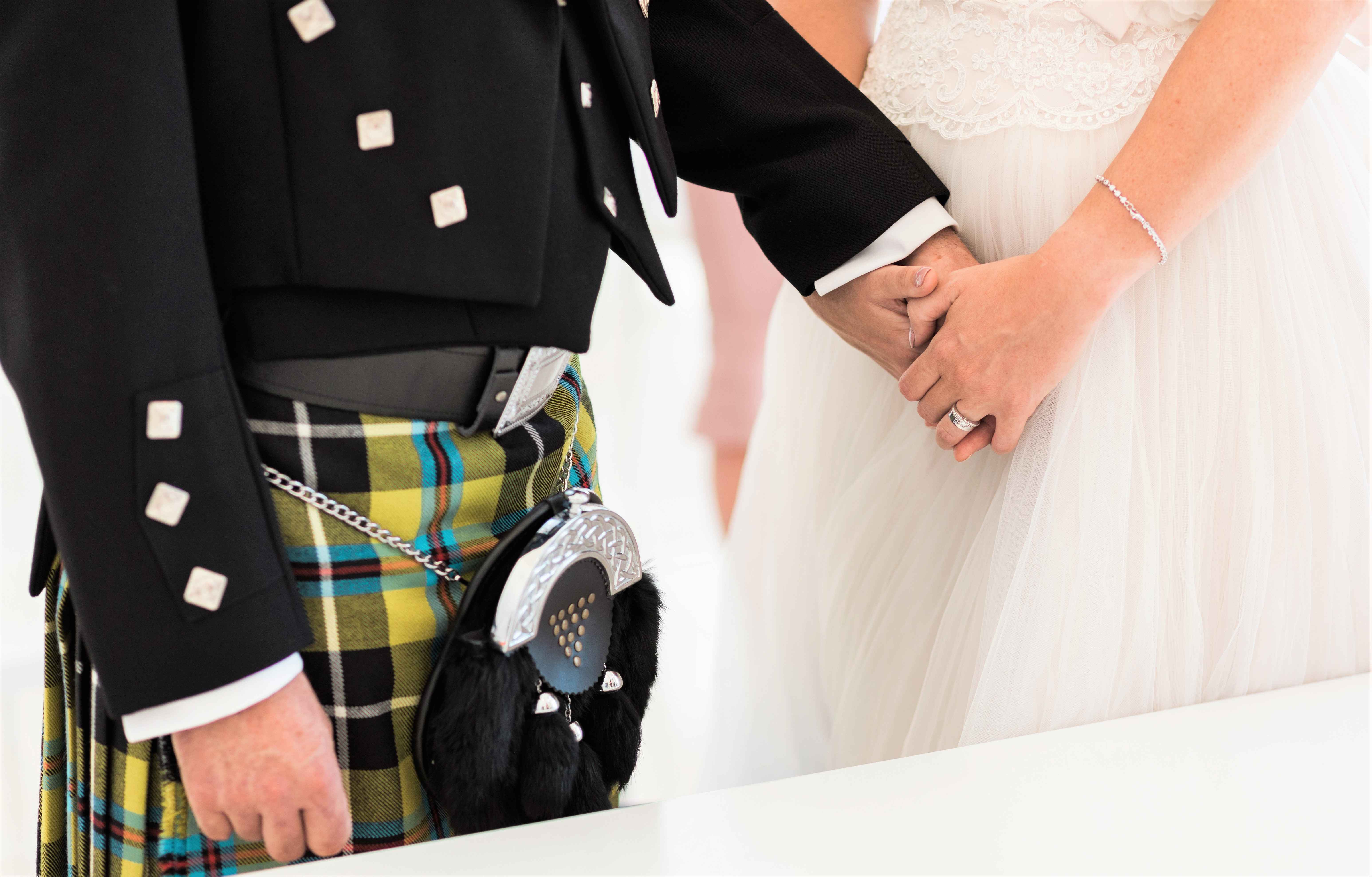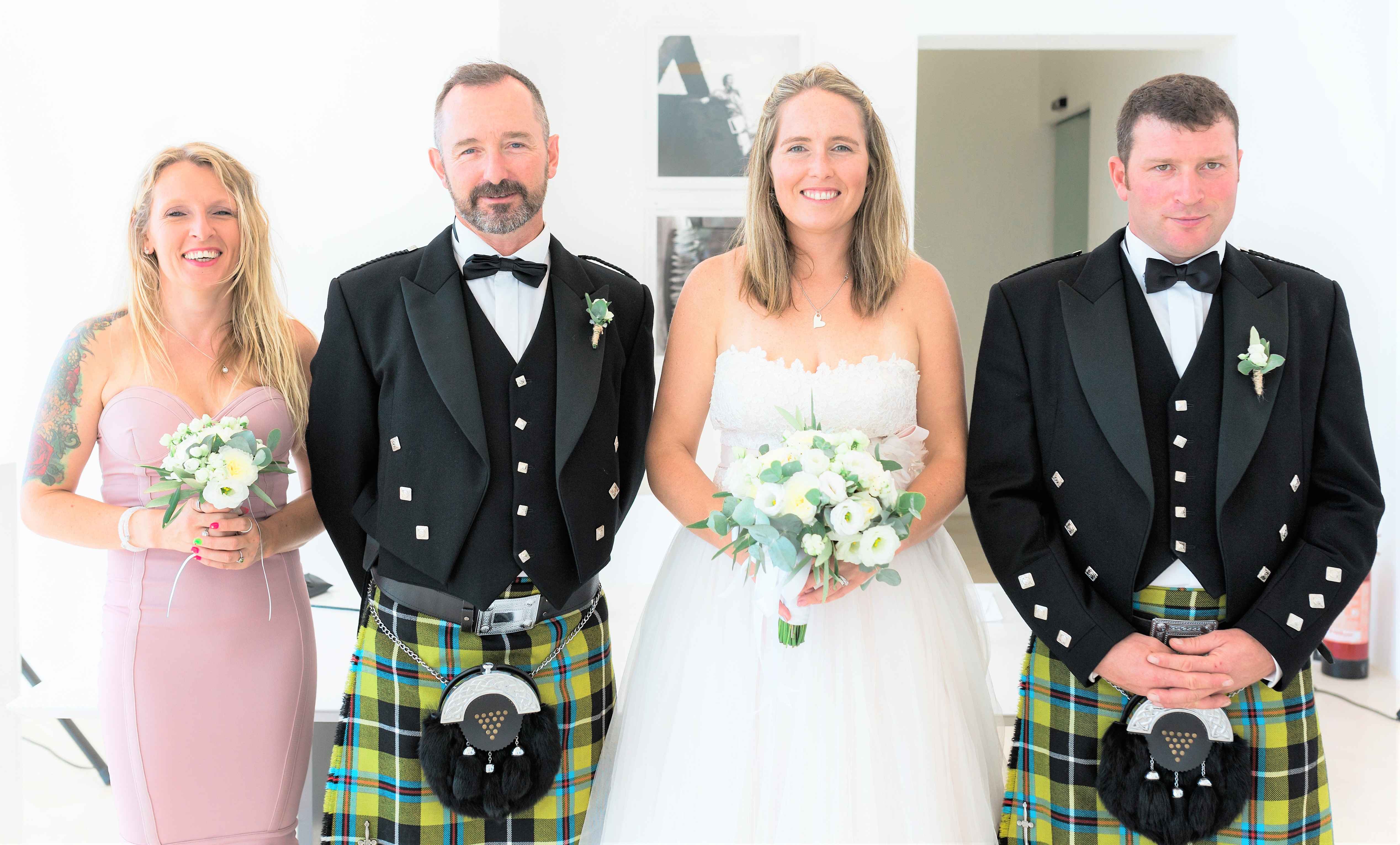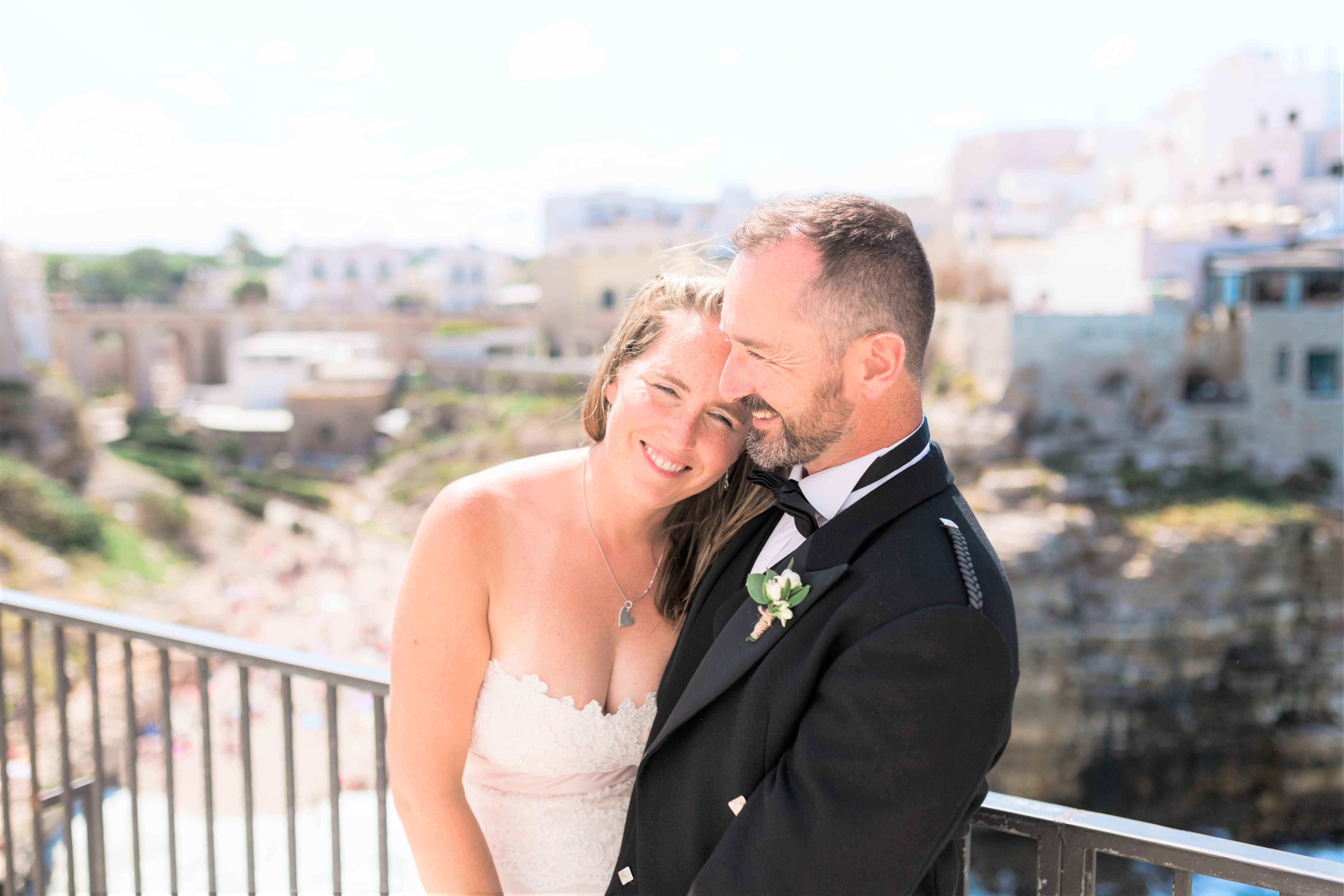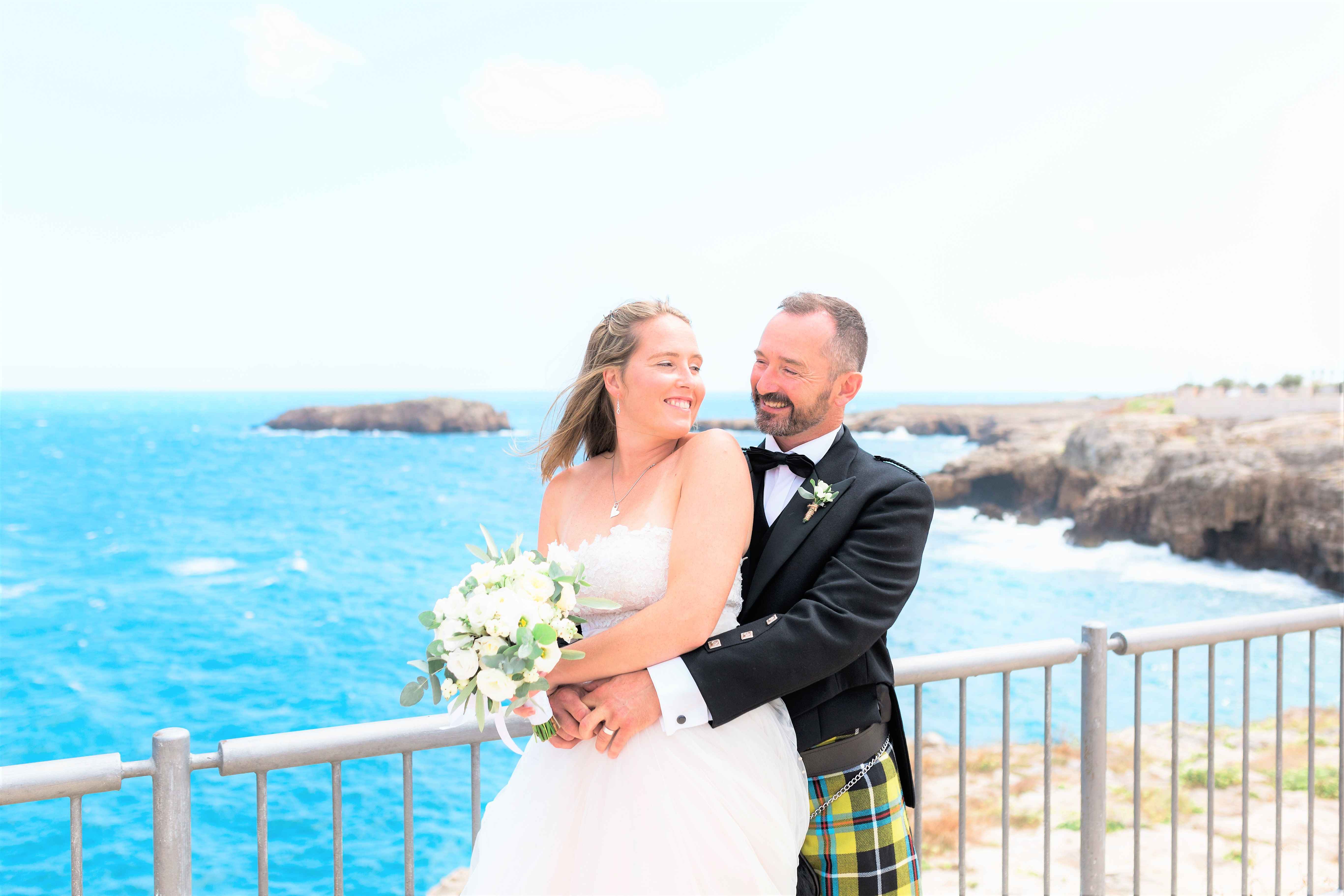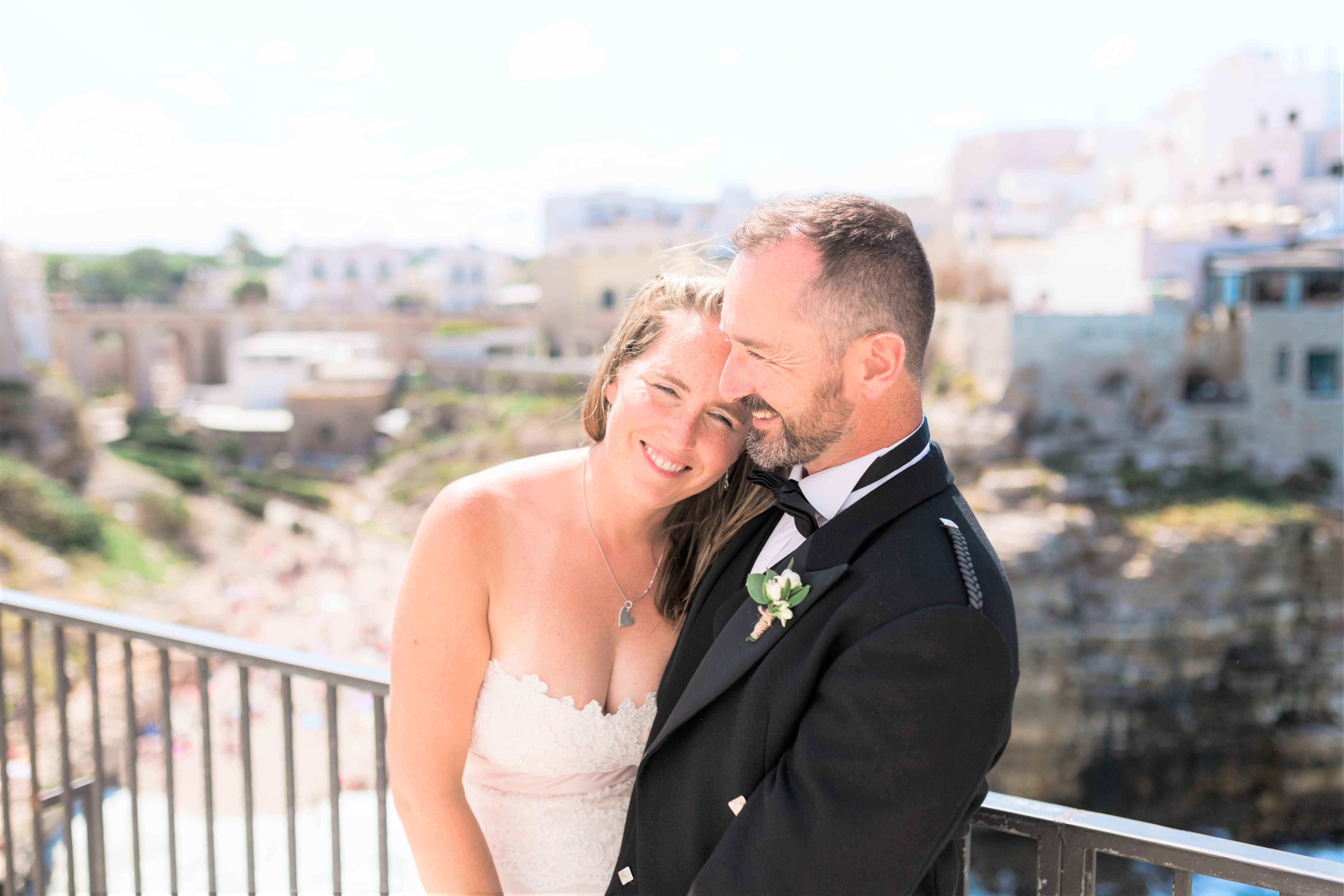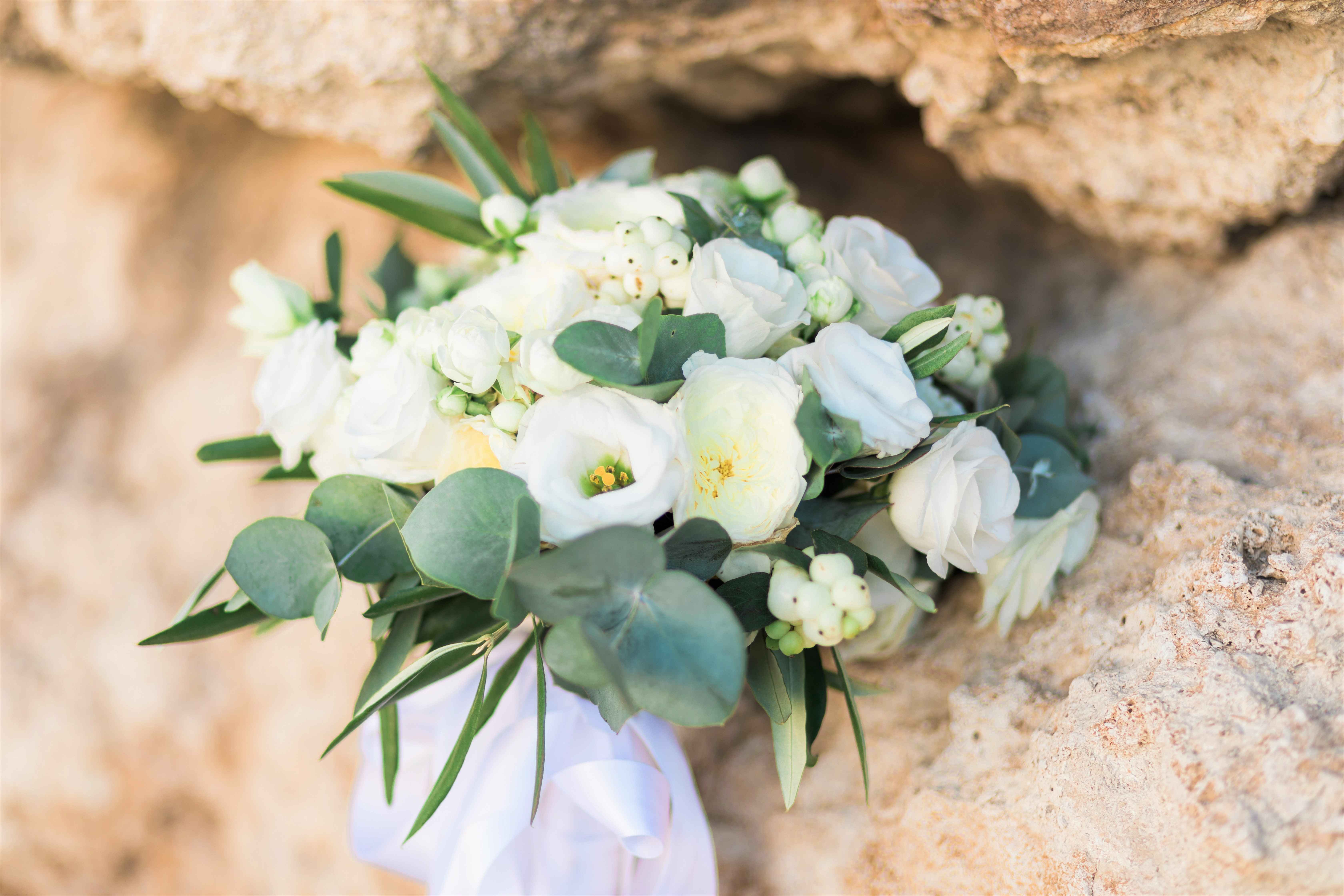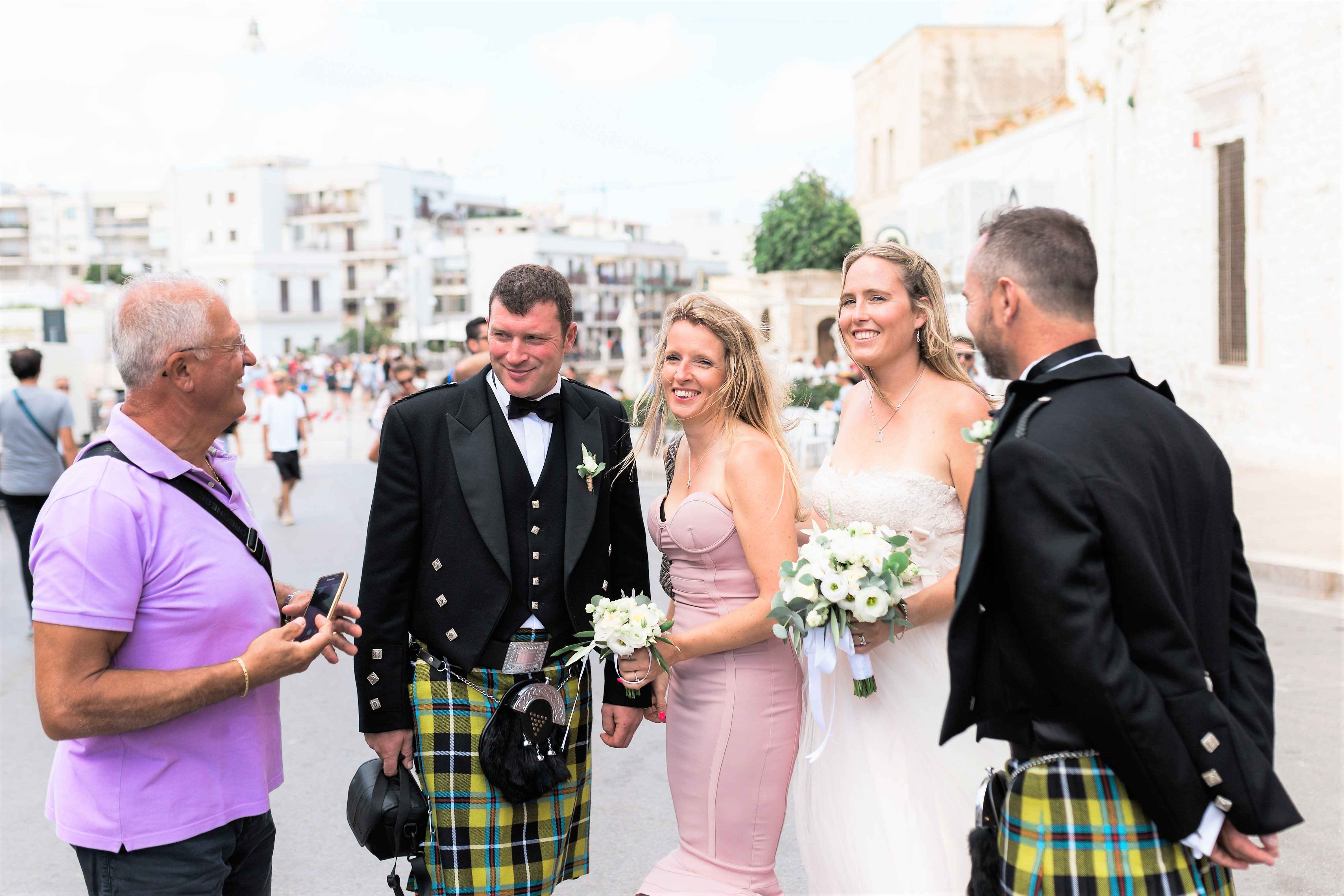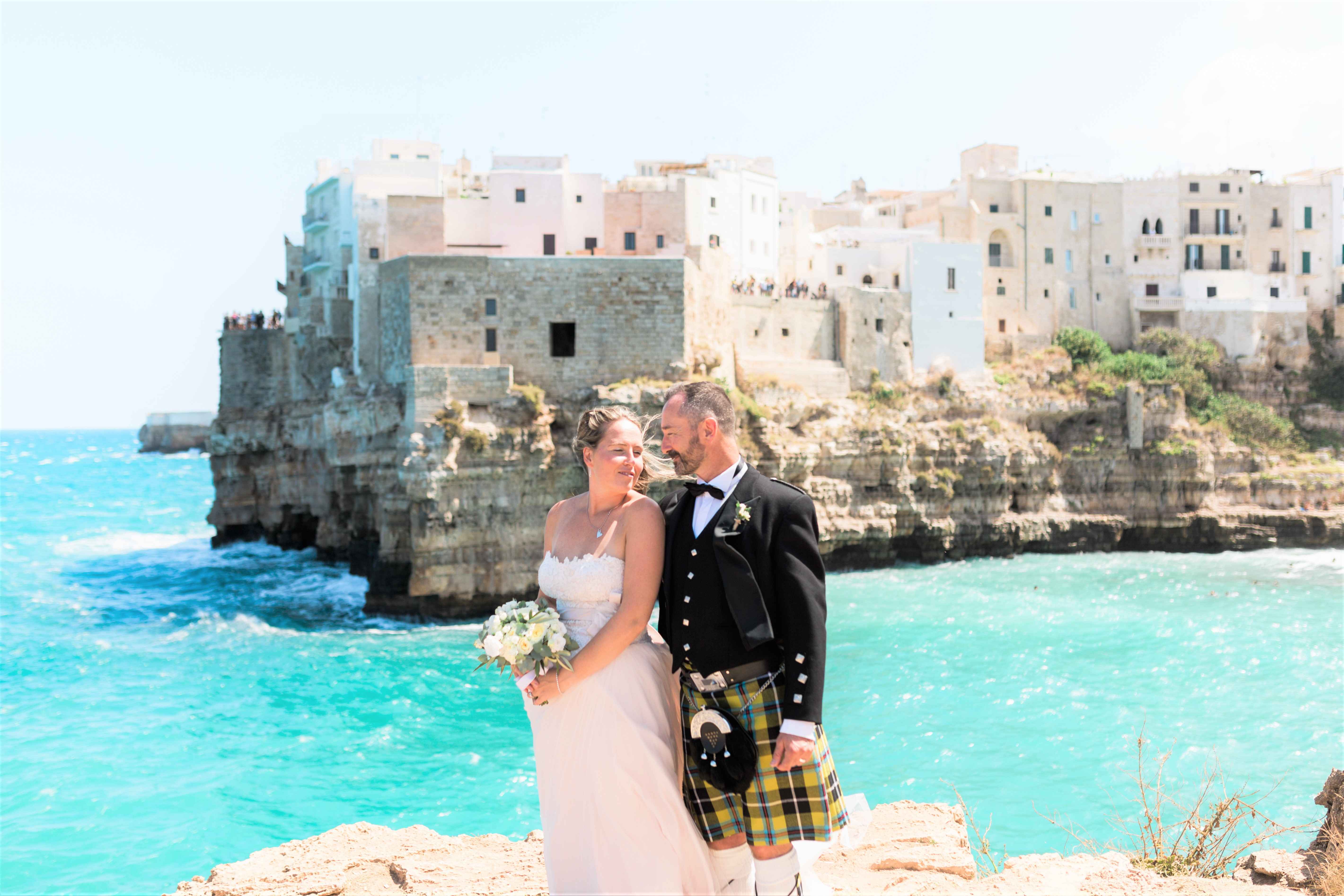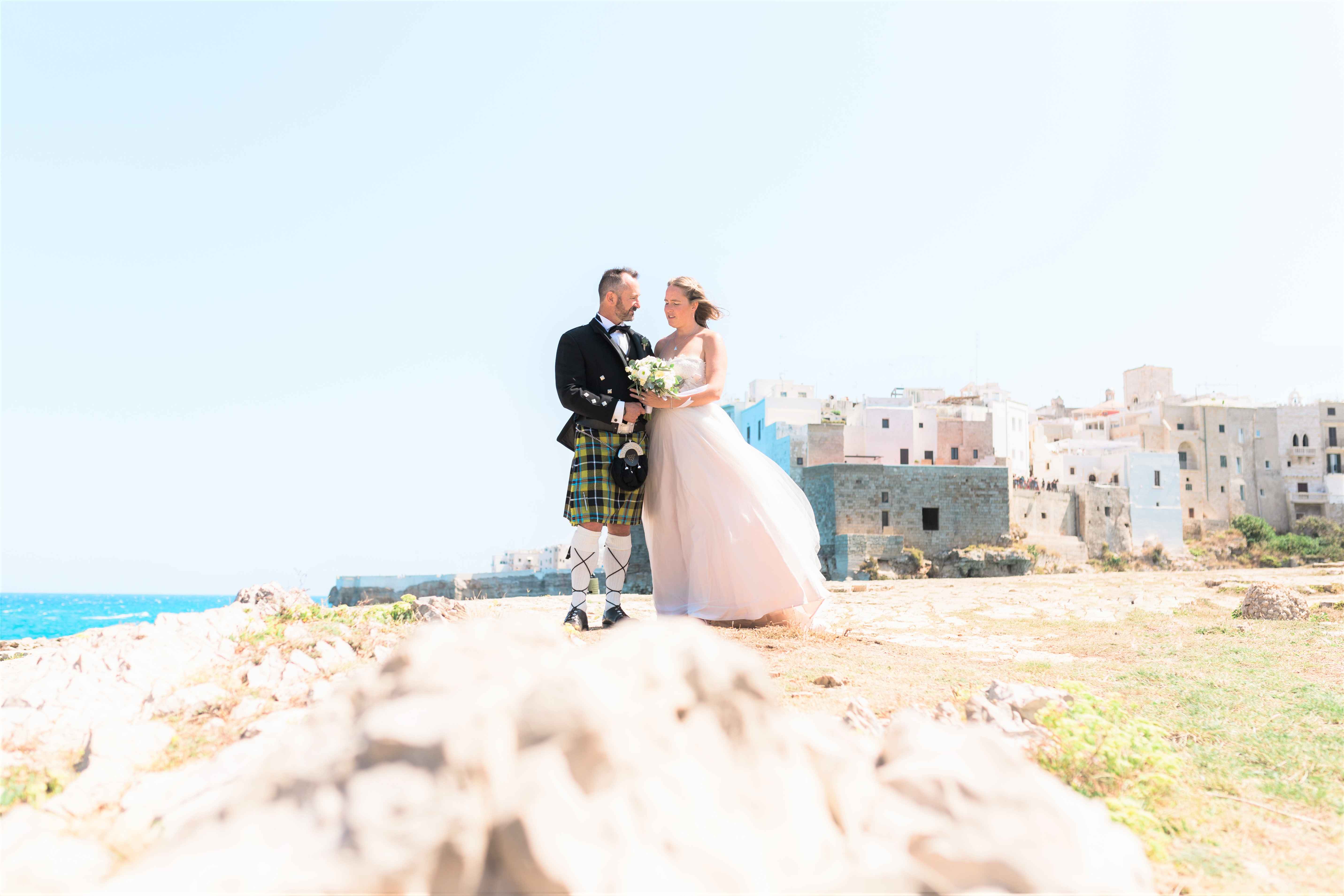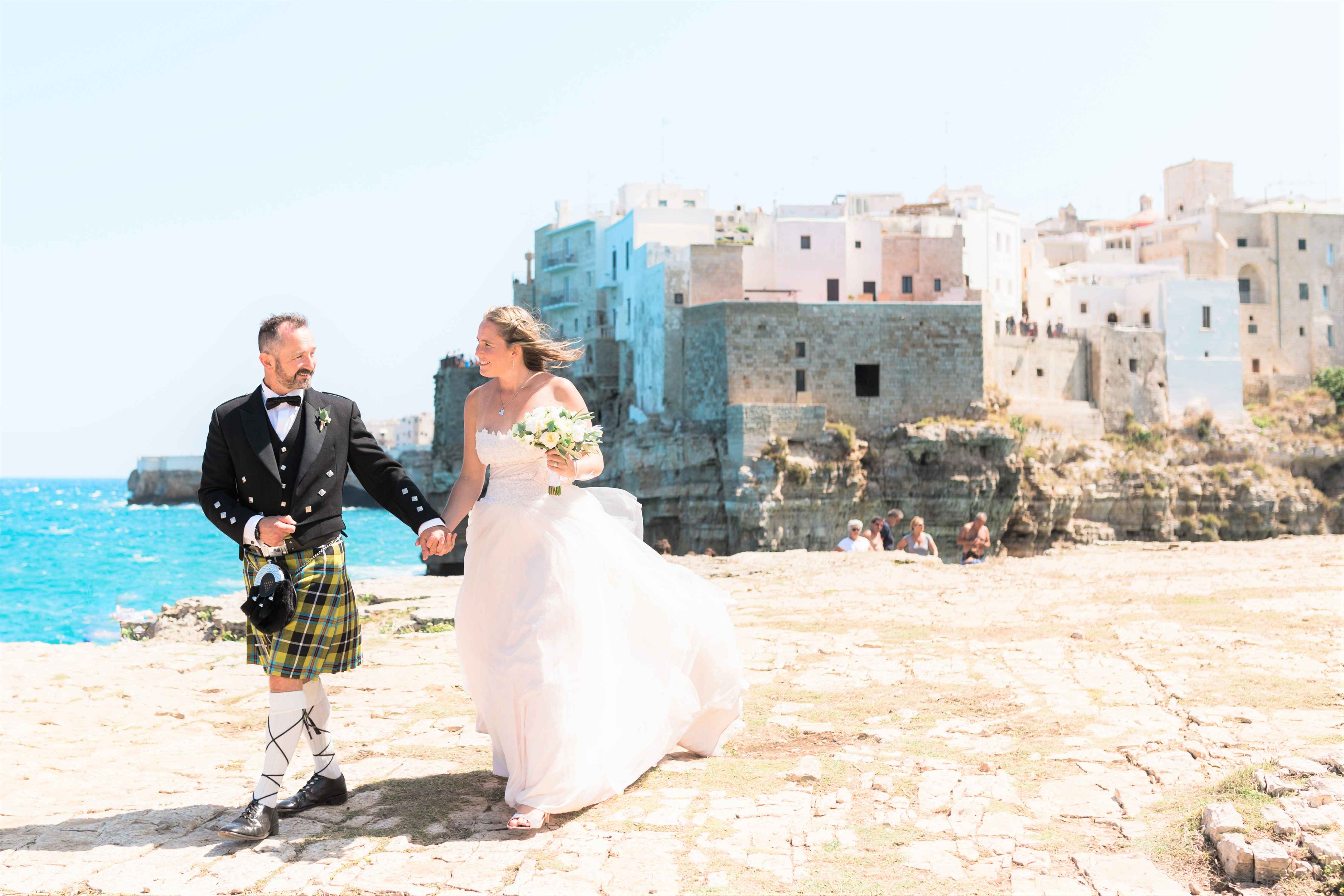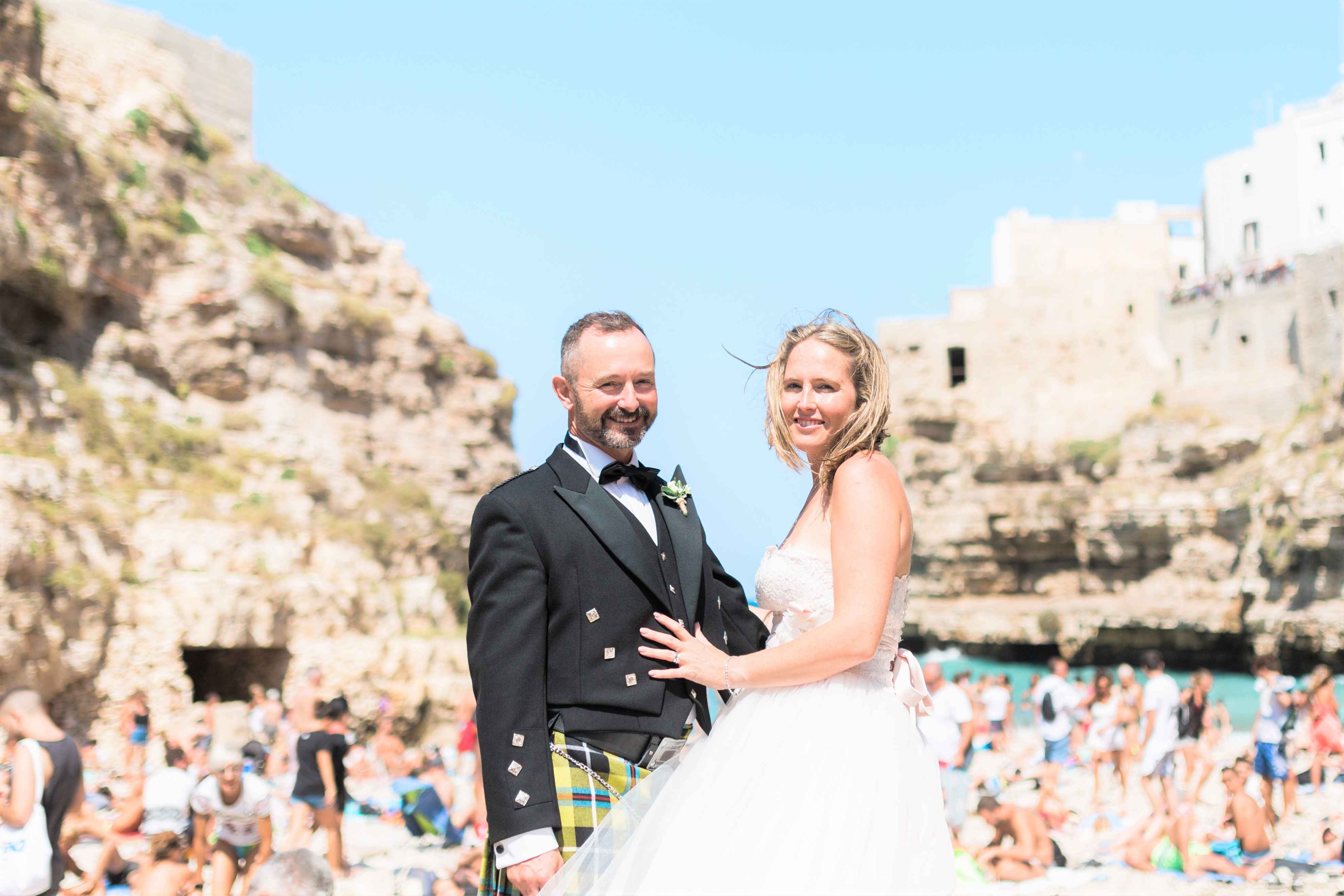 Photo credit : antoniodirocco.it