Stanley Johnson the father of the English premier visiting Bari: "An extraordinary cuisine"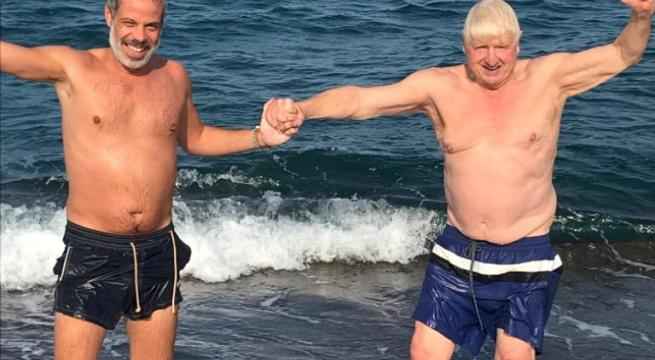 BARI – Let's face it: nobody wants to be Stanley Johnson these days. For a coherent European-European life, he himself a long-standing European Parliamentarian, president of the European Commission on Human Rights and even engaged alongside Altiero Spinelli for the construction of a strong, cohesive, "political" Union, this man now at the age of 78, he found himself the father of the current British prime minister, Boris, that is, of the man who, most probably, will complete the Brexit, the "divorce" of the century, the UK's farewell to the UE.
The father of the British Prime Minister is in Puglia together with super-sommelier Michael Ramzi Karam and billionaire influencer Hugo Campbell-Davys. Invited by Puglia Promozione and accompanied by the fascinating Anglo-Pugliese Nancy Dell'Olio, the three British intellectuals entered the Circolo della Vela of Bari, guests of the president of the Circolo, Simonetta Lorusso. Waiting for them was a forest of journalists and, of course, everyone's eyes were on him, on Johnson. Very nice and ready for the beat, the resemblance with his son is impressive. Basically, you look at him and see how Boris will look like in a few years.
The first thing he says is that this is his second visit to Puglia. "The first time – he says – was in 1979. We returned from Patras and arrived in Brindisi. Here there was a dear friend, Ubaldo Zito (a pussian-born mourner, originally from Martina Franca but putignanese by adoption; ed.). And in the car with me there were my children, yes Boris was in Puglia with me. But we were passing through. Instead this time I was able to visit this splendid region ».
Where was it?
«Polignano, the Valle d'Itria, Alberobello, the olive trees, the sea, I also took a bath. Castel del Monte is a fantastic place. This region is full of fantastic postcard-like places. It is a rich place, history, and the many cultures that have followed have left many signs of their passage. Fantastic, really fantastic. And then gastronomy … This mix of cultures is also reflected in your food ». Then he bursts out laughing, points to the bacon thread he has, and says: "I spent many hours eating. Here you sit down and the first, the second and then the third, fourth, fifth course and finally the pastries arrive. The Pugliese is one of the best cuisines in the world and there are also wonderful restaurants ».
Will you tell your son?
"Sure. I will explain to Boris that, before going to the White House or to Moscow, he absolutely must come and relax here. But I'll tell everyone, I'm a journalist, after all."
Did you know that Altiero Spinelli, one of the founding fathers of the European Union, had Apulian origins?
Stanley Johnson jumps on the chair: "Really? No, I didn't know. Where from? From Bari?".
His grandfather, Alessandro, was from Barletta, a beautiful city that deserves to be visited the next time he comes to Puglia. But what was your relationship with Altiero? I know that he accepted his invitation to the "Crocodile Club" and that, with him, you developed the new political perspective of the Union. Is that so?
«Yes it's true, but how do you know? There were nine of us at the "Crocodile Club" in Strasbourg. I was among the first MEPs and I worked with Altiero Spinelli for the European Union ".
What do you remember about Spinelli?
«A charismatic man, with great vision and ability. He was able to turn ambitious projects into reality ".
You have always been against Brexit, have you?
"Yup. I have always been strongly opposed ».But now, for a twist of fate, Westminster will decide whether to approve the Brexit agreement reached by his son Boris.
What do you think?
«Saturday morning (today for the reader; ed) the Parliament will meet in an extraordinary session. The last time it happened on Saturday was 37 years ago, in 1982, when it met for the Falklands / Malvinas war. The outcome is still not certain because there are about forty votes left. Let's say that I believe that most of the responsibility is now of the Labor party. The Tories alone cannot do it to recover those votes. Moreover it has already happened, when Great Britain decided to enter the EU even then they lacked the votes and arrived by the Labor Party ".
So do you think it is appropriate for this "divorce" to take place?
«At this point, yes. After all, there was a referendum and the people expressed themselves freely and democratically. We must respect the popular will and, therefore, now my son Boris has my total support ».
Yes sure. But before Boris became prime minister, she published a very special book. It's called Kompromat and it's an interesting Brexit thriller,
"Did you read Kompromat?"
Yes, thanks to Amazon. And even if it's a novel, everyone in Britain has noticed that he makes a faithful portrait of a series of characters, from May to Putin, to Boris.
"But, as they say, every reference is purely coincidental."
If you and your guests want to relax among the wonders of Apulia with a dream wedding in fairytale dwellings