The shabby chic wedding has been for several years one of the most popular style choices for future brides; a style that is increasingly fashionable and continues to be loved for its delicacy.
We hear a lot about this style and many people ask us about it, since they are not always clear about what it is, so, starting from the basics, what does shabby chic mean? Where does this term come from and when was it coined?
The term "shabby chic" comes from the combination of two English words, "shabby" which literally means shabby, worn, shabby and "chic" which means elegant, was first used in a magazine dedicated to interior design in 1980 and became very popular in the United States in the '90s. This is a form of interior design in which furniture and furnishings are used that have signs of wear and tear and it is precisely this feature that is enhanced; generally they are white, aged, faded or even in delicate pastel shades.
We could say that the shabby chic is more than anything else a style of painting that is made on furniture and furnishings worn, a way, say, to recover them, making them live a second life, enhancing an unmistakable aspect of lived.
Wedding shabby chic, how to organize it step by step
We have just explained the literal translation of the term but, in fact, a shabby chic wedding is anything but "unkempt". On the surface, this style may seem a bit 'unkempt and abandoned to itself but, in fact, to achieve this result, it takes great taste and obsessive care of every little detail and really nothing is left to chance, from the careful choice of materials to be used, the colors to match, the selection of flowers for the fittings, up to the decorations of the location and the details of the wedding cake.
The combination of all these elements, gives life to a style that has a strong scenic impact very refined and recreates extraordinary atmospheres bohemian and dreamy, romantic, warm and enveloping.
The shabby chic is not only a style but some consider it a real philosophy of ecological living, based on recycling and reuse of various objects and materials, for this adopted by many people who love nature, here that in fact, some of the materials that best suit a wedding shabby chic could be:
Wood
Wrought iron
Zinc
Paper
Ceramics and porcelain
Plaster
Natural fabrics such as linen
Lace
The colors for a shabby chic wedding
The atmosphere of a shabby chic wedding is particularly ethereal and dreamy and conveys a wonderful romantic-retro atmosphere of yesteryear.
In the color palette of a shabby chic wedding, it will be essential the predominance of white, which we recommend in warm colors, and then move to colors such as ivory and cream, delicate and romantic pastel shades, coming then to gray shades of different tones both cold and warm tending to brown. The end result should be that of a particularly bright and soft palette; here are some examples of colors with which you can build the color palette of your shabby chic wedding:
shabby chic wedding colors shabby chic wedding colors 2
Now that we have given you some indications on the shabby chic style, you will need to convey this atmosphere within your wedding and, since this style will be the common thread of the event, it must be present, tastefully and without exaggeration, in every detail of the event, calibrating everything to perfection.
Location for shabby chic wedding
Once you have decided that the style of your wedding will be shabby chic, the next step to be taken should be the selection of the location, or rather, the place of the reception of your wedding and, in this case, the best choice would be to organize the event in an elegant home rustic style or a farmhouse with a large and romantic garden all around, as can be a masseria in Puglia, using as much as possible the open spaces because a shabby chic wedding goes perfectly with the spring and summer season.
Shabby chic wedding invitations
Let's move now the first steps and consider the topic "coordinated wedding", so everything related to invitations, menus, table markers, place cards, tableau, etc. …
In this case, we recommend you to use another characteristic element of this style, namely the floral print, which, to be perfectly in line with the mood, should be particularly soft, soft-colored and romantic, usually representing small flowers, polka dots and fantasy striped parallel. This print could be present as a background or cover of the invitation, as a decoration inside the envelope, or as a detail on a ribbon that closes the whole, the important thing is that it is present and immediately transmits a delicate touch of romance.
For all the coordinated use the same paper, I recommend and select perhaps one with an antiqued effect, with a slight texture, not perfectly smooth in short, and as for the font, choose a calligraphic font or write the invitations directly by hand, the final effect will be perfect.
As we introduced earlier, lace is another characteristic element of the shabby chic style, so, in the invitations and in the coordinated you could also insert references to the fantasies of this fabric recreated for example on the paper by laser or simply by inserting a lace ribbon or a flower recreated with this fabric, everything will be absolutely in line with the common thread of the wedding.
Tableau mariage shabby chic
In the realization of the tableau mariage you can really indulge because there are many elements that you could use:
Old windows a bit 'disused and broken, decorated with garlands of flowers. With a white marker or other colors, you could write the names of the tables and your guests on each glass.
Frames of different types and sizes, white or pastel colors, hanging from the branches of a tree or on a wall, inside them, decorated in some cases with fancy fabric, you could insert the tags printed with the names of the tables and those of the guests.
Blackboards of different sizes, perhaps with white pickled effect frames or a single larger one, on which you can write the names of the tables and guests.
There are several alternatives that would match this style, the important thing is that they have that touch "do it yourself" perfect for a shabby chic wedding.
Floral arrangements and decorations shabby chic
In a shabby chic wedding can not miss elegant flowers and delicate tones such as peonies, roses, hydrangeas, camellias, fine flowers and small touches of lavender (the latter without exaggeration, please, otherwise you would risk to result in a Provencal style wedding).
The flowers should be in elegant compositions but not too structured and rigorous, indeed, a natural look will be the one that best suits this style and, since the shabby chic is based on the reuse of old objects, do not forget to make the most of even small vases of different sizes, some glass, others ceramic fancy, others still in white plaster or small wooden containers pickled; in short, create centerpieces consisting of several elements of different shapes and sizes inside which will be placed delicate cut flowers. Play also with white wooden candle stands, small enameled wrought iron aviaries or lanterns filled with flowers inside and prefer objects created with DIY or recycled; take a trip to the various antique markets in your country, you will surely find a lot of useful items, such as jugs and glass jars that you could repaint with pastel colors, or small cups of various services now disused to be reused as candle holders or flower holders; do not worry if they will be mismatched, indeed, it will be even better.
For the setting of the table you can follow two paths:
The first could be to leave the wood insight without the use of tablecloths but only an elegant central runner, perhaps made with the finest white lace.
The second instead, if you want something particularly elegant, use a tablecloth made of white linen, very clear.

In the room or in the garden, use, if possible, white chairs made of wrought iron or aged wood, decorated with delicate fantasy pillows, even one different from the other, the important thing is that they present very soft pastel colors and here and there suspended with ribbons garlands of flowers god circular shape or even more romantic heart-shaped, alternating with frames of various sizes from the aged effect.
If space allows, recreate small relaxation areas with furniture and small objects of furniture perfectly in shabby style; you won't need many things, you can also recreate a small and nice living room, with a sofa, some armchairs, a low table or a console and you could also use this area for the part of the photographs with your guests and place the guestbook to sign for the wedding and, always in this area, do not forget to add pillows from different fantasies, lace details and large doilies like those that were crocheted by our grandmothers.
Shabby chic wedding bouquet
As for the bouquet opt for a composition of small size, made with refined flowers, not too flashy, chosen in shades of color very soft, and wrap the stem of them with a lace ribbon or satin pastel colors.
Wedding dress shabby chic style
What could be a suitable wedding dress for your shabby chic wedding? Surely we recommend you to opt for something particularly classic, no lines too modern or structured, but rather, on the contrary, opt for something soft and draped that will recall the sophistication of this style so ethereal, delicate, and dreamy, for this reason, prefer lightweight fabrics such as chiffon, georgette, voile and cady, all strictly pure and impalpable silk, which will perfectly match delicate lace trim, emblem of the shabby chic style.
If, on the other hand, you love tradition, this could be the right opportunity to pull out from the trunks in the attic the dress of your mother or even your grandmother, make some small changes and wear it on your wedding day, transmitting a very special retro allure.
The makeup should be light and at the same time fresh and bright; bet maybe on delicate shades of pink, instead as far as the hairstyle is concerned, nothing elaborate or too perfect; soft hair held in a natural semi-collected or maybe even in a braid, the important thing is that the look has that fake messy but a very elegant effect, just like the definition of the shabby chic style.
Wedding favors shabby chic
Never forget to think of a small souvenir to leave to your guests and, in this case, since the style of the wedding will be shabby chic, you can use as wedding favors something entirely handmade, such as:
Crocheted or macramé doilies in pastel or fancy shades.
White frames of different types to which you have given that unmistakable aged effect of shabby chic style.
How about instead of white linen bags decorated with lace? Inside them, you could put some potpourri with delicate scents.
You could create small bottles of scented essences and decorate them with lace ribbon.
If you love the combination of wood and plaster, you could make small decorations to hang with string and ribbon fantasy, such as hearts, angels or birds.
Another viable alternative for this theme, could be the use of candles as wedding favors, there are now of different shapes and sizes, but especially with aged effects and pastel colors, you just need to pack them with ribbons and lace and put them in small cardboard boxes.
Wedding Cake shabby chic
Finally, let's think now to your wedding cake; in this case, you just need to convey in it all the features that we have seen in this article and that go to describe the shabby chic style, so it must be a cake whose predominant colors will be white and delicate pastel shades. As for the decorations, of course, you can not miss the floral call nor any lace detail, then add refined ivory ribbons and cake topper as you use large flowers such as peonies, roses, and hydrangeas, or, to give a nice touch, how about inserting the top of a teacup in floral pattern? It could be a really cute idea.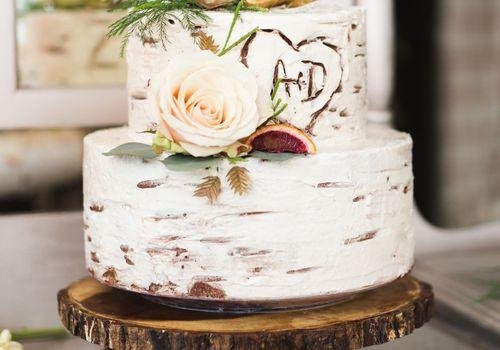 We have seen together a lot of interesting ideas to make a shabby chic wedding, a style that for several years now is very trendy, perhaps because of its refinement so graceful, delicate and romantic and at the same time we talk about a style particularly enveloping and familiar, so engaging, in addition, this passion for recycling, for the reuse of old objects and materials has become almost a philosophy of life that has won several people who have often made a hobby if not a real personal job.
Hoping that you liked this article and can be a source of inspiration for you, we leave you now with a gallery of images dedicated to your shabby chic wedding, let us know what you think, share it on your social networks and if you still have any doubts on the subject, do not hesitate to contact us, it will be a pleasure for us to answer your questions and if you want to organize your shabby chic wedding in Puglia.